Jammu and Kashmir: One civilian killed, three injured as Pakistan Rangers resort to heavy overnight firing
A civilian was killed and three others injured in heavy overnight shelling and firing by Pakistan Rangers on the international border in Jammu district
Jammu: A civilian was killed and three others injured in heavy overnight shelling and firing by Pakistan Rangers on the international border in Jammu district, officials said on Monday.
The death toll from the recent Pakistan ceasefire violations on the international border and Line of Control (LoC) has risen to 12 with the death of another civilian on late Sunday evening.
Police said after a day long calm, Pakistan Rangers again violated ceasefire in Pargwal, Arnia, Kanachak and RS Pura areas of Jammu district targeting Border Security Force (BSF) and civilian facilities.
"Pakistan rangers started heavy shelling and firing in Kanachak and Pargwal areas at 8.30 pm on Sunday," a police officer said.
"A civilian identified as Gopal Dass was injured in Kanachak. He later succumbed to injuries. Three civilians including a woman were injured in RS Pura and Arnia areas where Pakistan Rangers started indiscriminate shelling and firing on Sunday night," he said.
Border Security Force (BSF) sources said heavy casualties were inflicted on Pakistan side in retaliatory firing by the BSF.
"Over a dozen fatal casualties were caused in BSF retaliation... majority of these casualties were suffered by Pakistan Rangers.
"Around two dozen posts of Pakistan rangers were also decimated in retaliation by our troops," the sources said.
Meanwhile, authorities have said schools in areas affected by Pakistan shelling near the international border and LoC in the Jammu region shall remain closed on Monday because of safety concerns of children and staff.
Find latest and upcoming tech gadgets online on Tech2 Gadgets. Get technology news, gadgets reviews & ratings. Popular gadgets including laptop, tablet and mobile specifications, features, prices, comparison.
India
The amalgam leaders, who met at the residence of Mehbooba Mufti for the first time after its formation, adopted the flag of the erstwhile state of Jammu and Kashmir as its symbol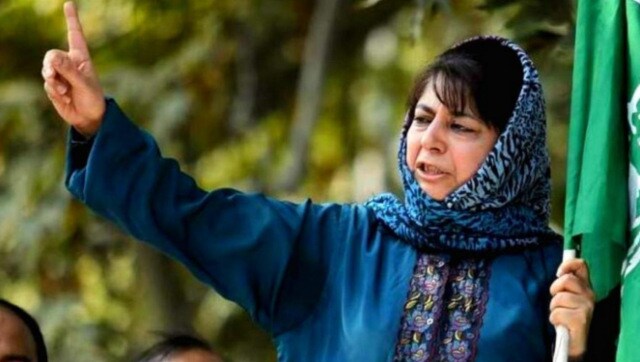 India
Mehbooba Mufti had said she would hold the national flag only when the separate flag of the erstwhile state is restored.
India
BJP leader Sambit Patra claimed that the NC MP stated that Article 370 will be restored in Jammu and Kashmir "with China's support"