Jammu and Kashmir clerics of Majlis-e-Shura issue fatwa banning women from travelling alone
A religious conglomerate in Jammu and Kashmir's Kishtwar district issued diktats barring women from going out alone in public while also terming co-education is 'un-Islamic'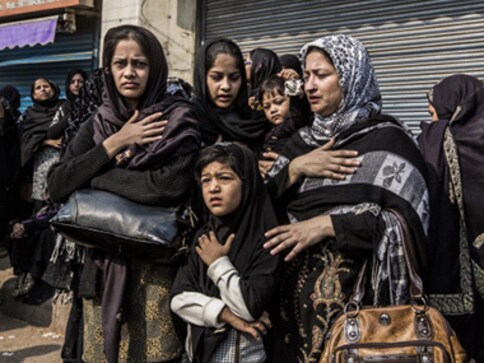 A day after the Darul Uloom Deoband in Uttar Pradesh issued a bizarre fatwa banning women from plucking, trimming and shaping their eyebrows and cutting hair, clerics of Majlis-e-Shura, a religious conglomerate in Jammu and Kashmir's Kishtwar district, on Monday issued a diktat barring women from going out alone in public.
According to Times Now, the religious conglomerate issued a list of diktats imposing restrictions on women in the state. According to the diktat, women can't go to markets and public events alone, they must not interact with men on the streets and there will be separate classrooms for boys and girls in schools as co-education is 'un-Islamic'.
The list also said that music should be banned at marriage ceremonies and any kind of entertainment during weddings will lead to the violators being socially boycotted. The violators will be shamed publicly, the clerics said.
Women should only venture out in the company of their father, husband or brother, the clerics warned.
This diktat in Jammu and Kashmir has come just a day after Darul Ifta, the largest seminary in India, termed all parlour activities as "un-Islamic" and asked Muslim women to refrain from them, ANI reported. The fatwas have sparked off a controversy as women activists all over India are questioning the fatwa.
This is not the first time that such fatwas have made the news. In 2013, Darul Uloom Deoband had issued a fatwa banning photography, while in 2010, it said that women and men cannot work together unless the women are "properly" clothed.
India
This year, the tourism sector in Jammu and Kashmir also got a major boost as the government made a record budgetary allocation of Rs 786 crore, an increase of 184 per cent over the allocation for the previous year
India
The security forces had received information about presence of militants at Wanigam Bala in Kreeri area of the district, following which a cordon and search operation was launched there
India
During a search of the higher reaches of Aloosa forest a terrorist was seen and surrounded from all sides and apprehended. During the search, war-like stores were recovered from him, said the army