Jammu and Kashmir: 135 terrorists killed, 43 security forces slain in 2017 reveals RTI
A total of 135 terrorists have been killed and 43 personnel of security forces have lost their lives in violent incidents in Jammu and Kashmir this year
One hundred and thirty five terrorists have been killed and 43 security forces lost their lives in violent incidents in Jammu and Kashmir this year, according to an RTI response to Firstpost.
The 135 slain terrorists include top militant commanders such as Lashkar-e-Taiba's Abu Dujana and Burhan Wani's successor Sabzar Ahmad Bhat of the Hizbul Mujahideen.
The RTI response, signed by the deputy secretary of the Central Public Information Office, says the numbers reflect the deaths until 13 August, 2017.
While 38 LeT militants were killed till 9 August, 37 Hizbul militants were eliminated along with three of the Al-Qaeda-linked Zakir Musa group, and another 54 unidentified militants were killed, mostly on the Line of Control, PTI reported.
"The relentless operations by the security forces have defeated the desperate attempts by Pakistan and its agents to spread terror in Jammu and Kashmir. Operations will continue," a senior army officer said.
Top Lashkar-e-Taiba (LeT) commander Abu Dujana, a Pakistani national wanted in connection with several terror attacks, and his aide, were gunned down on 1 August by security forces in Hakripora area of Pulwama district.
Dujana was wanted for many attacks on security forces and political workers in south Kashmir. He carried a reward of Rs 10 lakh.
On 1 July, another top LeT commander Bashir Lashkari and militant Azad Malik were killed in a firefight with security forces in Anantnag's Brenti village of Dialgam belt in south Kashmir.
Lashkari was involved in the killing of six policemen in the district's Acchabal area on 16 June.
On 28 May, top Hizbul militant Sabzar Ahmad Bhat, 27,  a close associate of former Hizbul commander Burhan Wani, was among the two militants killed in an encounter in Tral, in south Kashmir.
On 12 July, Sajad Gilkar was among three Hizbul militants killed by security forces in Budgam district of central Kashmir. Gilkar had played a key role in the lynching of Mohammad Ayub Pandith, a deputy superintendent of police, near Jamia Masjid in Nowhatta area of capital Srinagar on 22 June.
Other terrorists killed in 2017 include Abu Haris, Abul Ali, Abul Mala, Anis Bhai, Abu Umar, Abu Maviya and Sher Gujri.
On 13 August, two soldiers died in Shopian district after an overnight gunfight.
According to a report in The Times of India, more terrorists were killed this year in Jammu and Kashmir than were recruited. Intelligence records say around 71 were recruited in 2017, while 135 terrorists have died in security operations, the report said.
While May, June and July saw 15, 15 and 10 locals taking up arms in the Valley respectively, fatalities among terrorists surged from an average of 9.5 killings a month till April, to 18 in May, 30 in June, 25 in July and 21 in August so far, according to the report.
With inputs from PTI
India
As per the Jammu and Kashmir Police, approximately 5 kilograms of explosives have been recovered from the drone.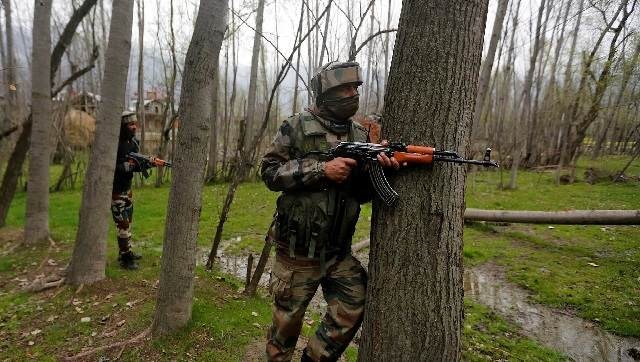 India
Security forces launched a cordon and search operation in Shokbaba forest in the Sumblar area of Bandipora in north Kashmir following inputs about the presence of terrorists, officials said
India
The traditional bone-setters in Kashmir do not have any formal qualification, however, the remedies and treatment they offer have earned them quite a bit of fame.