James Comey says Donald Trump's call to put him in jail is 'not normal', 'not OK'
President Donald Trump suggested earlier this week that Comey should be put behind bars and accused him of leaking classified information and lying to Congress. 'That is not normal,' Comey responded Tuesday during a live interview on ABC's 'Good Morning America.'
Former FBI Director James Comey says it's "not OK" or "not normal" for the president to call for private citizens to be jailed.
President Donald Trump suggested earlier this week that Comey should be put behind bars and accused him of leaking classified information and lying to Congress.
"That is not normal," Comey responded Tuesday during a live interview on ABC's "Good Morning America."
''That is not OK. First of all, he's just making stuff up. But, most importantly, the president of the United States is calling for the imprisonment of a private citizen, as he's done for a whole lot of people who criticize him. That is not acceptable in this country."
"The president doesn't get to decide who goes to jail," he said.
Trump fired Comey in May 2017 amid the FBI's investigation into Russian interference in the 2016 presidential election. The move led the Justice Department to appoint Robert Mueller as special counsel to oversee the investigation, which Trump has denounced as a "witch hunt."
Comey, who is promoting his book, "A Higher Loyalty," said in a separate ABC News interview broadcast Sunday that Trump is "morally unfit" to hold office.
Trump's campaign issued a fundraising appeal Tuesday that branded Comey as a "grandstanding liar who put his own interests above America's."
Comey also commented Tuesday on recent allegations involving his former deputy Andrew McCabe.
A Justice Department watchdog recently concluded that McCabe had misled Comey and investigators about a news media disclosure - shortly before the 2016 presidential election - related to the bureau's investigation of Democrat Hillary Clinton's email practices as secretary of state.
Comey said the Justice Department process worked well, but was "tainted" by Trump's public calls for McCabe to be fired. Comey said Trump's actions "tainted an institution that pursues the truth."
Attorney General Jeff Sessions fired McCabe last month, two days before his retirement was to take effect.
World
Dhillon, a former California Republican Party co-chair, contested against incumbent McDaniel, whom former US president Donald Trump tapped as RNC chair in 2016. McDaniel, was comfortably re-elected in a secret ballot on Friday for the second consecutive term
World
The twice-impeached Republican, whose party lost the White House and both chambers of Congress during his term, makes his case for another four years with appearances in New Hampshire and South Carolina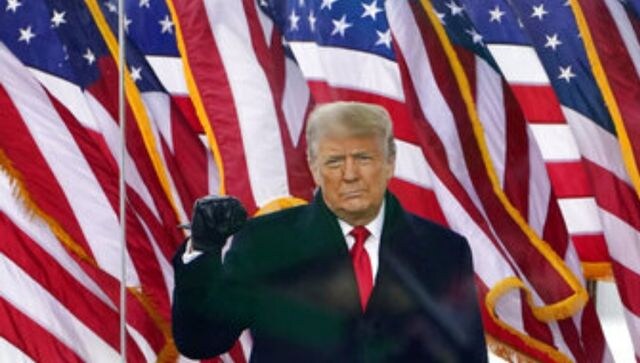 World
Throughout Trump's tenure as president,his use of social media posed a significant challenge to major social media platforms trying to balance the public's need to hear from their elected leaders with worries about misinformation, harassment and incitement of violence