Jaising's NGO loses licence: Time media takes blinkers off and asks some tough questions
Jaising claims that the government order is an act of 'vindictiveness' and 'nothing but an attempt to intimidate'.
When it comes to human rights activists, members of the civil society or eminent personalities in the legal field, the mainstream media has always reserved its deepest respect and maybe even unquestioned awe. Many of those involved in these arenas do deserve our veneration but the media must always be objective in its assessment. It cannot let itself be ruled by too much reverence or fear, or perhaps both.
The job of the mass medium is to create and shape public opinion and act as a watchdog to protect public interest against malpractices of all sorts but when it comes to matters in this jurisdiction, it has mostly abdicated its responsibility. There has been zero effort to expose the many acts of omissions and commissions that, for instance, allegedly occur in the NGO space.
The Congress, which put in place this elaborate ecosystem through decades of careful nurturing, turned a blind eye to it because it benefitted immensely from the support structure that this edifice provided and continues to provide. Even when India's grand old party has been reduced to a rump, the bio-network of patronage has acted as the de facto opposition, subjecting the NDA government to some of the shrillest attacks. Part of their nervousness must have been caused by a belief that the new government could put under scanner the many violations that allegedly take place among this corner of the civil society.
While barring noted lawyer Indira Jaising's NGO Lawyers Collective from receiving foreign funds for 180 days with immediate effect for alleged violation of Foreign Contribution Regulation Act (FCRA), 2010, the Union Home Ministry in an order on Wednesday asked the NGO why its licence under the FCRA should not be cancelled over misuse and diversion of foreign contributions. These include a payment of Rs 96.60 lakh as remuneration to Jaising while she was the Additional Solicitor General in the UPA government between the years 2009-12.
"It is really surprising how a senior law officer such as the ASG can simultaneously and for such a long period be on the rolls of a private entity, being paid for undisclosed purposes by the entity in gross violation of rules applicable to law officers of the Union of India, and how the association agreed for such an arrangement and she herself would have agreed for such an arrangement," the home ministry order read, according to The Times Of India.
The NGO has been faulted by the MHA for picking up the tab (without prior intimation or approval as required under FCRA) for the former ASG's visit to Nepal and the US. According to the order, Jaising's lawyer husband Anand Grover had not only drawn foreign funding received by Lawyers' Collective for his United Nations Special Rapporteur activities, but also used it for personal benefit and spent it outside India, in violation of FCRA norms.
The Times of India journalist Bharti Jain, who has been reporting on the story, tweeted this on Wednesday:
Lawyers Collective tfd over Rs 31 lac to Hungary & Malaysia; though FCRA mandates utilization of foreign funds within India

— Bharti Jain (@bhartijainTOI) June 1, 2016
Lawyers Collective organised dharnas/rallies "with political hue" in 2011 & 2014, even though FCRA debars political activity: MHA

— Bharti Jain (@bhartijainTOI) June 1, 2016
These are serious charges and Lawyers' Collective has said it will challenge the suspension order in court, adding that the Centre is using government machinery to try and crush dissent.
Soon after the home ministry order, Jaising posted on Twitter that she was being targeted by the government for speaking at Rana Ayyub's recently released book Gujarat Files: Anatomy of a Cover Up.
Condemn the beaten attack by government disguised as alleged violations of FCRA , days after I spoke at Rana Ayub book release

— indira jaising (@IJaising) June 1, 2016
The former ASG seems to be suggesting that there is some sort of a causal effect between her appearing at the release of a book on Narendra Modi's handling of Gujarat riots and the government's action against her NGO. The book release function that Jaising refers to in her tweet, took place in New Delhi last week, according to Narada News.
Interestingly, a report carried by The Hindu in November 2015 points out that the Ministry of Home Affairs (MHA) had in 2015 served a notice to Lawyers Collective for allegedly receiving foreign funds over Rs 11 crore when Jaising was the ASG — a government post — which is a violation of the FCRA, 2010.
The newspaper reported further that MHA has also sent a set of 32 questions to the NGO, seeking details of foreign funds which it received in "kind," the salary details of all the office bearers, list of vehicles purchased from foreign funds, and details of all payments done in cash (above Rs 20,000) in the past three years.
And in March 2016, quoting from a Ministry of Home Affairs inspection report which it claimed to have accessed exclusively, India Today reported, "Lawyers Collective received foreign contribution of Rs 32 crore between 2006 and 2014. The MHA inspection team found that a large part of the money was spent on activities which were outside the list of items for which it had been collected. Paying volunteers to organise dharnas, receiving foreign contributions while working for the government, sending foreign donations outside India, spending foreign money to lobby with parliamentarians are some of the main violations listed in the report."
Jaising has since told NDTV that the government order is an act of "vindictiveness" and "nothing but an attempt to intimidate".
It remains to be seen how the battle plays out in court but instead of bowing down in perpetual awe, it is high time the media starts asking some tough questions.
Politics
The 57-year-old former Bengal BJP chief is the candidate from Habra which falls under the Barasat Lok Sabha constituency of North 24 Pargana district
World
'It will be difficult, if not impossible, for Pakistan to control the Taliban and other militant groups in Afghanistan as the country spirals into a civil war'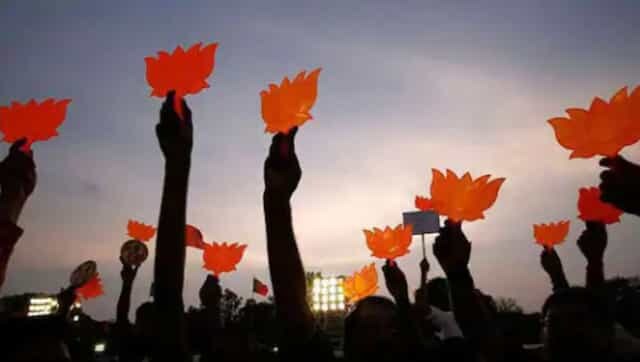 Politics
Jangalmahal is now seen as one of the strongholds of the BJP, and the party claims it will win all seats in the region