Jain teen dies after 68-day fast: Time for govt to send strong message against such acts of abuse
Last week, a thirteen-year-old girl collapsed and fell into a coma in Hyderabad after finishing a sixty-eight-day fast. The girl was observing Chaturmas on the advise of a Chennai-based priest. This advise was supposed to help the family recover from business losses.
Last week, a thirteen-year-old girl collapsed and fell into a coma in Hyderabad after finishing a sixty-eight-day fast. The girl was observing Chaturmas on the advise of a Chennai-based priest. This advise was supposed to help the family recover from business losses.
She was not alone in being victim to the lacunas in law that allow for parents to use religion as a means to engage in what would otherwise be termed as child abuse. Deprive a child of food and water for 68 days and it's child abuse. Call it fasting in the name of religion and suddenly it becomes socially and legally tolerable in most parts of India. And Jainism is not alone in its co-option of children into religious causes.
In India, every year during Muharram, many Shia families take their children along in the processions. In many cases, the children join the procession and hurt themselves or are hurt in the process. Actions by such parents without the cover of it being a religious obligation would almost always invite criminal prosecution. However, as these are religious activities, they are given a pass.
Last year, shocking revelations about Female Genital Mutilation amongst certain Muslim communities in India were published by the Hindustan Times. As per the article, over 80 percent of Bhroa women experience Female Genital Mutilation during their childhood and this is done with full consent of the parents involved. The response from the religious sect was a re-affirmation of the obligation to conduct FGM under the religion but required that local laws be respected in the process. India does not yet have laws that ban Female Genital Mutilation and so the practice continues.
In some shrines in Karnataka and Maharashtra, there is a practice of throwing babies from the roof of a shrine to be caught below. This religious practice is followed in order to give the child good luck and a long life. An accident though in one such situation, could cause death to the infant. However, despite this being recorded and there being public knowledge of such a practice, there have been no news of parents being arrested for participating in it. Merely an enquiry by the National Commission on child rights. If I were to toss someone's baby off a building to be caught by someone below, I would be arrested for trying to do so. The law criminalises negligent acts that could cause death. In fact, I would be guilty of culpable homicide. However, if I am a parent doing the same in fulfilment of a religious obligation, I may not be arrested by the police.
The Gajan festival in West Bengal also involves children who are made to participate. They are often made to wear a variety of dresses, paint and pierce their body and have religious godmen walk over them as a part of the ritual. All of this is done legally with there being no law preventing children from participating in acts like this.
Lastly, there are a variety of religious schools (Vedpatshalas, Gurukuls, Madrassas and Seminaries) where children from a very young age are sent to train in the ways of the priesthood. These schools are Government recognised and parents can enrol their children here instead of ordinary schools. Often it is found that these schools do not offer a complimentary secular curriculum that is in line with those prescribed by other state examination boards. A child's right to a full education can be written off in the name of religion by a parent sending their child to one such school.
Minor children are often asked to participate in religious activities and while the law considers their age for many purposes, but in most cases (except child marriage laws) it doesn't recognise their minority for the purpose of religious rites, and there comes the problem with what this 13-year-old's parents, family members and priests did to her.
A 13-year-old, who can't contract, consent, buy a mobile connection on her own or even take a day off from school without parental permission, was made to fast for sixty-eight days under the supervision of everyone around her and the parent's freely justify it as though it was "her choice". What if the 13-year-old had decided that she wanted to stop schooling and move to the jungle and live like Tarzan? Would the parent's have been so accommodating of her choice?
"We did not hide anything. Everyone knew Aradhana was fasting. They came and took selfies with her. Now some people are pointing fingers at us for allowing her to fast for 68 days" said her grandfather.
It's quite clear that the 13-year-old parent's found it appropriate to include fasting as a part of their religious instruction to the minor. As do many other parents who allow their children to participate in dangerous rituals like the ones illustrated above. The law needs to step in at the point where a parent's move to religiously instruct their child is no longer in the best interest of the child.
This is not to say that there should be no religious instruction at all that can be given to the minor. Article 14 on the Convention on the Rights of the Child ("CRC"), to which India is a state party, recognises the right of children to receive religious instruction quite explicitly. It says:
1. States Parties shall respect the right of the child to freedom of thought, conscience and religion.
2. States Parties shall respect the rights and duties of the parents and, when applicable, legal guardians, to provide direction to the child in the exercise of his or her right in a manner consistent with the evolving capacities of the child.
3. Freedom to manifest one's religion or beliefs may be subject only to such limitations as are prescribed by law and are necessary to protect public safety, order, health or morals, or the fundamental rights and freedoms of others."
However, 14(3) allows the Government to create limitations in the interest of public safety, order, health or morals. This is similar to the provisions of Article 25(1) of our own Constitution which says this:
"Subject to public order, morality and health, and to the other provisions of this Part, all persons are, equally entitled to freedom of conscience and the right, freely to profess, practise and propagate religion".
These religious freedoms, enjoyed by parents and children, can be restricted if the State feels that it is in the interests of public order or morality. The CRC in India is implemented by the National Commission for Protection of Child Rights whose purpose is to ensure that India's laws and policies are in conformity with the CRC.
Article 19 of the CRC places the following obligation on India:
"Article 19
1. States Parties shall take all appropriate legislative, administrative, social and educational measures to protect the child from all forms of physical or mental violence, injury or abuse, neglect or negligent treatment, maltreatment or exploitation, including sexual abuse, while in the care of parent(s), legal guardian(s) or any other person who has the care of the child.
2. Such protective measures should, as appropriate, include effective procedures for the establishment of social programmes to provide necessary support for the child and for those who have the care of the child, as well as for other forms of prevention and for identification, reporting, referral, investigation, treatment and follow-up of instances of child maltreatment described heretofore, and, as appropriate, for judicial involvement."
Therefore, Central Government has a duty to ensure that there is protection for children to ensure that incidents like this do not occur. However, legislation in this regard and aspect is deeply lacking and what's clear from the fact that every year there are children who are injured as a result of participating in the activities described above (not comprehensive) and incidents like the one in Hyderabad, this lacuna needs to be filled.
The Government needs to ensure, that there are mechanisms by which such incidents can be prevented. Magistrates can be empowered to issue directions to stop religious activities where there is a chance for children to be hurt and police permission for such activities should ideally come with strings attached that prevent children from participating. It is incumbent upon the National Commission for Child Rights to propose such legislation to ensure that a parent's religious sensibilities do not override the fundamental protections that a minor has under the Constitution. This includes the Right to Life, the Right to a Childhood and the Right to Protection of their Person.
This year the Supreme Court refused to interfere with a Bombay High Court order that prohibited minors from participating in the 'Dahi Handi'" festival. The Court had reasoned that the activity was dangerous and had the potential to cause injury and therefore, along with placing a cap on the height of the pyramid, the Court confirmed the Bombay High Court's decision to prevent minors from participating in the event. This is a welcome step in the right direction, one hopes that other festivals also see minors being excluded from participation. Minors by virtue of their minority are not in a position to consent to these activities, and it is incumbent on the State to step into the shoes of the parent in order to protect the minor.
Coming back to the incident in question. The girl's family have been charged with culpable homicide not amounting to Murder. In my view, these charges can and should also be upped to include Murder as it falls within the Fourth provision to Section 300 of the Penal Code, which says that Culpable Homicide is Murder if:
"If the person committing the act knows that it is so imminently dangerous that it must, in all probability, cause death or such bodily injury as is likely to cause death, and commits such act without any excuse for incurring the risk of causing death or such injury as aforesaid."
The State needs to send a strong message that acts like this will not be tolerated by charging people who commit them with the maximum force of the law. Further, persons who visited the child and encouraged her to go on the fast should also be charged with abetting the offence, including the priest from Chennai who advised the family to engage in this course of religious activity. By extension, parents who allow their children to participate in activities like the one's described above should also be prosecuted.
It is shocking that a society found it normal that a thirteen-year-old was undertaking a fast. Minors should not be allowed to participate in actions that have the potential to cause them permanent or temporary physical or psychological harm. Even with the consent of parents for whatever, the religious justification, a well-ordered society, founded on decency and pubic morality, cannot allow for 13-year-olds to fast to death; and should not permit children to fast during Ramadan; or injure themselves during Muharram, stand on a risky human pyramid, be tossed of buildings and let themselves being walked over by priests.
The Government also should not allow parents to send their children to train as priests unless the State can ensure and guarantee that their formal education will not suffer. There should be amendments to the Right to Education Act to ensure this. Ideally, upon graduation, these students also be made to sit the School Leaving Examination offered by the State Boards. The State has an obligation wherein concerns the welfare of the minor and allowing for religion to have a nearly unrestrained rein in overriding the interest of the minor is a matter of grave public urgency.
Religious instruction is fine as long as no child gets hurt. The minute a child is hurt, the full weight of the law must fall on parent or guardian who allowed for the child to be hurt, irrespective of religion. An urban school going 13-year-old died in the year 2016 in India as a family priest told her that fasting for sixty-eight days would bring her family good luck. It is a shame that this happened in a country. This must give us reason to pause and reconsider our laws on the protection of children.
Find latest and upcoming tech gadgets online on Tech2 Gadgets. Get technology news, gadgets reviews & ratings. Popular gadgets including laptop, tablet and mobile specifications, features, prices, comparison.
Politics
The Birbhum MP said she has been unsuccessful in reaching out to the party leadership and would not want to continue in the post if she is unable to 'work for the masses'
Politics
The BJP leader said the state is a victim of the Mamata Banerjee-led Trinamool Congress government and is 'yearning for a change'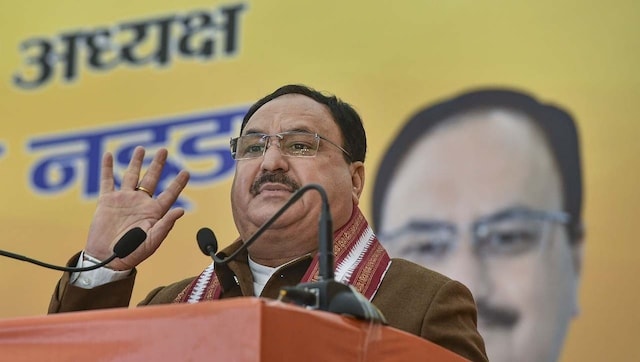 India
The BJP chief will float the Ek Muthi Chawal (fistful of rice) project, under which party workers will collect rice from farmers' homes and brief them about the new farm laws