Jadavpur University students sit-in lifted after administration offers to write to govt
The sit-in demonstration by Jadavpur University students was lifted early on Saturday, after the university authorities assured them of communicating their sentiments to the government regarding provisions of a bill
Kolkata: The sit-in demonstration by Jadavpur University students was lifted early on Saturday, after the university authorities assured them of communicating their sentiments to the government regarding provisions of a bill.
The bill, West Bengal Universities and Colleges (Administration and Regulation) Bill-2017, would enable the government to have the power to prescribe rules and procedures for conducting students' body or union election. It was passed in the assembly in February this year.
"We lifted the sit-in as the Executive Council members comprising the vice-chancellor, registrar and other senior officials told us that they would communicate the sentiments of the students to the state government regarding the proposed apolitical student council model which is undemocratic and unacceptable," Arts Faculty Student's Union (AFSU) leader Gitasree told PTI.
"The students informed me they have lifted the sit-in early today. They are all my children," Vice-Chancellor Professor Suranjan Das said.
The students held a general body meeting that lasted for an hour after which the sit-in was withdrawn around 2 am, almost 36 hours after it had begun.
Though the sit-in was withdrawn at 2 am, the VC, the registrar Pradip Ghosh and other Executive Council members including four deans and the Pro VC left the campus at 5 am.
"We were assured that the EC will take all stakeholders of the university in confidence by initiating a discussion about the bill by the higher education department that will pave the way for setting up apolitical student council bodies in all state-aided colleges and universities to supercede democratically elected unions," a Faculty of Engineering and Technology Students' Union (FETSU) leader said.
"But we understand that we have to take this fight to the appropriate level," he said.
ABUTA leader and JU teacher Goutam Maity said, "Yes, I am happy that the the sit-in has finally been lifted. Teachers and non-teaching staff support the students' demands but we need to fight the battle with those who are behind the move."
India
He had tested positive for coronavirus nearly a month ago and was admitted since then, an official of the designated facility said
Politics
Governor Jagdeep Dhankhar administered her the oath of office and secrecy at a low-key ceremony at Raj Bhawan held amid the raging COVID pandemic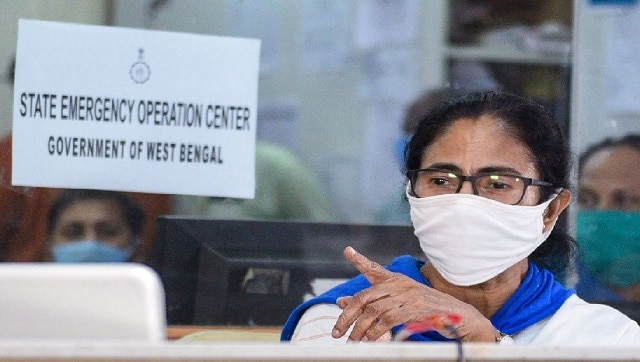 India
On Tuesday, Bengal reported both its highest single-day deaths of 107 COVID patients and its highest one-day spike of 17,639 cases