Islamic State flags seen at militant's funeral in Kashmir but clerics, politicians deny group is gaining ground in Valley
The Islamic State ideology will not find buyers in Kashmir, but its propagation is not a good development for peace in South Asia where new battle lines are being drawn in times of CPEC and Indo-US bonhomie.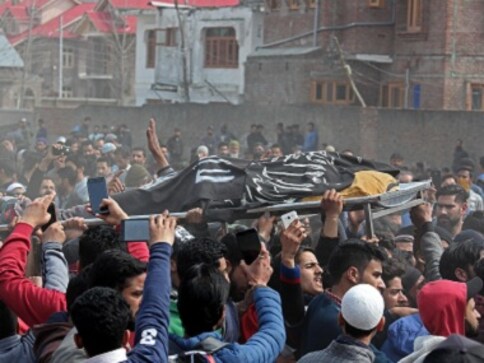 A raging debate over whether Islamic State really exists in Kashmir has taken social media by storm over the last few weeks. The tipping point was the funeral of Eisa Fazli, a militant who was allegedly inspired to follow Islamic State's ideology last year, and whose body draped with black flags was paraded near his Srinagar home for photographers in what looked like a carefully scripted act.
But never before in recent times has the Valley's intelligentsia, political leadership and citizenry come out in a single voice to denounce the Islamic State ideology taking roots in Kashmir. The problem, however, was that those speaking out, do that in full public view, while those espousing the terror group's murderous ideology are doing so from under the cloak of anonymity, using fake profiles, like how a group of masked men hijacked Eisa's body to make a spectacle out of it.
But Friday saw two of the most important political leaders come out openly against hate speeches on social media, to assert that Kashmir's political struggle is indigenous and that Pakistan is an important player in the regional conflict, not some radical group which has achieved notoriety for its barbaric acts done in the name of Islam which find no place in the "world's fastest growing religion".
In a veiled reference to the Islamic State's ideological supporters who argue that nation states have no role to play, since the battle in Kashmir is for the supremacy of Islam, Jammu Kashmir Liberation Front (JKLF) chairman Yasin Malik said the growing intolerance and hate speeches, especially on social media, are meant to widen the gap between various sects of Islam and to undermine unity among them.
Indirectly hitting out at people propagating Islamic State's ideology and suggesting the supremacy of Islam over the Kashmiri struggle, Malik said, "Hate mongering has risen to an alarming level and these preachers have started showering abuses on one another, calling for fiery debates, and on occasion, even indulging in calling others infidels and non-Muslims. This state of affairs is not acceptable to us, as it is detrimental to our unity and cohesiveness."
And from the pulpit of the historic Jamia Masjid in Srinagar, Mirwiaz Umar Farooq lauded Pakistan for being the guardian of Kashmir's struggle, asserting that the world will do more to solve the Kashmir issue. "The way Pakistan has given political, diplomatic and moral support for Kashmir, I am sure it will continue," Mirwaiz said.
Political analyst and senior journalist Gowhar Geelani said the Islamic State and Al-Qaeda only represent violence, destruction and a misinterpreted form of political Islam that aims to burn bridges of understanding and justifies monstrous violence against own people and the perceived enemy.
"In Kashmir, this misinterpreted form of religion will not work for variety of reasons: One, Kashmiris are not facing a crisis of faith; two, Kashmir is an alcove of Sufi saints which believes in tolerance, cultural confluence and communal harmony; three, Kashmiris do not see their just political struggle as part of any global agenda," Geelani told Firstpost on Friday.
"Also, one may argue that the Kashmir dispute is purely a political struggle with ethno-religious undertones much like the Irish conflict. One must remember that Kashmiri struggle has drawn and continues to draw inspiration and strength from multiple sources and identities which include Kashmiri ethnicity, Kashmiri nationalism, geographical proximity with Pakistan and also religious identity. But the struggle has roots in politics and partition of the sub-continent. The struggle is indigenous, and has no global ambitions," he added.
There is no doubt that some sections of the younger generation of Kashmiris, fed up with the unending status quo, are seeing the Islamic State as a kind of vent that might aid their liberation of the land. But to say it is logistically possible would be to underestimate the ground realities. For two years, protesters around the same Jamia Masjid used Islamic State's flags to attract television crews and chide security forces, but never before was this phenomenon taken so seriously by people as it is being taken today on social media.
So much so that after Mohammad Ashraf Sehrai was anointed as Syed Ali Shah Geelani's successor, he spoke up about this issue in his first interview to local newspaper Greater Kashmir. Islamic State has nothing to do with Kashmir, and its venomous ideology will never be accepted, Sehrai said. "Islamic State and Al-Qaeda have nothing to do with our movement and we will never accept them," he said.
He said youth in Kashmir should not be swayed by the extremist ideology and understand Islam in its correct perspective. "Some elements are creating confusion among masses by raising Islamic State flags at militants' funeral. We kept a close watch on them, and will soon chart out a plan to stop them after the elections."
But who are these rabble-rousers who want to push Kashmir into Islamic State's lap? A good way of unearthing the truth is to find out who those masked men were who hijacked the funeral of Eisa Fazili in Srinagar. The Islamic State ideology will not find buyers in Kashmir, but its propagation is not a good development for peace in South Asia where new battle lines are being drawn in times of CPEC and Indo-US bonhomie.
India
In 2017, terrorists targeted a CRPF camp housing the Pre-Induction Training Centre at Lethpora in the Pulwama district of South Kashmir and the 185 battalion headquarters, killing five troops
India
Nityanand Rai said there has been a substantial decline in the number of terrorist attacks in Jammu and Kashmir -- from 417 in 2018 to 229 in 2021
India
Second on the list is West Bengal with 257 custodial deaths followed by Bihar. The country reported 151 police encounter deaths from April 2021 to March 2022