Is rising local militancy in south Kashmir a distraction tactic to hide real action in North?
According to the local grapevine, throngs of foreign militants are lurking in north Kashmir; a large number are said to be concentrated in the Sonawari-Safapora belt.
The last three days have brought a series of bloody attacks, killings and battles in south Kashmir. This is likely to sharpen the focus of counterinsurgency tacticians, intelligence agencies and policymakers on this extremely restless area. That is only natural. However, it would be a grave mistake to sharpen focus so intensely south of Valley as to ignore north Kashmir — or downtown Srinagar and other parts of central Kashmir.
According to the local grapevine, throngs of foreign militants are lurking in north Kashmir; a large number are said to be concentrated in the Sonawari-Safapora belt, where they have even shown their hand in recent weeks. An even larger number could be hiding in the forested hills that stretch from Handwara to Baramulla, not far from the Line of Control.
Most of these suspected terrorists are said to be foreign militants, a great majority of whom could have infiltrated over the past three years through routes across the Shamsabari range that runs in an arc across the Kupwara district. On most days (and nights) at the peak of summer last year, the army engaged several different militant groups and foiled infiltration attempts through various routes. This sort of intensity of infiltration has been unknown since the 1990s.
Similarly, the forests around Ajas and other parts of the Bandipora region are likely to be home to many more foreign militants. There are reports that infiltrations have taken place from the Dras area, and into the Valley through Tulail and Gurez. This route was used in 1990-91 too. On one occasion back then, the army killed more than a hundred intruders in one massive operation.
At the heart of all these areas in the north is Sopore, which has been the epicentre of insurgency for decades. So crammed with miltants was the area around Sopore that it was almost out of India's control from around 1990 to 1992. Militants roamed freely and even army convoys took detours to avoid the town.
At this point, those in charge of security would be well advised to urgently secure bridges and other supply lines to the three divisions stationed in the north — and rapidly construct alternate routes along the Pir Panjal on the western edge of the Valley.
Diversionary antics
It is possible that the concentration of attacks and encounters — mainly by local militants — in south Kashmir is designed to give the foreign militants in the north a chance to take roots and prepare for action. To that extent, the action in south Kashmir may even turn out to be a side-show before the main action begins. Besides, local militants have always been considered less daunting than foreign ones.
The infiltrators are likely to be far more lethally trained than the local boys, who are generally trained locally. The arms that these foreigners bring with them too are likely to be more sophisticated. Most of the local boys have armed themselves with rifles they have snatched from police or paramilitary personnel. Weapon snatching appears to have been something of a ritual of initiation to join the new militancy which emerged from about the beginning of this decade.
Increased violence ahead
Even amid so much bloodshed, there is much talk in the Valley of a further increase in violence after Eid-ul Fitr. The festival is due after another week and violence could take a quantum leap a few days after the celebrations.
Last year too, there was similar talk during the month of Ramzaan about heightened unrest after Eid and indeed, extraordinary unrest followed the killing of militant commander Burhan Wani just two days after the festival.
There are indications that last year's unrest might turn out to be something of a practice run for much greater violence this year. Violence during the second half of this year might resemble a horrific war — on the ground within the Valley, quite apart from heightened exchanges on the Line of Control and the International Border.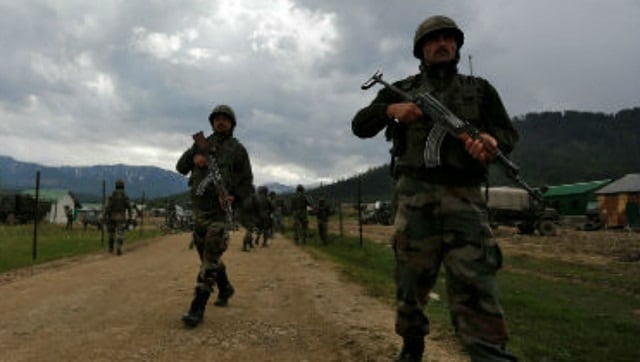 India
One of the militants was identified as Ishfaq Dar alias Abu Akram, a top commander of LeT, said DGP Dilbag Singh
India
The searches were carried out in connection with a probe into two cases pertaining to alleged issuance of around two lakh arms licences in erstwhile state of Jammu and Kashmir
India
As per the Jammu and Kashmir Police, approximately 5 kilograms of explosives have been recovered from the drone.