Is demonetisation BJP's Waterloo in the making? Data certainly suggests so
The Narendra Modi government's demonetisation move is increasingly proving to be its Waterloo, as there's plenty of data shows demonetisation will not curb black money in India, but hurt the economy very bad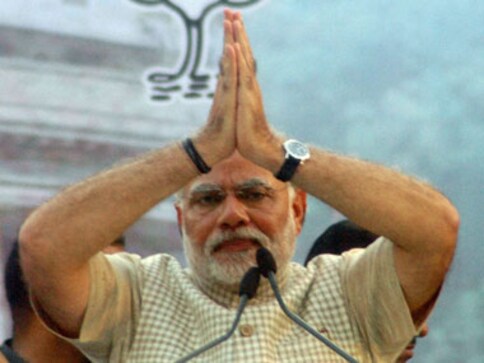 The "surgical strike" on Indian currency notes has all the classical signs of quackery. People are dying in large numbers, there is pain and suffering all around, and the after-effects of the move threaten to cause financial havoc. Yet, those responsible for the botched operation are prescribing more nostrum and promises daily. It's all a cold play for them.
Almost a fortnight after notes of Rs 500 and Rs 1,000 were outlawed, the complete lack of planning and competence is obvious. Here's how:
- We were told that ATMs and banks would replace cash fast. But it may take nearly six months to print currency that could fill the void in the system. The mints just don't have the capacity to print notes worth Rs 14 lakh crore that may have to be exchanged.
- We were told that counterfeit notes would turn into pieces of scrap. But banks are now reporting that large amounts of fake currency are being tendered at the counters and getting replaced with new notes. The overworked banking system just doesn't have the time and wherewithal to check counterfeit currency. Besides, the cost of printing those notes and the effect of demonetisation on the GDP, make the counterfeit currency threat appear loose change.
- We were told that large amounts of illegal assets would be disclosed too. But that looks like another jumla now. Cash forms just about six per cent (that's the most liberal estimate) of the country's black economy GDP as this Hindustan Times report points out referring to Income-Tax probes between April 1 to October 31 in 2016. And, some of this may never return to the banks in the end since a major portion may have already been laundered or syphoned off to offshore accounts because some people could have had prior information about the government's decision.
- We were told that outlawing old notes would break the back of terror networks and tame Pakistan. Well, just a couple of days ago, terrorists struck in Assam. On Monday morning, India woke up to the news of Pakistan shelling the border and killing one more jawan. For them, it is business as usual. And if you are reading too much into the silence in Kashmir, probably you are among those who believe that Kashmiris were throwing bricks of gold instead of stones at security forces.
It is obvious the surgery is not going to cure anything. Writing in The Economic Times, Amit Varma argues that even if this were implemented right, we would not have been spared the havoc it has caused. "Indeed, Burkean conservatives and Hayekian libertarians alike would be aghast at Modi's actions, as he propels India towards the Soviet Union so admired by Nehru, with its state oppression, artificial shortages and infamous queues," he argues.
Given that economics is not every politician's cup of tea, what were the experts in this country drinking while rolling out this scheme? Did nobody tell the government that only 53 percent India has bank accounts? Did nobody tell them that printing Rs 2,000 notes will create more problems because nobody would have smaller notes to break them? Did nobody tell them that at the least they should print notes that could fit in the ATM cassettes, and print smaller notes first? Did nobody have the sense to laugh at the joke of moving towards a cashless economy with notes of higher denominations?
Ad-hocism, knee-jerkism and post facto wisdom are in circulation as cash disappears. Everyday rules for withdrawal change and new farmans are issued prompting WAGs to joke that one should quickly withdraw money while they are using indelible ink on fingers. For, tomorrow somebody might suggest the idea of blackening the entire face to mark people.
The government appears as clueless as a fielding captain whose bowlers are being thrashed all around the park. Out of desperation, the captain is changing the field placement after every delivery, in the hope that something may work.
Two days after the government unleashed surgical strife on millions of Indians through its policy of demonetisation of the poor and the honest, Firstpost had argued that this will be the BJP's Waterloo. Prime Minister Narendra Modi and his team should read the writing on the wall: change is coming.
The BJP's core constituency of traders is despondent. Unorganised labour, farmers and small traders have suffered huge losses over the past fortnight and fear a financial freeze over the next two quarters. The worst is yet to come, though. Some estimates suggest the GDP may fall by half, down to around 3.5 percent in the next financial year. According to Ambit Capital, the economy may get paralysed over the next few months.
Politics in India may run on empty jumlas but the economy can't survive on empty coffers. So, when the full impact of demonetisation is felt by the market, growth shrinks, jobs disappear and cash goes out of supply. There will be a backlash. The final price of demonetisation could be heavy for the BJP.
They say you learn by reading and observing, but here the BJP seems to have dived into boiling oil to take some valuable lessons home. As a scribe friend said: only diehard bhakts wouldn't mind that.
However, if the government is looking for lessons, I would suggest a Panchtantra tale: A king once befriended a monkey and made him his guard. One day, while the king was asleep, the monkey struck a fly on the king's nose with a sword. Moral of the story: Good intentions are nothing, if not backed by common sense.
also read
India
PM Modi inaugurated the new Parliament building with much pomp. The building is courtesy of noted architect Bimal Hasmukh Patel from Ahmedabad. The 61-year-old has come to be known as the 'PM's architect' as he is also the brains behind the Sabarmati Riverfront and the Kashi Vishwanath projects
India
PM Modi will deliberate on issues related to health, skill development, women empowerment and infrastructure development, with an aim to make India a developed nation by 2047
India
Senior historian Kapil Kumar pointed out that opposition leaders such as former Congress chief Rahul Gandhi make an extra show of religiousness by visiting temples and even claim to be 'janeu dhari brahmins' ahead of elections while disowning cultural and religious values as voting is over