Ravichandran Ashwin has been praised a lot for his tactical nous as a captain in his debut season for the King XI Punjab. Most of his ideas have been quite innovative, thus challenging the strategies of the opposition during the matches.
However, some of those decisions or ideas have misfired as he has sometimes tried to force his imagination or innovations into critical situations, ending up being double bluffed by his opponents.
One such area of concern has been the constant middle-order experiments, with Ashwin chopping and changing the batting line-up depending upon the situation in the past few matches.
Punjab's encounter against Rajasthan Royals on Tuesday was a prime example of that. Ashwin decided to promote himself to No 3 after Chris Gayle departed cheaply for just a solitary run to his name. But it took Krishnappa Gowtham just two deliveries to bamboozle Ashwin with his off-spin. The KXIP skipper was beaten all ends up as the ball took a sharp turn and crashed into his stumps.
Thus, the strategy to promote himself – the reason and thinking behind which was not clear at all – didn't work out well and only ended up putting pressure on the rest of the batsmen.
The decision to play Akshdeep Nath, who didn't look comfortable either with his batting or fielding, in the place of a player like Mayank Agarwal, who has looked good and comfortable at the crease despite his failures to play big innings, was also a decision that should have been avoided at this stage of the tournament.
It is the business end of the tournament now, when teams should be looking to keep things straight and simple. KXIP's middle order has been a cause of concern since the start of the tournament but the situation was not so bad that it would have needed such drastic changes.
Once KXIP were sitting pretty at the top of the points table with five victories in as many as six games. Now they have lost three of their last four games, which could largely be attributed to their misfiring batting strategies.
Yuvraj Singh and Axar Patel's promotion to No 3 and 5 respectively against Mumbai Indians earlier this month at Indore in order to counter the threat of the left-arm spin of Krunal Pandya turned out to be a pretty bad decision too as it only pushed them into a deeper hole. Both of them consumed too many deliveries and thus the momentum of the match shifted completely towards Mumbai. Moreover, Agarwal batting at No 6 as a result of that experiment didn't help their cause either.
KXIP have now tried a total of 10 batsmen for their middle order, that is between positions No 3 and 6, and that gives us an idea about how unstable the core of their batting line-up has been. The constant chopping and changing hasn't allowed any one of them to settle down into a rhythm.
The table above shows how none of the batsmen except Nair and Marcus Stoinis to some extent have been able to churn out consistent returns with the bat. Manoj Tiwary, Yuvraj and Aaron Finch have been the biggest disappointments.
David Miller could have been given a few more opportunities but the fact that there remains only one overseas slot after the regular starters like Gayle, Mujeeb Ur Rahman and Andrew Tye doesn't help his cause. No one deserves that remaining one slot more than Stoinis due to his all-round potential and he has proved that with his useful cameos down the order and wickets at crucial situations.
Gayle and KL Rahul have accounted for 49.75 percent of the total runs that KXIP have scored so far this season. The middle-order batsmen, on the other hand, have combined to score only 34.53 percent of KXIP's total runs this season.
Not only that, out of those runs scored by KXIP's middle-order batsmen, Nair himself has accounted for 40.17 percent. He is the only KXIP middle-order batsman to have registered a fifty in this tournament and that came way back in their first match, against Delhi Daredevils. Apart from that, he has also played some valuable knocks of 20s and 30s to support the stupendous acts from Gayle and Rahul. However, the rest of the KXIP batsmen haven't been able to do even that.
The biggest concern for KXIP has been the form of their No 3 and No 5 batsmen. While Nair and Stoinis have performed the role of No 4 and No 6 batsmen decently, it is the batsmen featuring in the other two positions whose performances have affected KXIP's campaign the most.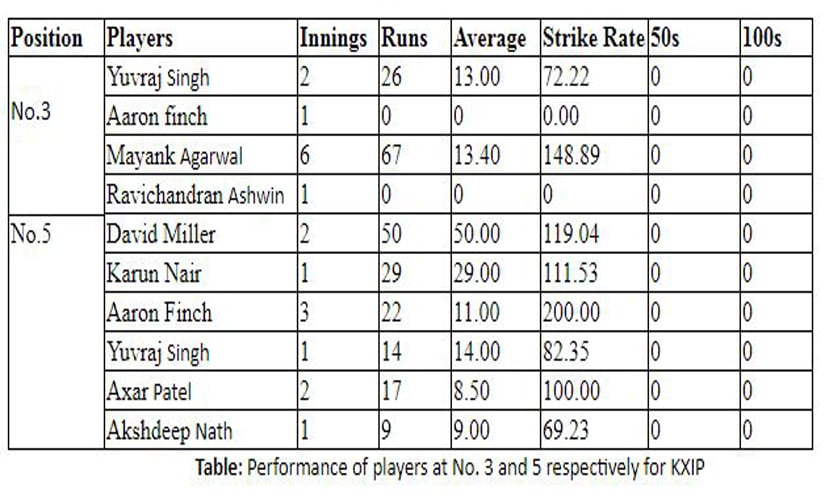 So it is quite clear from the above statistics how KXIP have struggled with their No 3 and No 5 batsmen. Although Agarwal has always thrown his opportunities away, he has been the player who has looked the best at No 3. He has shown considerable promise with innings of 30 off just 19 deliveries against Chennai Super Kings, 18 off nine deliveries against the Sunrisers and 21 off 16 deliveries against Delhi Daredevils. Moreover, given the kind of form he has been in this domestic season, he should be backed by his team at that position instead of dropping or demoting him.
As far as the No 5 position is concerned, none of the players other than Stoinis should have batted there once Finch failed to make his mark. Stoinis has shown superb form batting at No 6 and adding valuable runs to the total. He averages 48 batting at No 6 this season at a strike rate of 135.21 and hence should be tried a position higher up the order.
In fact, the KXIP batting line-up should read Rahul and Gayle as openers followed by Agarwal, Nair and Stoinis at Nos 3, 4 and 5 respectively. The best batsmen in the team should always bat higher up the order and KXIP should fix this by assigning those three players to their rightful positions. The positions of No 6 and 7 can be taken care of by any two batsmen between Tiwary, Axar or skipper Ashwin himself.
KXIP's aim should now be to avoid experimenting unnecessarily and too much. They still have four matches to go in the league stage and it is high time that they think about fixing their middle-order woes.
Firstpost is now on WhatsApp. For the latest analysis, commentary and news updates, sign up for our WhatsApp services. Just go to Firstpost.com/Whatsapp and hit the Subscribe button.
Updated Date: May 09, 2018 13:29:07 IST