INX Media case: Relief for Karti Chidambaram as Delhi High Court grants him bail on a surety of Rs 10 lakh
The Delhi High Court has granted bail to Karti Chidambaram, son of senior Congress leader P Chidamabaram, in the INX Media corruption case.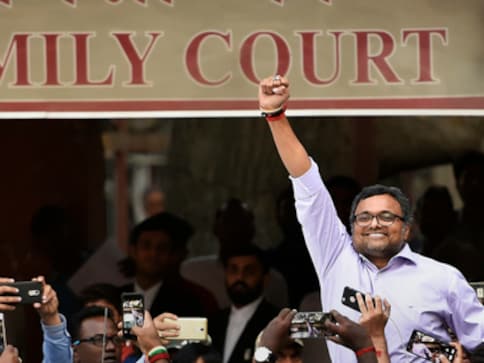 The Delhi High Court granted bail to Karti Chidambaram, son of senior Congress leader P Chidamabaram, in the INX Media corruption case on Friday. According to reports, Karti has to furnish a bail bond of Rs 10 lakh.
The order was delivered by Justice SP Garg who had reserved his verdict on 16 March after hearing arguments on behalf of Karti and the CBI, which had opposed grant of the relief to him.
The Central Bureau of Investigation contended that Karti should not be granted bail, as he has already destroyed evidence in the case and was an "influential" person.
Karti's counsel had argued that no case under the Prevention of Corruption Act was made out against him since the CBI had neither questioned any public servant, nor made them accused in the matter.
Karti's lawyers had denied allegations of tampering with evidence, and added that when the CBI itself hadn't sought his custodial interrogation, why should he be kept in judicial custody.
They also said that no one else has been arrested in the case and what the CBI has done is to put Karti behind bars.
Karti's lawyers further claimed that the CBI was trying to connect him with a private company, Advantage Strategic Consulting Pvt Ltd, which had received an alleged bribe amount of Rs 10 lakh, when he was in no way related to it.
Karti was arrested from Chennai on 28 February by the CBI on his return from the United Kingdom in connection with an FIR lodged on 15 May last year, alleging irregularities in a Foreign Investment Promotion Board clearance given to INX Media for receiving funds of about Rs 305 crore from overseas in 2007 when his father was the Union finance minister.
The CBI had initially alleged that Karti received Rs 10 lakh as a bribe for facilitating the FIPB clearance to INX Media. It had later revised the figure to $1 million (about Rs 6.50 crore at the current exchange rate and Rs 4.5 crore in 2007).
The fresh evidence in the case, which triggered Karti's arrest, was based on a statement of Indrani Mukerjea, former director of INX Media (P) Ltd, who recorded it under Section 164 of the CrPC before a magistrate on 17 February. Indrani is currently lodged in a Mumbai prison in connection with the case of murder of her daughter Sheena Bora.
With inputs from PTI
also read
Explainers
The third G20 Tourism Working Group meeting is being hosted by India in Srinagar on 22-24 May. This is J&K's first significant international event since losing its special status in 2019. While Saudi Arabia and Egypt have not yet registered, China and Turkey have chosen to skip the event
Explainers
Taiwan on Tuesday passed an amendment that permits same-sex couples to adopt children they are not biologically related to. The other countries where such adoptions are legal are Israel, France, Germany, Norway, Portugal, Spain, Australia, New Zealand among others
Entertainment
Prime Video today dropped the lyrical video of 'Kukunnu' from Kaadhal Enbadhu Kannula Heart Irukkura Emoji episode in Modern Love Chennai. The catch melody, sung by Vagu Mazan & Ramya Nambeesan and lyrics written by Yuga Bharathi