International Yoga Day: From Connaught Place to New York, stage set for enthusiasts
From Central Park in Connaught Place to Central Park in New York, the stage is set for the third International Day of Yoga on Wednesday with Prime Minister Narendra Modi leading the celebrations in performing asanas in Lucknow.
From Central Park in Connaught Place to Central Park in New York, the stage is set for the third International Day of Yoga on Wednesday with Prime Minister Narendra Modi leading the celebrations in performing asanas in Lucknow.
"About 5,000 events will be held across the country to mark International Day for Yoga (IDY)," a senior official from Ayurveda, Yoga and Naturopathy, Unani, Siddha and Homoeopathy (AYUSH) ministry said.
Besides, celebrations will take place in 150 countries with Indian missions coordinating activities in landmark places such as Eiffel Tower in Paris, Trafalgar Square in London and Central Park in New York, the official said.
On the eve of Yoga Day
From China's Great Wall to Britain's London Eye, yoga enthusiasts performed 'asanas' at iconic landmarks on Tuesday as several events were held in various countries to mark the third International Yoga Day.
A large number of Chinese yoga enthusiasts participated in a colourful yoga event at China's Great Wall on the eve of the International Yoga Day. Minister of State for External Affairs VK Singh also participated at the event jointly organised by the Indian Embassy, Beijing Chinese People's Association for Friendship with Foreign Countries (CPAFFC) and Yogi Yoga, a popular yoga school.
'Great Wall of Yoga'#Yoga gets on top of the Great Wall, and into Chinese hearts.#IDY2017 #YogaDay pic.twitter.com/QGdYntz67U

— India in China (@EOIBeijing) June 20, 2017
The event is a cultural milestone, marking the first time yoga was performed atop the Great Wall by a joint Indian and Chinese group of yogis.
The High Commission of India in London and India Tourism's UK division also staged a yoga takeover of the Coca Cola London Eye, teaming up with UK-based yoga organisations to unite in a so-called 'Wheel of Yoga', on Sunday.
The first-of-its-kind event was classified as "yoga for peace" and took place within 32 pods of the London Eye on the banks of the river Thames to celebrate the opening event of the International Day of Yoga, marked worldwide on 21 June.
In the US, a large number of people including from the Indian community participated in special yoga sessions organised by the Indian Consulate. Yoga enthusiasts attended the yoga sessions at the Consulate and performed the 'Surya Namaskar', 'Pranayam' and other yoga exercises for two hours.
A yoga event was also held in Seychelles with great enthusiasm on Monday at the iconic Palais des Sports indoor stadium in Victoria, Seychelles.
Yoga session with Art of Living Foundation @IndiainNewYork pic.twitter.com/IF8ckwKpQY — CGI,NewYork (@IndiainNewYork) June 19, 2017
Around the world on Yoga Day 
In the United Kingdom, yoga enthusiasts have been participating in mega yoga events this week at iconic tourist attractions such as the London Eye and Trafalgar Square to celebrate the third International Day of Yoga.
In commemoration of the day, the UN headquarters in New York has been lit up for the second year in a row with images of yoga postures.
The Permanent Mission of India to the UN will organise a 'Yoga Session with Yoga Masters' at the world body's
headquarters led by Swami Chidanand Saraswati and Sadhvi Bhagawati Saraswati of Parmarth Niketan Ashram, India and Swami Sivadasananda of Sivananda Yoga Retreat, Austria.
Chef de Cabinet of the UN Secretary General Maria Luiza Ribeiro and President of the General Assembly Ambassador Peter Thomson are special guests on the occasion.
Israel will hold the largest yoga event at Rabin Square in its capital Tel Aviv on the occasion on Wednesday.
Thousands will partake in multiple forms of yoga led by Rohit Sabharwal, a renowned yoga teacher.
A look at India's plans
The biggest gathering to celebrate the International Day of Yoga in India will be at Lucknow's Ramabai Ambedkar Maidan where Modi and about 55,000 others will stretch and bend in various yogic postures.
Prime Minister Narendra Modi will practice various yoga asanas at the sprawling ground in Lucknow which will also have Uttar Pradesh Chief Minister Yogi Adityanath joining in.
The prime minister will practice yoga for 80 minutes at the event which is expected to have as many as 51,560 yoga practitioners.
Meanwhile, the Samajwadi Party will celebrate the International Yoga Day by taking out 'cycle yatras' across Uttar Pradesh to give a message of environment conservation and health awareness.
"To give a message of environment conservation and health awareness, directives have been issued to them to start cycle yatra at all district headquarters from 6 am and later perform yoga at their home as per convenience," SP spokesman Rajendra Chowdhury said, adding that cyclists have been asked to remain "disciplined".
The party's move is seen as a counter to the BJP's Lucknow event.
In Delhi, eight events have been planned with the main event being held in Connaught Place. The New Delhi Municipal Council (NDMC) will be organising events at Connaught Place, its six radials and inner circles and at the city's three gardens -- Lodhi Garden, Nehru Park, Talkatora Garden and Childrens' Park at India Gate.
The tourism ministry has also planned several ways to promote Yoga day in India and abroad.
The ministry has made a 30-second radio spot to promote yoga on 17 All India Radio FM stations.
While a 60-second television commercial to popularise India as the land of yoga has been developed, a month-long TV campaign to create awareness about yoga will be launched on Doordarshan network on Yoga Day on 21 June.
"Look at Prime Minister Narendra Modi, in four-hour meetings, he does not doze off, sneeze or yawn. He concentrates throughout the meeting. This is because of yoga and his dedication towards it," said tourism minister Mahesh Sharma.
The ministry is also promoting the 21 June event through social media. International Yoga Day (IDY) posters and standees have been put up at India Tourism's domestic and international offices.
A group of 53 international guests comprising tour operators, journalists, photographers, yoga gurus and opinion makers from across the globe have been invited by the ministry on a familiarisation trip to India.
The group will participate in the main celebrations at Lucknow and will then visit various yoga institutions and wellness centres in the country to gain first-hand knowledge and promote India as a destination for yoga in their respective countries.
With inputs from PTI
India
Apart from Sibal, G-23 leaders Shashi Tharoor and M Veerappa Moily have also slammed Prasada for switching to the BJP
India
Lidwina Joseph, a student of Kendriya Vidyalaya at Thrissur, enclosed in her letter a drawing depicting discharge of duties by the apex court where a judge is seen hammering down the coronavirus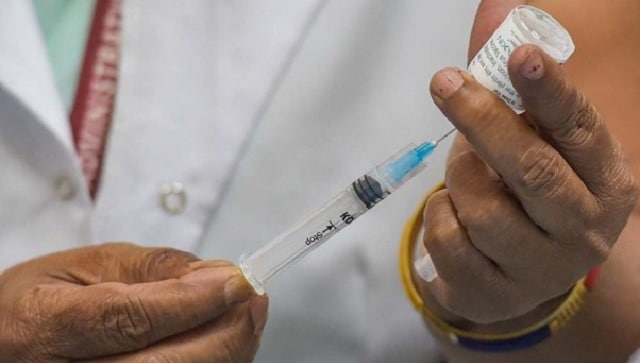 Blogs
While the original plan of 30 crore fully vaccinated individuals by July may extend by a few weeks, the year-end target can be more ambitious