Infosys CEO resigns: Revenues, profit up under Vishal Sikka, so what are the co-founders complaining about?
VIshal Sikka's resignation has wiped off investor wealth in Infosys to a whopping Rs 22.430 crore market capitalisation in the bourses.
Infosys's former Chief Executive Officer (CEO) and Managing Director (MD) Vishal Sikka's resignation has created more rumbles than the constant complaints and intermittent spurts of annoyance that co-founder NR Narayana Murthy has been conveying through interviews in the media.
Sikka's resignation has wiped off investor wealth in Infosys to a whopping Rs 22.519 crore market capitalisation in the bourses. The stock registered a never-heard-before drop of 13 percent in intra-day trade to hit 52-week low of Rs 884.40 and finally closed 9.6 percent down at Rs 923.10 against Thursday's close of Rs 1,021.15. In 2016 October, the stock had touched Rs 1,080.70.
Sikka has come out personally unscathed from the 'continuous assault' (as the Infosys board has mentioned in its mail) from co-founder Murthy.
From Murthy's annoyance at hike in salaries of the top management (in February 2016, Infosys board gave a whopping 55 percent hike to Vishal Sikka whose salary went up --  base salary of $1 million to overall compensation of $11 million and $2 million in restricted stock units and $5 million in stock options) to corporate governance issues, the former chairman had a lot to say on each of these.
All that Murthy felt on several issues concerning Infosys were in the media through interviews or snippets of conversation. The latest from Murthy that was reported in some sections of the media was that he was privy to three independent directors of Infosys who told him that Sikka was not CEO but CTO material. The CTO reference is to Sikka holding a job previously as CTO in SAP AG, where the post was specially created for him after which he joined as an executive member of the company's board.
Everything is par for the course, so co-founders presume and assume, as they think they are talking with the interests of the 'shareholder' in mind, analysts said. But when is that fine line transgressed much to the annoyance of the board? "The corporate governance principles of transparency cannot come at the cost of the autonomy and independence of the board," said Manoj Kumar, founder – Hammurabi & Solomon and visiting fellow at Observer Research Foundation. He says that the CEO is answerable to the board and not to the promoter or co-founder. When co-founders and promoters go for the overkill, then that is not corporate governance, he said.
In February, Infosys founders -- Murthy, Nandan Nilekani and Kris Gopalakrishnan, had written a letter to the company's board raising issues of governance in some of the decisions the board had taken recently. The issues they raised include the sharp rise in compensation of Sikka, the company's first non-promoter CEO, severance packages given to some of the top executives, and induction of Punit Sinha, wife of Union minister Jayant Sinha, on the board.
It is to be noted that all the founders had only a few years back voluntarily relinquished their respective posts, paving way for the first non-founder CEO to take over. In this context, the founders' letter amounted to unsolicited intervention in the company's affairs.
When Murthy went public with his issues concerning Infosys and the management, he did not factor the independence of the board. The top leadership had to then douse the flames of this distraction when it could have actually engaged itself in the core business especially at a time when the IT sector was undergoing strife in its largest market in the US under President Donald Trump who insisted on local hires instead of outsourcing jobs.
R Seshasayee, chairman of the board, and Sikka both answered and accommodated Murthy's concern. In February, when Murthy stated that governance issues remain a key concern, Seshasayee and Sikka promised to maintain higher standards of transparency going ahead.
Inspite of the noise around Infosys created by its co-founders, it is to Sikka's credit that Infosys showed a better annual performance in FY 17. The company's dollar revenue was up at $10 billion for the first time in FY17 against $9.5 billion in FY16.
Support for Sikka
The community has reacted favourably to Sikka. "If he was at fault, that would not be the case," pointed out Sanchit Vir Gogia, CEO, Greyhound Research, who said he was not surprised by Sikka's resignation. Calling Sikka a 'super amazing technocrat', Gogia said he felt sorry for him as he has mentioned 'personal attacks' as the reason for his resignation in his mail.
Gogia said that the founders of Infosys must take ownership for the current state of affairs with Sikka deciding to resign. "The onus was on them as much on the board to ensure that Sikka succeeded," Gogia told Firstpost.
The public verbiage, said Gogia, as indulged by some co-founders at Infosys only paints the latter in a bad light. He felt that Indian organisations were not yet ready to accept global talent at senior management levels. "If, as quoted in the media, Sikka said; Enough is Enough. Just can't do this anymore, it reflects more on the founders than him," he said.
Sikka had other issues to tackle too, said Kavil Ramachandran, executive director of the Thomas Schmidheiny Centre for Family Enterprise at Indian School of Business.  "He inherited an organisation that was rapidly losing its relevance. While the targets were too ambitious, the strategy was sound. Figures quoted in his resignation letter look impressive," he said.
Founders versus Board
Observers of corporate sector say that what Narayana Murthy and other co-founders have indulged in at Infosys is unlike in the West where the most successful CEOs and founders have quit and not looked over their shoulder at what their successors have done. Case in point: Bill Gates, founder and CEO, Microsoft. Or even Samuel J Palmisano who served as CEO for around nine years at IBM.
"I feel founders and those who have been associated at the board level in organisations should discipline themselves to leave without looking back when they have finished their tenure. That is what Bill Gates who co-founded Microsoft and served as chairman and CEO did, and also Samuel J Palmisano who served as CEO for around nine years at IBM. Closer home, KV Kamath, who was chairman and MD at ICICI Bank for over a decade, moved on to other positions and allowed his successor to flourish and has not commented on any decisions," said Ramachandran.
He doesn't think it is right for leaders who have laid down offices to talk negatively about their successors who they have chosen to succeed them, that too in public. "I don't think they have any moral authority to do so," said Ramachandran.
"There are two aspects: corporate governance and transparency. If the issues flagged off by the founders in the case of Infosys are being done in an opaque manner, then it is their right to bring focus to it," said Manoj Kumar, adding that constant needling of the board's decision in the public space was unnecessary though.
Former Nasscom chairman BVR Mohan Reddy said it was very "sad" to see a "good CEO" like Sikka stepping down as the CEO of Infosys, and added that promoters have no say after leaving a company. "The promoters have no locus standi once they leave the company."
If something similar had happened in a western country, shareholders would file class action suits against the company, said Reddy, founder and executive chairman of Cyient, a PTI report said.
"Even assuming that the 12.5 percent create trouble, who suffers is the other 87.5 percent," he said. As of June 2017, the founders of Infosys are holding 12.75 percent shares in the company. Sikka resigned amid heightened acrimony between the board and the high-profile founders led by Murthy.
The path that has been carved for the new incumbent will be not smooth though given what Sikka had to put up with with the promoters commenting publicly on every move of the board.  But Ramachandran feels that any new CEO should focus on building upon where Sikka left. "The incumbent has a strong platform to work on. He should seek strong support from the board and ensure that the perceived governance lapses are seriously addressed. However, Infosys has a long and ardous way ahead to reach the leadership position in a rapidly changing IT industry."
Sports
The Indian weightlifter opened the medal account for India at the Tokyo Olympics after winning silver in the 49 kg category. Here's how the country celebrated the feat.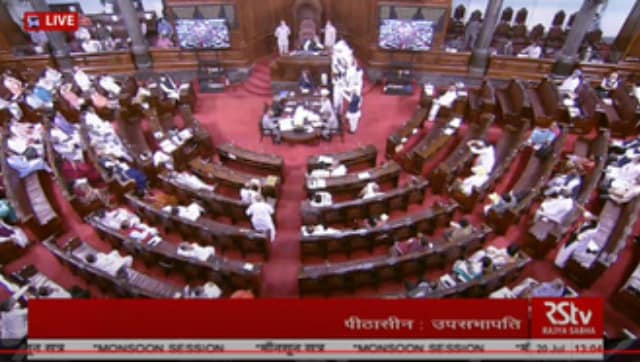 Politics
Sen was suspended from the Rajya Sabha for the remaining period of the Monsoon Session after a motion moved by the government was passed by the House
India
The minister's statement, which was laid on the table of the House, called the reports on the Pegasus scandal an 'attempt to malign the Indian democracy and its well-established institutions'