Indo-Pacific region must be 'free, open and inclusive' to avoid protectionism, says EAM Sushma Swaraj
External Affairs Minister Sushma Swaraj said that Indo-Pacific region must be "free, open and inclusive" in the India-ASEAN dialogue in Delhi on Thursday
New Delhi: Asserting that the Indo-Pacific must be a "free, open and inclusive" region, India said on Thursday that there was an imperative need for eschewing protectionism and avoiding return to great power rivalries.
External Affairs Minister Sushma Swaraj, delivering the keynote address at the 'Delhi Dialogue' in the presence of 10 delegation heads of Association of Southeast Asian Nations (ASEAN) countries, said a common, rules- based order must be followed in the region that takes into account the equality of all, irrespective of size and strength.
Her remarks come amid growing Chinese assertiveness in the region.
"Our vision of the Indo-Pacific not only involves physical inter connectivity but also entails building bridges of trust, based on mutual respect, giving due regard for sovereignty and territorial integrity, consultation, transparency, viability and sustainability," Swaraj said. She said there was imperative need for eschewing protectionism and avoiding a return to great power rivalries.
"The Indo-Pacific must be a free, open and an inclusive region. We must follow a common, rules-based order, that takes into account the equality of all, irrespective of size and strength. It should allow use of common spaces on sea and in the air," Swaraj said at the 10th edition of the dialogue whose theme was 'Strengthening ASEAN-India Maritime Cooperation'.
India has been working with ASEAN towards evolving a regional security architecture which is focused on ASEAN's centrality, Swaraj said.
She asserted that the peaceful settlement of disputes in keeping with international law and finding collaborative solutions to emerging and non-traditional challenges was important. Her remarks assume significance as ASEAN countries such as Vietnam, Malaysia, the Philippines and Brunei have disputes with China over the South China Sea.
Singapore's Foreign Minister Vivian Balakrishnan, in his address, said his country being a small city state has to be a strong advocate of a rules based world order which upholds the rights and sovereignty of all states regardless of size, and provides for peaceful resolution of disputes without resorting to force or threat of use of force. Singapore has always firmly supported freedom of navigation as an existential right, including freedom of overflight, Balakrishnan said. "The United Nations Convention on the Law of the Sea (UNCLOS) is critical for us to safeguard the use of the sea for free navigation and unimpeded legal commerce. Singapore would also resolutely oppose any attempt by anyone to threaten or to constrain this fundamental right of freedom of navigation and overflight," he said.
Swaraj, in her remarks, also said India was ready to strengthen cooperation in areas of Humanitarian Assistance and Disaster Relief (HADR), search and rescue operations, anti piracy, counter terrorism, counter proliferation and collaborate on maritime domain awareness. "We will also work towards ecologically sustainable development of ocean resources in a collaborative framework. We believe that ASEAN is central to it and indeed lies at the heart of it," the minister said.
Asserting that India-ASEAN engagement was deep-rooted, Swaraj said India places ASEAN at the centre of its dream of an Asian century. "As Asia regains its global position for the twenty first century to be called 'Asia's Century', it goes without saying that India and ASEAN will play a vital role in ensuring this. "We look forward to working with the ASEAN member states in order to turn this vision into a reality," Swaraj said.
She said India recognises that the single most important ingredient that can make a qualitative shift in its economic engagement with ASEAN is a major boost towards infrastructure and connectivity.
India was making substantial progress on all fronts, both bilaterally and regionally, Swaraj said. "We hope to transform these corridors of connectivity into corridors of economic cooperation," she added.
In connectivity, India has made considerable progress in implementing the India–Myanmar–Thailand Trilateral Highway and the Kaladan Multimodal Transit Transport Project, she noted. "Our recent agreement with Indonesia to develop port infrastructure in Sabang is yet another step in this direction," she said.
"We are working on specific proposals to set up a regional high-capacity fibre-optic network, supplemented by national rural broadband networks and digital villages in remote areas. We have offered $1 billion Line of Credit, to help finance these and other connectivity projects with ASEAN," Swaraj said. "We are also engaged in the Regional Comprehensive Economic Partnership (RCEP) negotiations involving ASEAN and its six FTA partners. We believe that the RCEP presents a decisive opportunity to further engage our eastern neighbours economically," she added. India hopes that the negotiations can be finalised as soon as possible.
Delegation heads of ASEAN countries, including Balakrishnan, Deputy Foreign Minister of Vietnam Nguyen Quoc Dzung, and Hoang Ahn Tuan, Deputy Secretary General for Political Affairs, ASEAN Secretariat, also addressed the gathering.
The Association of Southeast Asian Nations (ASEAN) comprises Thailand, Vietnam, Indonesia, Malaysia, Philippines, Singapore, Myanmar, Cambodia, Laos and Brunei.
India
The People's Liberation Army, possibly the best-trained, equipped and second largest among all separatist groups in the region, teamed up with a lesser-known Naga group named Manipur Naga People's Front to execute the latest ambush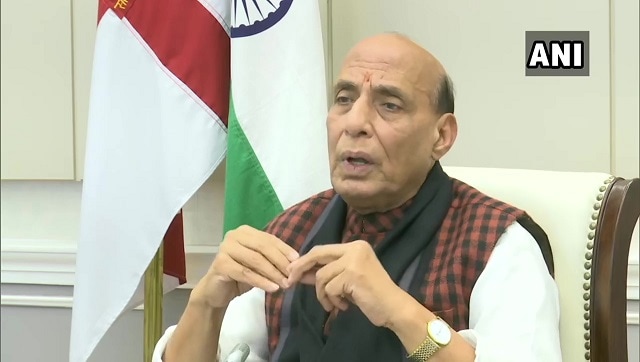 India
The defence ministry has also debarred a total of six firms including Israel Military Industries, Corporation Defence, Russia and others, the statement said
Sports
Third seed Sindhu, a two-time Olympic medallist, lost 21-15 9-21 14-21 to world number eight and second seeded Ratchanok in 54 minutes for her third semifinal finish on the trot