India's water crisis: West Bengal on the brink of becoming a parched state in absence of preservation measures
While tankers supply drinking water to the urban areas, rural areas face an acute water crisis.
Editor's note: A recent NITI Aayog report on India's water resources presented an alarming state of affairs. The country, according to the think tank, is in the grip of the worst water crisis in its history, with 600 million Indians faced with "high to extreme water stress", resulting in 2 lakh deaths a year. Firstpost will run a series of ground reports from across the country to determine the extent to which depleted reserves have affected daily life.
Read all stories in the series here
***
Kolkata: Sukumoni Shabar, 60, nearly had a sun-stroke as she braved the scorching sun and humidity to fetch water from a rivulet. The only drinking water comes from this 'chhora' (small stream), as she calls it. The parched lands of Purulia — the most drought-prone district of West Bengal — receives scanty rainfall that is unable to resuscitate water bodies. Almost all water sources dry up, and cracks appear in the fields. Sukumoni, her daughter-in-law Chandraboti and grandson Nagendra, 12, walk for hours with buckets to collect drinking water. The district was hit by the worst drought two years ago, and this year, the condition is no better.
While tankers supply drinking water to the urban areas, rural areas face an acute water crisis. "Every monsoon, the rivulet is filled with dirty water and we are forced to collect that. We are poor and can't afford water like people from urban areas," Sukumoni says. Shyamal Sarkar, a government employee in a Purulia suburb, says, "We are also forced to buy water, shelling out Rs 50 per bottle in the summer when the water crisis hits our locality."
In 2017, a Union ministry study revealed that around one out of every five persons in rural India who does not have access to Clean drinking water
is from West Bengal. The report also says around 411 lakh villagers in India, which is around 4.5 percent of the country's rural population, do not have access to clean drinking water. "Out of this 411 lakh population, around 19 percent, or 78 lakh villagers, are from West Bengal. It has the second highest number of villagers who do not have access to safe drinking water in India, second to Rajasthan," the report said, quoting a ministry official. The study also says that only around 56 percent families living in urban areas in West Bengal have access to safe drinking water, which is far less than the national average of 70.6 percent.
The state Public Health Engineering Department (PHED) had made arrangements for the supply of piped water to some villages, but it is yet to reach most households.
"We go without pure drinking water for months. The only source of water for 2,000 villagers is the small rivulet, which is almost dry. We are often forced to fetch muddy water, which we process using age-old methods," Sukumoni says.
Women at Onda village in Purulia, mainly inhabited by tribals, collect water and store it in pitchers and buckets for two days. The situation gets worse in the summers when temperatures range from 42 to 47 degrees Celsius. "The shortage of drinking water cause several diseases. We suffer bouts of dehydration, constipation, diarrhoea and urinary tract infections," Chandraboti says.
State Agriculture and Irrigation Department sources say Purulia gets less rainfall, unlike the other districts of Bengal, with annual rainfall less than 140 cm. Bankura, Birbhum and West Midnapore districts also receive scanty rainfall. Sources from the state secretariat in Nabanna say the government sanctioned Rs 90 crore to meet the water demand in drought-prone areas in each zilla parishad.
Scientific approach needed to manage water
Hydrologist and consultant at World Bank, Mohit Ray, who has extensively studied water-related subjects, attributes water-level depletion, nature of soil, lack of scientific water-preservation measures and lack of government initiatives to the large-scale crisis. "The water-shortage issue takes an ugly turn in Purulia with 80 percent areas facing a drought-like situation each year. Several areas of Bankura, Burdwan and parts of West Midnapore also face the same. Water conservation, preservation techniques and scientific mechanisms to deal with the problem must be implemented," Ray says.
Sarbeswar Haldar, assistant professor at Haldia Government College in East Midnapore, identifies two factors for this drought situation -- physical and economical. He says physical water scarcity denotes inadequate water resources to meet regional demand. Economic water scarcity is caused by a lack of investment in infrastructure or technology to draw water from rivers, aquifers or other water sources or insufficient human capacity to satisfy the demand for water. He echoes Ray on the issue of water management. "More than anything else, proper mechanism is needed. All the stakeholders must devise a way to make sustainable use of the available water resources," Haldar says, adding that Bengal faces an unprecedented water crisis.
He says both ground and surface water availability and potentiality in Purulia and other districts depend on hydro-meteorological factors, such as air temperature, evapotranspiration, precipitation, soil nature and moisture. Socio-economic and anthropogenic factors such as poverty, population growth, ignorance about the water resource, unscientific use of water, grazing, deforestation, agriculture and primitive methods of groundwater withdrawals cause water crisis in Purulia, as well as other districts that also lag behind in the country's development index.
Government claims schemes in place
State water resources minister Soumen Mahapatra refutes neglect. "Our government's flagship projects, like Jal Dharo Jal Bharo (preserve and reserve water), is a grandiose scheme that began in 2011. Construction of 50,000 ponds for micro irrigation purposes is also underway. The rainwater harvesting project is now also providing livelihood through the fisheries developed in these ponds," says Mahapatra. The minister claims Bengal tops in MGNREGA implementation, and 1,20,000 farm ponds have been dug in the state.
While experts decry lack of government initiative, private initiative has begun. NGO South Asian Forum for Environment (SAFE) is encouraging villagers to take up rainwater harvesting, which Ray feels is the only way to change the scenario. "Almost 50 percent of water is not fit for use in Purulia. Private initiatives are scattered and effective mechanism and funds are needed to harvest water in this geographical condition in these districts," Ray says.
The author is a Kolkata- based freelance writer and a member of 101Reporters.com, a pan-India network of grassroots reporters.
also read
Explainers
Overweight people face prejudice from landlords, difficulty finding seating at restaurants and theatres, and are even paid lower wages. The new law, according to New York mayor Eric Adams, will help level the playing field and protect against discrimination'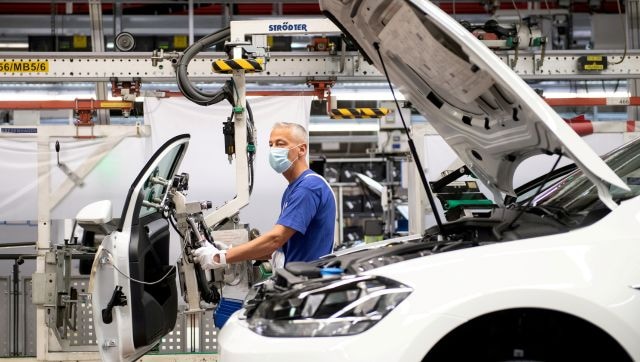 Explainers
Germany's GDP fell .3 per cent in the first quarter of 2023 following a .5 per cent decline in the last quarter of 2022. Though Chancellor Olaf Scholz described the outlook for the economy as 'very good' experts say this is a rude awakening for the country and the entire continent
Explainers
A shortage of over a dozen drugs has forced cancer treatment centres in the United States to switch medication for patients and even delay care. Experts say America is going through a 'public health crisis' and a rethink of the entire market for generic drugs is needed