India's water crisis: Limited irrigation, scarcity of water threatens cultivation of Dehradun's prized basmati rice
The Dehradun basmati, the pride of Uttarakhand, could soon be hard to find in stores and supermarkets because of scarcity of water, limited irrigation.
Editor's note: A recent NITI Aayog report on India's water resources presented an alarming state of affairs. The country, according to the think tank, is in the grip of the worst water crisis in its history, with 600 million Indians faced with "high to extreme water stress", resulting in 2 lakh deaths a year. Firstpost will run a series of ground reports from across the country to determine the extent to which depleted reserves have affected daily life.
Read all stories in the series here.
***
Dehradun: The state of Uttarakhand, famous for its temples, lush green natural beauty, and the prized Dehradun basmati rice, is in danger of losing the last due to water scarcity in the state. Known for its aroma and length of grains, this variety of rice is grown in Dehradun, Nainital, Pithoragarh, Bhimtal and other parts of the state and is famous all across the world.
Lokesh Kumar Verma, a farmer in Nainital district, says that to people in the state, Dehradun basmati is more than just a crop — it is a part of the state's heritage. But now, farmers are shifting away from its cultivation due to unavailability of water to irrigate the fields.
"We have stopped growing this rice because it was unable to retain the original aroma due to water scarcity. This rice variety requires more water than any other variety and without the aroma, it is just normal rice, not basmati," says Verma.
He says farmers in most of the areas that grew basmati rice have switched to other high-yielding varieties in a bid to cut their losses. A major advantage of these new varieties is that they need less water.
"These hybrid seeds lack the aroma of basmati rice but people are growing it because they do not want to bear losses by growing Dehradun basmati. There is no water in the springs, even the river gets dried up when we require water, so there is no profit in growing Dehradun basmati," says Verma, who has switched to cultivating red and black rice instead of the traditional Dehradun rice.
'Losing our identity'
"When you see the fertile piece of land where you used to grow basmati turn barren, you feel sad and helpless," says Prem Ramola, 56, a resident of Kairvan village near Rajpur, Dehradun.
He believes that for rice farmers in Uttarakhand, the worst is yet to come. "It will be more difficult for rice farmers in the future. There is no water. Farmlands are turning barren. In the old days, there was a lot of water in the Rispana river, but for the last few years, the river water has been taken over by the Jal Nigam. As a result, we farmers are purely dependent on rainwater. If God is kind and there is a lot of rain, we are safe," says Ramola.
"The problem is not a new one. We are facing it for many years. As you know, rice cultivation requires large quantities of water. The more the water, the better the results. This is the reason the quality of our basmati rice has gone down. Our family is into rice farming for the last 80-85 years. We have around 32 bighas of land and the entire plot was used for cultivating rice. Our village, our state, was known for its basmati rice and we are losing our identity," he says.
SN Kheda from Tarla Nagal village in Dehradun district displays similar sentiments. "The old times were better. Today, modern amenities are there but there is nothing for farmers. There is neither water in the river, nor proper rainfall. The results are in front of us. Every year, people are forced to quit rice cultivation," laments Kheda.
He says that Dehradun basmati, the 'pride of Uttarakhand', is under threat. "A number of requests have been made to the state government but there has been no respite. Even the government agencies have almost given up. There was a time when the river and other sources generated 11 MLD (million litres per day) of water. Today, not even 1 MLD is available for farmers."
Fake seeds adding to the problem
Ironically, despite the water crisis, rice production in the state is actually on the rise with farmers preferring to grow other varieties of the crop that are relatively less water intensive and also mature faster. In fact, government agencies still maintain that rice cultivation is a profitable venture in the state.
According to Kanwalpreet Pal Jeet Singh Cheema, who hails from Silijangir but owns land both in Udham Singh Nagar and Bhimtal, "Water levels have definitely gone down. But why blame others? We are our own culprits. Some time back, it was normal practice to cultivate three different crops in one calendar year. The price of this is water scarcity. But with difficulties mounting in and around Udham Singh Nagar and Bhimtal, farmers have started cultivating just one crop."
"There is no help from the government. Finding labour is another problem, followed by declining rainfall. But the most alarming thing is the availability of fake seeds in the market. Due to this, the quality of Dehradun rice has definitely gone down though yields may sometimes increase," says Cheema.
The state is staring at a water crisis despite being home to a host of rivers and tributaries like the Yamuna, Kosi, Sarayu, Mandakini, Sharda, Ramganga, Dhauliganga and many others. A January 2018 report of the Uttarakhand Jal Sansthan (UJS) says that 93 of its 500 water projects which supply water that takes care of both irrigation and drinking needs have witnessed more than a 90 percent decrease in the water discharge in the past three years. The report also notes that 268 projects have seen water discharge reduce by 75-90 percent and another 139 projects have seen a dip of 50-75 percent.
Some also date this development of disinterest among basmati growers back to the time when the two canals running through Dehradun were forced to shut down, as the flavour and aroma of the rice depleted since then.
"Dehradun used to have two upper canals, East Canal and West Canal, but now an underground system has been built to distribute the water. This was done to enable the broadening of roads. Closing these canals has affected the aroma and flavour of basmati rice due to which the farmers have stopped growing it," says Jyoti Kumar, deputy director of agriculture department in Uttarakhand, adding that the production of rice has gone up in the state. The new underground system has restricted the water affecting the quality of Dehradun Basmati.
The authors are freelance writers and members of 101Reporters.com, a pan-India network of grassroots reporters.
also read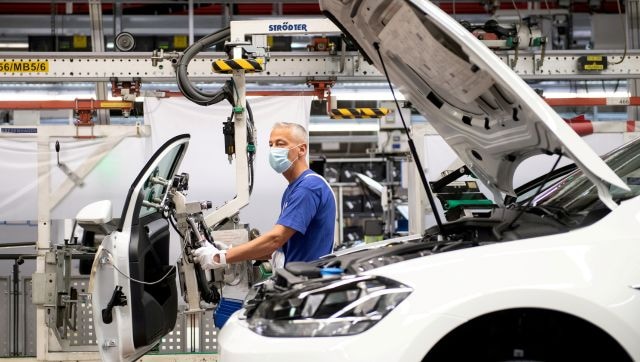 Explainers
Germany's GDP fell .3 per cent in the first quarter of 2023 following a .5 per cent decline in the last quarter of 2022. Though Chancellor Olaf Scholz described the outlook for the economy as 'very good' experts say this is a rude awakening for the country and the entire continent
Explainers
Elon Musk's brain-computer interface company Neuralink has received approval from the FDA to conduct its first in-human clinical study. The firm wants to put coin-sized implants into human beings, which will allow people with paralysis regain motor function, restore vision, and treat brain diseases
Explainers
Many on social media weren't pleased when Alejandro Núñez Vicente's design of a double-decker airplane seat went viral last year. Now back with an updated version, Vicente thinks his design will change the face of air travel. But some critics say it is unlikely to ever see the light of day