India's rural electrification puzzle: Truth behind government's claim of taking power to 78% village households
The discrepancy between the numbers of villages electrified and the actual rural households that receive electricity could be attributed to the definition of 'electrification of a village.'
Yatendra Singh, pradhan (headman) of Shravan village in Agra, said that life without electricity is very hard. "It gives us a feeling that we are living in some forest. For every small thing, to get a mobile phone charged, to get a solar lamp charged or to get anything done one has to travel to another village."
Shravan is one of the 18,452 villages that prime minister Narendra Modi had, in his 2015 Independence Day speech, promised to electrify in 1,000 days, ie by May 2018.
Out of the 18,452 villages chosen for electrification, the government claimed that 15,183 villages had been connected to the grid by December 2017. But, crores of households continue to live in the dark.
As per the government's rural electrification website, Grameen Vidyutikaran, only 1,301 villages have 100 percent household connectivity. This means that just 0.21 percent of India's 600,000 villages are completely electrified. Worse, if we look at the quality of that power — its availability over the day and voltage supplied — a more realistic picture would come forward. The government has now set a new March 2019 deadline for electrification of all households.
The discrepancy between the numbers of villages electrified and the rural households that actually receive electricity could be attributed to the definition of "electrification of a village." According to the current rural electrification policy, a village is declared electrified if 10 percent of its households have electric power.
Several detailed studies, including a research carried out by Council on Energy, Environment and Water (CEEW) in September 2015, have revealed that while India claims that 99.8 percent of its villages have been electrified, several thousand households continue to live in the dark.
"While they are chasing village electrification as an interim goal, they have already laid out the goal to electrify each household in the country by March 2019, as part of Saubhagya scheme," Abhishek Jain, a senior programme lead at CEEW and a co-author of the report, said.
"But, as our study shows, even providing connection to every household will not be sufficient, and we need to move towards multi-dimensional definition and measurement of electricity access. Their 24x7-power-for-all objective tries to move in that direction," he explained.
Debajit Palit, a senior fellow and associate director, TERI felt that with the launch of a household-level electrification scheme, the relevance of the goal of village electrification is over.
"In the current situation, India has achieved more-or-less cent percent census village electrification, though all hamlets of census villages may not have been electrified. So, there is no relevance of the definition of village electrification in the current situation," he said.
He said that the definition should go beyond factors such as providing household connections and be defined on the provision of reliable and affordable electricity 24x7 for all households in the country.
"Unless we set benchmarks or define 'Power for All', there will be no way to monitor/track whether India is achieving it. We need to know which province or DISCOMs (power-distribution company) is actually achieving what level of electricity access," he added.
The CEEW's report also surveyed people's preferences about energy sources, priorities in use, related decision making and associated policies. The researchers found that 66 percent households prioritised household electrification over street lighting and community use.
Jain said the government must also consider what people value while designing and implementing policy. "People value duration of supply, it's affordability and quality. People value electrification of not only their houses but their community places (including schools, primary health centre, sub-centre) and their streets. All these issues should be factored in," he said.
So, are the government's claims on the reach of rural electrification overestimated?
Replying to the questions in Rajya Sabha, minister of state for power, RK Singh claimed that as of 15 January 2018, there are a total of 18.10 crore rural households in the country of which 14.16 crore households (78.2 percent) have been electrified and 3.94 crore households are un-electrified.
But can the government's claims be verified? The government has admitted that the respective state governments and DISCOMs provide the information regarding electrification of villages. Has this data been authenticated by a ground survey?
"The annual growth rate of households since the census in 2011 may not have been taken into consideration to estimate the current state wise total households. There is variation in total households data in villages. There could be a wide difference between what the DISCOMs are reporting and what it should be as per the Census 2011 and the subsequent growth. This is creating confusion and raising doubt about the actual number and percentage of unelectrified households in the country. Furthermore, whether households with solar home systems or mini grid connection are counted as electrified or not is also not clear," Palit said.
He adds, "In several villages, only the main habitation has been electrified and the hamlet(s) do not have electric poles and lines, but it is shown as if the whole village has been electrified. DISCOMs have to be pushed to carry out a robust ground survey to back the data and their claims."
But that would be little consolation in India's dark heartland. Back in Shravan, village pradhan Singh rues that boys of the village are not getting married as no one wants to give their daughter to a village where there is no power.
The last marriage that was solemnised in the village, he remembers, was some 12 years ago and even that family has moved out of the village. "There are hardly any children in the village. The families have shifted to other villages and now the situation is getting worse. The village may be deserted in the years to come," he said.
Prathamesh Mulye is a Mumbai-based freelance writer and a member of 101Reporters.com, a pan-India network of grassroots reporters.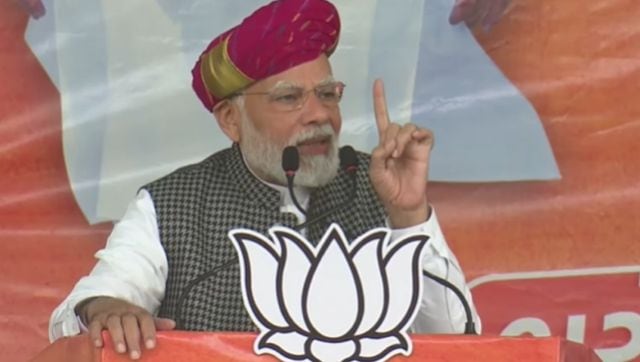 Opinion
In every way, Narendra Modi gains from this needless controversy before the nine state elections this year and the general election next year. And a master politician like him will not let this opportunity for his opponents to malign themselves go waste
Explainers
"Attempt was made to suppress Netaji's contribution towards the freedom struggle," said PM Modi on the birth anniversay of SC Bose. He also highlighted the government's attempt to de-classify the files related to Netaji. How is this different from the old narrative? Tune in to find out
India
The largest unnamed island was named after the first Param Vir Chakra awardee, Major Somnath Sharma, who lost his life in action on 3 November, 1947, while repulsing Pakistani infiltrators near Srinagar Airport