India's economic boom is killing elephants: Coordination at all levels is key to keeping pachyderms safe
The elephants, in general, are facing threat to their existence and one of the prime reasons for this is the continuous shrinking of their habitat and corridors.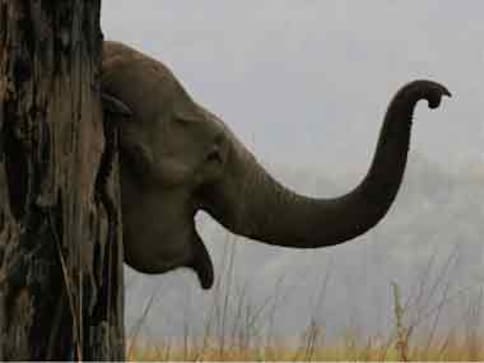 Even as India makes giant strides to upgrade its economy and infrastructure at breakneck speed, it is the environment that's paying the price particularly its wild animals. The elephant is no different as hordes of them die in different circumstances as the burgeoning human population and the facilities they use shrink the space for elephants.
On 15 November, an elephant died after coming in contact with a high tension powerline at Sansaraposi village in Mayurbhanj district's of Odisha. The sad news comes in just after a few days of a similar incident which claimed lives of seven pachyderms in the state. On 26 October, a herd of seven elephants was moving towards a canal from a nearby paddy field when it came in contact of a sagging 11-KV power line in the Dhenkanal forest range. This was the highest casualty of elephants reported in a single incident.
While fingers are often pointed at the forest department, the onus of this kind of incidents doesn't lie with it alone. The failure of the power department to act despite several reminders from the forest department to fix a hanging transmission line cannot be ignored here. As per the Indian Electricity Rules (1956) and Rule 58 of Central Electricity Authority's Regulations 2010, the height of overhead line should be no less than 4.6 meters and for high voltage lines over 11,000 volts, it should be 5.2 meters. The average height at the shoulder of an Indian or Asian elephant is between 2 to 3.5 metres. Had the power department responded to the call with alacrity such a tragic outcome could have been prevented.
Biswajit Mohanty of Wildlife Society of Odisha is extremely upset with these deaths. He said, "We have done various surveys before the October incident and have written several letters to the power department about the sagging power line in Dhenkanal district. But it was of no use. The electrical company (CESU) is not working in compliance with the Indian Electricity Rules (1956). Last Sunday also, we have done a survey and still there are a lot of sagging lines which can become a reason for another accident in the district."
Sandeep Kr Tiwari of IUCN Asian Elephant Specialist Group said, "The prime reason for incidents such as these is the lack of coordination between various departments."
The accidents involving electrocution are generally of two types. One is the live wire traps which are often used for 'thoughtful or deliberate electrocution', as in the in the cases of retaliatory killings or poaching and the other is the 'accidental' which is mainly due to sagging power lines.
In 2010, after the death of six elephants raised a furore in the state, a four-member expert committee was formed under the guidance of AK Biswal, the then conservator of forest to ensure the safe future of elephants. The report submitted to the Ministry of Environment, Forest and Climate Change has a list of recommendations such as the increase in patrolling during the harvest season, strengthening and maintaining of minimum ground clearance for power lines, fitting spikes on to electric poles, removing defunct solar fencing, directing electric companies to fix circuit breakers etc.
But it seems the state has learned too less from these recommendations. With the recent deaths, the total count of electrocution deaths (since 2010) in the state stands at 91.
Besides electrocution, the other prime reasons for the death of elephants are train accidents, poaching and poisoning. In April, Odisha lost four elephants including a tusker and a calf when it got hit by a speeding train in Jharsuguda district. According to wildlife experts, India has the highest number of train accidents involving elephants in the world.
The sorry state of affairs is not confined to Odisha, alone. Between 1987 and 2010, 150 elephants died across the country while crossing railway tracks but this number has increased sharply in the last eight years. The data from the environment ministry shows that in the period between 2009 and 2017, India has lost 655 elephants out of which 120 passed away due to railway accidents.
What is forcing elephants out of the jungles?
The elephants, in general, are facing a threat to their existence and one of the prime reasons for this is the continuous shrinking of their habitat and corridor. Now, what is a corridor and how its destruction is claiming the lives of our elephants?
To understand this, there is a need to learn the basic characteristics of elephants, which are migratory animals and do not stick to one place. In search of green pastures and water, they move from one place to another. And for this, they use age-old routes which are known as elephant corridors, but these routes are now either blocked or fragmented.
Upasana Ganguly of Wildlife Trust of India said, "To define an elephant corridor you first need to define an elephant and for that you need to learn the four words. The first is 'Big' and because it's big it needs more food and therefore it's a 'Nomad' means it's a migratory animal. An adult elephant needs around 200 kilograms of food every day and for that it needs to move from one habitat to another and if it doesn't do that it will end up eating a particular forest. The third is 'Intelligent'. The elephants are very close to humans in terms of memory and so they follow ancient paths to migrate. The last word is 'Social'. Now, those narrow strips of land that connects one habitat with another are called elephant corridors. "
Wildlife Trust of India and Ministry of Environment, Forest and Climate Change have identified 88 elephant corridors across India in 2005 but thanks to the pace of development, the mushrooming of towns, the elephant habitat and corridors are further fragmented. Another survey done by the Wildlife Trust of India and Ministry of Environment, Forest and Climate Change between 2013-15 identified a total of 101 elephant corridors in the country and seven corridors identified in 2005 have been found impaired due to developmental activities and land use changes.
The past decades have seen rapid growth in infrastructure and the presence of linear infrastructure elements such as roads, railway lines, canals in the corridors is one of the major reason for fragmented corridors. It either blocks an elephant's route or become the reason for their deaths. Almost 66.3 percent of the corridors have highways passing through them. Twenty out of 101 corridors have a railway line passing through them and in another four, a railway line is under construction.
Another threat to elephant corridors comes from illegal encroachments, which further becomes a major reason for man-elephant conflict. The continuous destruction of forests has pushed elephants closer to human habitations. Among the identified corridors in India, 28.7 percent have been encroached upon. In northeastern India, 69.6 percent of corridors are affected by encroachment, 44 percent in Central India and 54.5 percent in northwestern India.
So, does it mean that as a country we should stop the expansion to save our elephants? No, of course. But does that mean the progress at the price of India's heritage animal?
"Wildlife Trust of India is working hard to make these data accessible to the state governments having elephant corridors so that in the future the development plans are made accordingly," Ganguly said.
For the states where the linear infrastructure already exists, departments other than forest have to work in coordination with each other. The forest department alone cannot do this. It needs support and synchronisation from departments such as power, railways, road, local authorities etc.
The way out
The Uttarakhand railway track which connects the holy city of Haridwar with Dehradun was once known as the 'Killer Track' for elephants. This is because it cuts through the Rajaji National Park which is an important elephant corridor that connects Chilla-Motichur ranges. But for 10 years that is from 2003-13 it has not seen even a single elephant death. How has it been achieved?
After a gruesome incident which claimed the life of a young calf on this track in 2001, the state forest department organised a workshop for government officials and NGOs.
Tiwari, who was a part of the project from Wildlife Trust of India, said, "It was learned that there were steep curves along the track. Another reason was ecological when during certain months the waterholes get dried up and then the animals have to often cross these tracks to reach the water holes on the southern side. The pantry section of different trains used to dispose of food on the railway track and this used to attract elephants on the railway track. Based on this findings, mitigation measures were put on the track such as cutting the vegetation on both sides to increase the visibility especially at the curves, sensitisation workshops were taken up with the railway staff and signs have been put along the tracks for train drivers so that they keep on honking while passing through this stretch and minimize speed at certain points. There is continuous night patrolling and new waterholes were created. It was a coordination, cooperation and hard work of all the departments -- the forests, the railways and Wildlife Trust of India that made it a success."
World
Although there has been only one case of paralytic polio in the New York area, health officials believe they may only be seeing 'the tip of the iceberg' in terms of polio's wider circulation, since paralytic cases are so rare
Explainers
Japan's National Tax Agency has launched the Sake Viva! campaign which asks 20- to 39-year-olds to come up with proposals to help revitalise the popularity of alcoholic drinks such as sake, whiskey, beer, or wine
Explainers
After scrutinising material that was brought to earth from an asteroid named Ryugu by Japanese space probe Hayabusa-2, scientists are saying water may have come to our planet from the outer edges of the solar system