The era of globalisation and ICT (information and communication technology) revolution has reduced the social dimension of time and space, bringing everybody under a single platform of cyberspace. The increasing penetration of cyberspace, through the internet and social media, in our daily formal and informal spheres, asks for a deeper scrutiny of social and psychological consequences posed by this medium of communication.
This has raised deep concerns regarding our preparedness to handle cyber crime and its implication on individuals and society as a whole. The statistics released by the National Crime Record Bureau (NCRB) assert that a total of 12,317 cases have been registered under "cyber crime" in 2016, an increase from 696 reported cases in 2009.
This exponential increase in cyber crime put forth serious concerns about the aptitude of the police to handle these newer forms of violations and civil society's psychological complacency towards considering online crime as serious as any other crime occurring in the physical world.

The spatial distribution of cyber crime in India
In 2016, Uttar Pradesh had reported the highest number of cases of cyber crime (2,639) followed by Maharashtra (2,380) and Karnataka (1,101). Other leading states include Rajasthan (941), Assam (969), Andhra Pradesh (616) and Telangana (593). It is not a coincidence that these states also represent in general a high share in all kinds of crime.
In this context, the rapidly increasing incidence of cyber crime indicates that the traditional way of committing a crime is now taking new shapes, being facilitated by digital mediums. The reliability of NCRB data largely depends upon the reporting of cases, nevertheless the emergence of new states in cyber crime is either the result of increasing awareness among people to report cyber crime, or there is an absolute increase in the number of cyber crime cases. A relative comparison of 2015 and 2016 NCRB data indicates Haryana (increase by 79 percent), Gujarat (49 percent), Assam (44 percent) and Jharkhand (44 percent) as emerging areas of cyber crime reporting.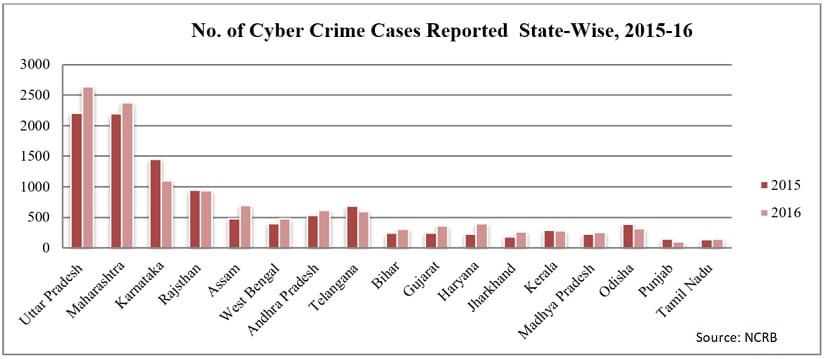 Metro cities, being the hub of investment and employment, indicate a greater dependence on technology; notwithstanding, the expansion of cyberspace through the internet and social media has significantly reduced the gap between technological access in rural and urban centres of the country.
The emerging trends in cyber crime cases in the metro cities highlight that Mumbai has experienced the highest number of cases (980) in 2016 followed by Bangalore (762) and Jaipur (532). Looking at the trend of cyber crime cases in these cities, two interesting facts emerge. First, the cases of cyber crime have declined in these cities, (except in Kolkata and Pune), from 2015 to 2016. Secondly, the states in which these cities are situated continued to witness an increase in cyber crime.
This is probably, due to a shift in localisation of cyber crime from metro cities to non-metro urban locations in their respective states. Nevertheless, out of 12,317 reported cases of cyber crime in 2016, 48 percent of cases were committed with the motive of illegal monetary gain; eight percent of the cases were motived by revenge; six percent to insult the modesty of women and four percent for sexual exploitation.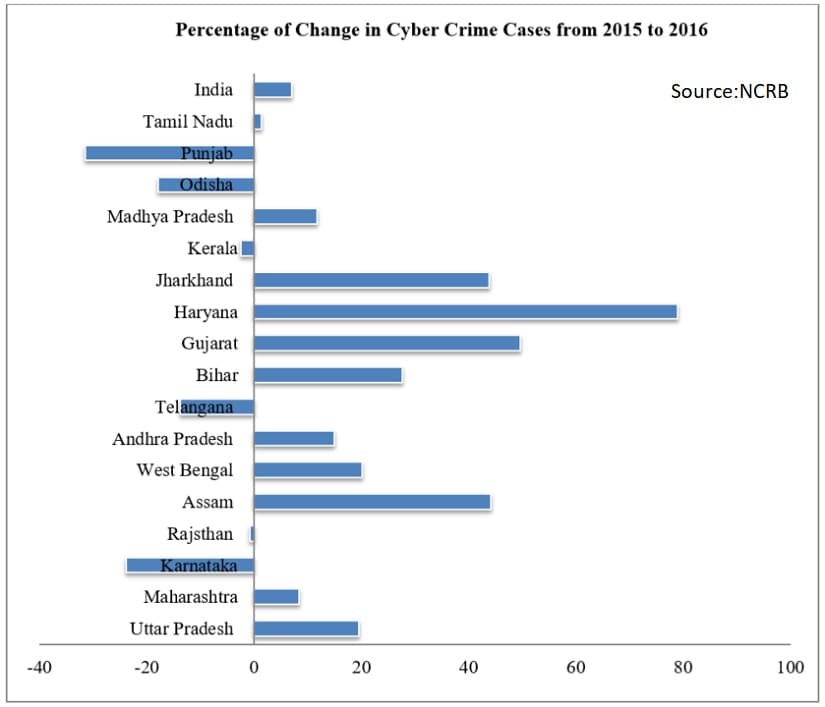 Lacunae in police investigation
There are huge lacunae in Indian police's technical preparedness and attitudinal behaviour towards dealing with this form of crime. The areas where reporting of cyber crime cases is low, even though the cases have been registered, there are long wait times, if and when the investigation starts.
The victim's reluctance to report cases as well as a delayed investigation by police are two major challenges along with technical efficacy to tackle cyber crime in the country. The chargesheet submitted by police after investigation makes the case ready for a court trial.  In the context of cyber crime, the data shows that out of the total reported cases in 2016, a chargesheet was filed in only 30 percent cases.
Likewise, looking at the level of the police investigation in respective states, the results are quite surprising. For instance, Maharashtra, which has among the highest reported cases of cyber crime, has submitted chargesheets only in 21 percent of cases. Similarly, states like Karnataka (18 percent), Rajasthan (12.4 percent), Assam (16.4 percent) and Andhra Pradesh (23.4 percent) have a low percentage of chargesheet filing.
In general, many of the reported cases of cyber crime are not being investigated by the police. These statistics raise challenging questions on the issue of increasing cyber crime and our institutional preparedness towards this digitally facilitated crime war.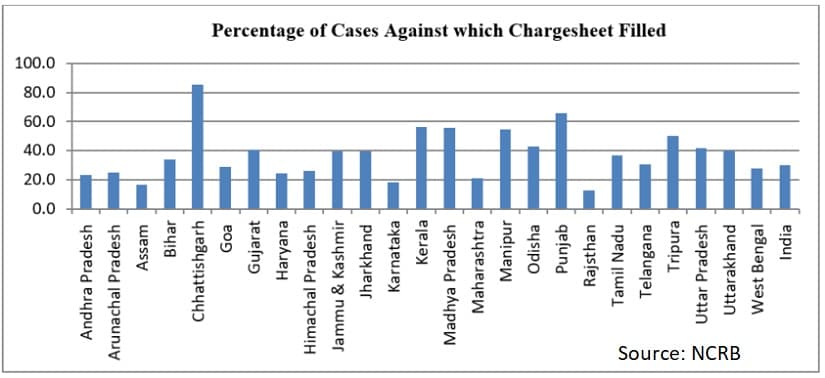 Anshita is a PhD Scholar in Population Studies at Centre for the Study of Regional Development, Jawaharlal Nehru University. Tauheed is a PhD Scholar in Economics at Centre for the Study of Regional Development, Jawaharlal Nehru University.
Updated Date: Dec 20, 2017 12:23 PM