Indians most sexually satisfied in world yet rank among unhappiest nations; what explains this great disparity?
The numbers are in, it seems Indians are somehow simultaneously the most sexually satisfied people in the world, but also among the unhappiest.
If you take a look back at the news this week, it appears India is now caught in a unique and unexpected quandary. The numbers are in, and it seems Indians are somehow simultaneously the most sexually satisfied people in the world, but also among the unhappiest.
A new study by the United Nations published on Wednesday finds that India ranks way behind most SAARC nations, including Nepal, the Maldives and even war-torn Pakistan in terms of happiness, coming in at a depressing 133 out of 156 countries. The UN's findings are based on Gallup polls of self-reported happiness, and perceptions of corruption, freedom and generosity.
On the other hand, condom giant Durex's recent global sex survey, which interviewed 33,000 people from 42 countries, found that Indians reported are more sexually satisfied than any other country in the world. Are we comparing apples and oranges here, with their different sample sets and end goals? Maybe, but the prospect is giving us the giggles, and we're going to do it anyway.
So, what's going on? What could it be that's causing this great disparity between how happy we are with our sex lives and how unhappy we are with the rest of our lives? And why isn't Indian sexy time translating to actual happiness?
Look deeper at the data, and you might have a good laugh. Or cry.
The Durex study found that 52 percent of Indian men believe that touching your partner's private parts means that you have had sex.Which must also mean that all these men's partners must be very sad, confused, dissatisfied, or all three. Even more depressingly, 45 percent of participants between the ages of 50 and 65 believe that kissing amounts to sex too, which is a pretty unhappy conclusion to reach, and an unhappy reality for their partners to live through.
Now, you can take it either as proof that sex gets better with age, or as an insight into what might be making young people unhappy, but these assiduous researchers also found that while 73 percent of Indians practice using condoms, and the highest proportion of these are amongst those aged between 18 and 24 years, this age group also uses flavoured condoms more than any other. I don't blame anyone who uses flavoured condoms for being unhappy and wouldn't be surprised to learn that this lone fact is pulling our entire nation's happiness index lower than it has to be.
Sadly, and saddeningly, Indians still hold on to some strange beliefs about masturbation. Thirty-nine percent of the Indian respondents feel that masturbation is harmful, while 28 percent believe it is unacceptable for women to masturbate. And out of all the countries that participated in the Durex study, Indians were found to be the most reluctant to reveal their sexual orientation, with one in ten men and one of five women refusing to reveal this information, possibly for fear of social or legal retribution. Surely, whatever climate is making Indians feel afraid of coming out is bound to be affecting the happiness they report elsewhere.
It's Durex's findings on Indians' sexual satisfaction that's perhaps the most interesting of all. Seventy-two percent of Indians polled report being "satisfied" with their sex lives, with those above the age of 65 reporting the most sexual satisfaction. They also encouragingly say that their sex lives get better with age, but we're not sure how Durex, or those polled, define sexual satisfaction. Are some of these positive responses merely appraisals of good kisses? It's hard to tell. (Hilariously, GQ also reports that those between the age of 50 and 65 are the most sexually dissatisfied according to Durex and that this "probably is an accurate reason for a mid-life crisis".)
What else could it be? What else is making Indians so unhappy? Maybe other data can provide us with some clues. A recent British Airways survey interviewed over 2,000 Indian professionals and found that Indians have incredibly unhealthy attitudes about work and holidays — 30 percent admitted to being unable to ask for leave, 60 percent unable to disengage from their official responsibilities when on leave or holiday, 65 percent have leftover holidays by the end of the year, which over half of them say they never used because of work pressure, and of these, 16 percent said they felt anxious about even using up their leftover holidays at the end of the year.
Or perhaps it's the Annual Survey of India's City-System (ASICS) for 2017 that's getting people down, just released on 14 March. As the Mumbai Mirror reports, "Pune, with its uncleared garbage, bad roads, broken footpaths, unmindful traffic, bad air and governance that has to yet reach most citizens, ranks first among 23 cities from 20 states" in the survey. If Pune, with all the aforementioned woes, is the best city in all of India, how depressed must the rest of us be? I, for example, am writing this whilst stuck in traffic in Bangalore, which is at the "rock bottom" out of all 23 cities in terms of urban governance, and I can tell you I don't feel happy about it.
For me, though, the best explanation for why we're so unhappy (despite all the apparently satisfying sex) has to do with women. How can we expect to be happy as a country no matter how much good sex we're having, when other surveys tell us that 92 percent of women feel 'insecure' being out alone at night; that India ranks lower than the Maldives, China and Bangladesh in terms of women's safety; we slip lower year by year in the gender gap index; and, at least one in three women report having faced sexual violence in their lives.
How can anyone in the country be happy when the majority of women, according to the latest NFHS data, believe that it's permissible for husbands to hit their wives, and 59 percent have no meaningful freedom of movement?
As amusing as Durex's findings are to those in the mood to be amused, and as depressing as the UN's findings on our happiness are, these various surveys do make for an interesting juxtaposition. Indians may be the most sexually satisfied in the world, but we obviously have many other things on our mind when it comes to feeling happy. Perhaps it's even rather heartening that mere sexual satisfaction isn't making Indians completely happy in life, and an indication of where we may focus our efforts to come.
The Ladies Finger (TLF) is a leading online women's magazine delivering fresh and witty perspectives on politics, culture, health, sex, work and everything in between.
World
UN humanitarian chief Martin Griffith did not comment to reporters as he arrived for the talks at the Palais des Nations UN headquarters in Geneva, nor did Rebeca Grynspan, head of the UN's trade and development agency UNCTAD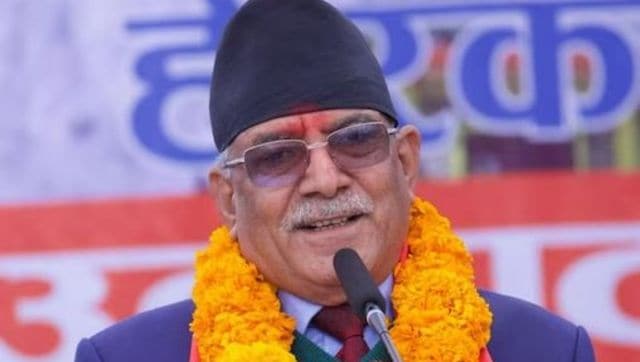 World
The 68-year-old 'Prachanda' has twice secured a vote of confidence in parliament, winning the second floor test within three months, an outcome he said would provide stability to his government
World
The Civil Aviation Authority of Nepal (CAAN) has suspended two employees of the air traffic controller department for "carelessness", according to CAAN spokesperson Jagannath Niroula