Indian Navy to take up restoration work in two villages in Kerala's flood-hit Ernakulam district
Indian Navy has selected two villages in Kerala based on inputs received from the local administration and visits by naval officials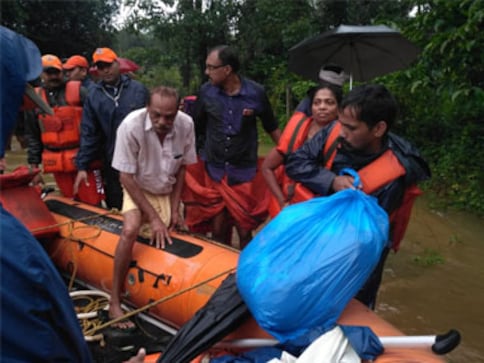 Kochi: The navy would undertake reconstruction work in two flood-hit areas in Ernakulam district, navy chief Admiral Sunil Lanba said in Kochi on Wednesday.
Admiral Lanba was addressing a gathering at flood ravaged Muttinakam village near Kochi after reviewing relief and rehabilitation work, a defence release said. He also highlighted the pivotal role of the Southern Naval Command (SNC) in shaping the career of naval personnel.
All including himself were connected with Kerala by an umbilical cord as they were all trained under the SNC prior to becoming full-fledged naval personnel, he said. The navy chief said he was closely monitoring the situation over the past several days and that the navy had deployed its personnel and assets during the devastating floods. The focus was now on relief activities, he said.
Lanba further said the Indian Navy has selected two villages based on inputs received from the local administration and visits by naval officials wherein rehabilitation initiatives were proposed to be undertaken to restore the area, according to the release. The shortlisted villages are Muttinakam in Varapuzha Panchayat and Cheriya Kadamakudy in Kadamakudi Panchayat in Ernakulam district, it said.
The activities in Muttinakam include reconstruction of a completely damaged house on the river bank and complete renovation of the Primary Health Centre (PHC) and Anganwadi along with furniture, equipment, play equipment and other essentials.
The activities in Cheriya Kadamakudy include reconstruction of three houses, renewal of roof of five other houses, construction of an Anganwadi and fitment of a 10 tonnes per day Reverse Osmosis (RO) plant to meet the drinking water requirements of the people in the region. The RO plant has already been completed and operational for the public since Tuesday, the release said.
Rehabilitation kits (800 for Muttinakam and 500 for Cheriya Kadamakudy) containing essential commodities such as clothing, cleaning gear and utensils etc., were distributed on the occasion. Additionally, some other requirements including the construction of a bridge connecting Pizhala island to Cheriya Kadamakudy hamlet would also be considered and the feasibility explored, the release said.
The navy chief has directed SNC to coordinate the rehabilitation activities on behalf of the navy. He would be meeting Chief Minister Pinarayi Vijayan on Thursday to discuss any further support required from the navy to overcome the situation.
Admiral Lanba would also be handing over a cheque of Rs 8.9 crore to CM Disaster Relief Fund (CMDRF) as a voluntary contribution from the salaries of naval personnel. Admiral Lanba also interacted with MLA VD Satheesan and MLA S Sharma, the release said.
Relief materials worth about Rs 25 lakh were handed over to the Local Self government officials by Reena Lanba, president of Navy Wives Welfare Association (NWWA). The navy had rescued nearly 17,000 people during its nearly fortnight-long 'Operation Madad,' for assisting the state administration and undertaking disaster relief operations.
India
The day also pays tribute to all Navy personnel who sacrificed their lives in service of the nation.
World
China's geographical advantage against the valiant Indian Army in the Himalayas will now be neutralised by our advantage in the Indian Ocean
India
IMD had earlier predicted light to moderate scattered/fairly widespread rainfall over Karnataka, Kerala and Mahe and Tamil Nadu, Puducherry and Karaikal during the next five days