Indian Navy MiG-29K trainer jet crashes into Arabian Sea; one pilot rescued, search on for another
The naval force on Friday confirmed that the accident occurred at 5 pm on Thursday. This is the third crash of MiG 29K in the past 12 months.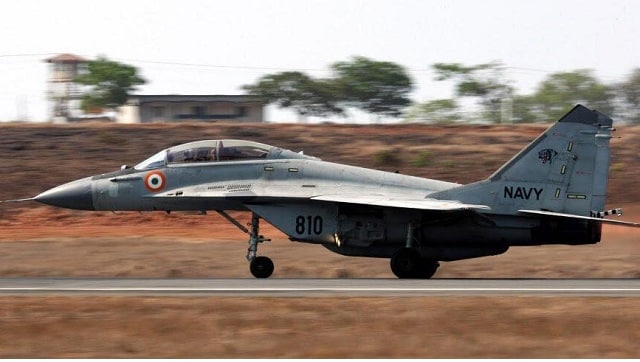 An Indian Navy's MiG-29K trainer aircraft crashed into the Arabian Sea around 5 pm on Thursday, news agency ANI reported on Friday.
One pilot has been rescued while search operation by air and surface units has been launched for the second pilot.
"A MiG-29K trainer aircraft operating at sea ditched at about 17.00 hours on 26 November," an Indian Navy spokesperson said in a statement.
A Mig-29K fighter jet operating from the Indian aircraft carrier INS Vikramaditya has gone down on high seas last evening at 5 PM. One Pilot is recovered and search for another is in progress.

(File Pic) pic.twitter.com/UJx3T5nFQw

— Prasar Bharati News Services पी.बी.एन.एस. (@PBNS_India) November 27, 2020
An inquiry has been ordered to investigate the incident, the spokesperson said.
This is a developing story, more details are awaited. This is the third crash of MiG-29K in the past 12 months.
In February this year, an Indian Navy MiG aircraft crashed while conducting a routine sortie in Goa. The MiG-29K aircraft was conducting a routine training sortie off the coast of Goa when it crashed at around 10.30 am.
India
The opinion in villages across Uttar Pradesh is that instead of mulling over the uncertainty of the future, let's take the word of the government and go for the opportunity which has come their way
India
The first batch of 19 women, aged 16 to 19.5, have joined the National Defence Academy in Pune's Khadakwasla. They will undergo a three-year 'gender neutral' training and will be prepped to lead troops on battlefields
Opinion
Service chiefs have been emphasising that there is a need for increased synergy and jointness in operations, but have varying views on integrated plans under a single theatre commander