India takes potshots at Donald Trump administration at Geneva, says nationalist politics hurt multilateralism
Inward-looking policies of countries is killing multilateralism, New Delhi said in Geneva, adding that growing trade protectionism is also a matter of concern
Inward-looking policies of countries is killing multilateralism, India's commerce minister said in Geneva on Thursday, while addressing The Graduate Institute, adding that growing trade protectionism is also a matter of concern.
"When inward-looking policies of individual nations jeopardise the spirit of multilateralism, insular economic nationalism cannot be the solution to the challenges of our times — be it environmental concerns or humanitarian concerns such as refugees, civil war, terrorism, or international trade," said Nirmala Sitharaman, India's minister for commerce and industry.
"While some countries may view global issues exclusively through the prism of nationalist policies, this approach will not solve global, or for that matter individual countries' problems," she said, taking a dig American president Donald Trump's trade policies.
Richard Baldwin, a well-known professor of international economics at the Graduate Institute, Geneva, moderated the talk titled 'Reclaiming Multilateralism'. "Nothing happens in the WTO unless India is on board with it," Baldwin said at the start of the event.
This is Sitharaman's first visit to the Swiss city — considered to be nucleus for multilateralism — and the first time the current government in New Delhi has spelt out India's trade policies vis-à-vis the World Trade Organisation (WTO) clearly to the public.
Sitharaman also spoke of India's stand on the contentious Doha Development Agenda (DDA), its image of being an obstructionist at the global trade body, the need for devising a solution for public stockholding for food security purposes, and the need to have duty-free-quota-free-access for Least Developed Countries (LDC), among other issues.
"Quite ironically, this rising tide of protectionism is more evident now in countries that have benefited from the global economic order, to become among the most prosperous in the world. These countries would now like their people to somehow believe that they have been unfairly treated at the hands of countries that are significantly poorer," Sitharaman said, in a slanting reference to Trump's stand on multilateralism.
For years, the developing world clamoured for fair trade while the developed world urged free trade. Today, there is a virtual reversal of positions. Though India is committed to trade liberalisation — its depth of trade liberalisation in the past 25 years has few parallels in history — it is cautious about overstepping its commitments.
"There can be no question of crossing any lines that would result in sacrificing the livelihoods of millions for the sake of trade liberalisation," the minister said.
Asking for a "permanent and lasting solution" for public stockholding for food security purposes, the commerce minister said that this was required so many developing countries have the flexibility to build food reserves to feed their poor without threat of violating international obligations.
It will a "send a strong signal that trade openness and addressing hunger need not be in conflict". The tardy progress in completing the Doha round has "undeniably weakened" the negotiating function of the WTO, India emphasised. It was the hope of many developing countries that the Doha round would address many of the inherent imbalances and asymmetries in trade rules, but the narrative that started emerging from developed countries was that the WTO's concern was trade and not development. "These narratives make a mockery of what we agreed to at Doha," Sitharaman said.
Failure to conclude the negotiations does not reduce the relevance of the significance of these issues particularly relevant for most developing countries, the Indian minister argued.
"Ministerial declarations are an article of faith, and not an exercise in semantics to be ignored if fulfilling these commitments proves inconvenient for some countries," she added, referring to the Doha round and the richer countries' objections to it. Pushing India's initiative on a Trade Facilitation in Services similar to the Trade Facilitation Agreement in goods, India said that trade in services should be seen as an equal pillar as trade in goods putting aside "partisan considerations".
Another impediment for the healthy functioning of the WTO is that the trust among the member states seems to have been "severely eroded over the years and dealt a body blow by the developments at the Nairobi Ministerial Conference".
Only a few countries are involved in ministerial discussions and that must "immediately" change, India said, though she is "very optimistic" for the next ministerial meet at Buenos Aires in December this year.
Speaking for the least developed countries (LDCs), India said that developed countries should "demonstrate their resolve" by providing duty-free and quota-free market access for at least 97 percent of products originating from LDCs. India is often accused of standing in the way of progress of the WTO, but Sitharaman said that nothing could be further from the truth.
Discussions on new issues divert attention from priority areas for which mandates exist. "What is the rationale for new issues when agreed issues, well understood, and critical for the world community, are languishing? In contrast, new issues are yet to be fully understood in terms of their scope, definitions and implications," India argued.
Citing e-commerce, Sitharaman said that the rationale for this to be a trade-facilitating platform "must not become the back door for securing market access objectives". "It has been a long-standing demand that patents should not be granted for existing traditional knowledge and associated generic resources," Sitharaman said, adding that making medicines available and affordable is "one cause that no one can stand against".
As technology advances, "demands for nationalist protectionist policies will become more shrill", she said. "Multilateralism provides the only way to move forward."
Sitharaman met the director-general of WTO, Roberto Azevêdo; executive-director of the International Trade Centre, Arancha González, among other dignitaries, during her visit to Geneva.
World
Speaking virtually at an auto conference, Musk said that he preferred temporary suspensions and other narrowly tailored punishments for content that is illegal or otherwise 'destructive to the world'
World
Jack Dorsey was the CEO of Twitter when the social media giant permanently suspended Donald Trump's account after 6 January, 2021, riot in the US capitol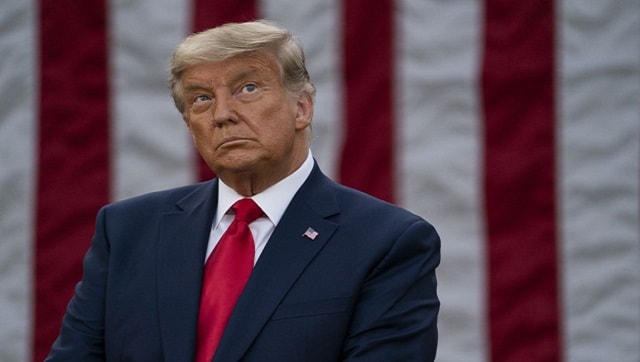 World
Trump was ordered to pay $10,000 a day for as long as he refused to provide accounting and tax documents as part of a civil investigation by Attorney General Letitia James and was then given time till 20 May to make the payment