India-Pakistan ties: Modi's birthday wishes to Sharif don't signal policy change
India and Pakistan have fought four times, threatened each other many a time and quarrel most of the time.
Prime Minister Narendra Modi wrote a post in his Twitter account on Sunday:
Birthday wishes to Pakistan PM Mr. Nawaz Sharif. I pray for his long and healthy life.

— Narendra Modi (@narendramodi) December 25, 2016
His birthday wishes to his Pakistani counterpart have rekindled hopes that the stalled negotiations between India and Pakistan are about to resume. At least this, a section in the Pakistani press believes.
In fact, Pakistan's Express Tribune has quoted an Indian diplomat in today's edition saying that the Indian premier might review his current strategy towards Pakistan and offer another 'olive branch', possibly after state elections in Punjab and Uttar Pradesh, scheduled to be held in March. The Indian diplomat, who spoke on condition of anonymity to the Pakistani publication, said that although the current public sentiment was not in favour of talks with Pakistan unless the issue of alleged cross-border terrorism was addressed, Modi knew how to galvanise public opinion.
"Whenever he (Modi) makes any overture to Pakistan, rest assured it will not be half-hearted," the diplomat is quoted to have said.
Incidentally, last Friday, India's external affairs ministry spokesman Vikas Swarup had said that India was prepared for talks with Pakistan, provided the latter ensured a peaceful atmosphere. "We have never refused talks, but Pakistan has to ensure a peaceful atmosphere. Pakistan needs to stop supporting terrorism. Pakistan should create a healthy atmosphere for talks," he had said. In other words, the spokesman had clearly pointed out preconditions that Pakistan must fulfill before the resumption of bilateral talks by the two countries' diplomats.
Against this background, how does one view Modi offering an olive branch through his birthday wishes? First of all, was it an olive branch at all as the Pakistani press suggests? Any answer to this question should be viewed in a historical context.
India and Pakistan have fought four times, threatened each other many a time and quarrel most of the time. In between, they have talked of peace, negotiated some confidence building measures (CBMs) such as Liaqat-Nehru Pact (1950), Indus Water Treaty (1960), Simla Agreement (1972), Lahore Declaration (1999), Lahore-Delhi Bus Service, the "cricket diplomacy," the resumption of the dialogue (Composite Bilateral Dialogue) between Pakistan and India in 2004. But then some crisis or other – in the form of war or a war-like situation – emerges. As a result, all the CBMs become null and void, the notable exceptions being the Indus water sharing treaty, the annual exchanges of the lists each other's nuclear installations and notifying each other in advance in respect of ballistic missile flight tests.
And when the environment becomes little more manageable, mostly due to pressure from the civil society in both the countries and international demands, their leaders once again renegotiate, mainly to restore some of the CBMs that existed earlier. But again a new crisis in their bilateral relations invariably emerges. So the cycle goes on.
The above pattern has been noticed under the Modi regime too. Case in point: Remember how Modi had invited Sharif for his swearing-in ceremony. It was under his regime that last year (6 December) Indian and Pakistani officials, led by their respective national security advisers (Ajit Doval of India and Lt Gen (Retd) Nasser Khan Janjua of Pakistan) met at the neutral venue of Bangkok "secretly" to facilitate the foreign minister Sushma Swaraj's visit to Pakistan on 8 December (even though it was shown as attending the Heart of Asia Conference). The Bangkok parley, perhaps, was the first instance of Indian and Pakistan officials utilising a neutral venue.
Going by the joint press release of the Bangkok meeting, "Discussions covered peace and security, terrorism, Jammu and Kashmir, and other issues, including tranquility along the LoC." In other words, the talks, which lasted about four hours dealt with all important issues pertaining to bilateral relations. And that explains why though led by the NSAs, the talks also included the two foreign secretaries – S Jaishankar and his Pakistani counterpart Aizaz Ahmed Chaudhary.
However, the biggest peace gesture on the part of Modi was his stop-over at Lahore and a visit to Pakistan Prime Minister's House there on 25 December last year on his return journey to Delhi from Kabul. For this gesture, Modi was criticised vehemently by the opposition parties in the country. But all these "peace overtures" of the Modi regime did not lead to the intended results.
Maybe Nawaz Sharif was helpless in reciprocating Modi's sentiments, given Pakistan's peculiar decision-making structure in which, it is the Army, not the elected leadership, that dictates the country's policy towards India. And the results were there to be seen – terrorist attacks in Pathankot, Uri, Nagrota; relentless ceasefire violations on the line of control by Pakistan; and the months-long civil uprisings in the Kashmir valley sponsored by the Pakistani establishment.
But then, all this has been only one part of the story.
The other part of the story has been that unlike his predecessors, Modi has brought about some significant changes in the nuances in his approach towards Pakistan in this atmosphere of "no-talks".
Whereas all his predecessors, including his party's Atal Bihari Vajpayee, had only stressed on "Pakistan's international isolation" following every major terrorists attack on India, Modi has gone steps ahead and simultaneously pursued threats and retaliatory measures against Pakistan. He has talked openly about Pakistan's vulnerabilities in Khyber Pakhtunkhwa and Balochistan; exposed Pakistan's misdeeds in Pak-occupied- Kashmir, including Gilgit-Baltistan; and suggested the possibility of relooking at Indus-Water sharing treaty, hitherto considered unimaginable. Above all, the Modi government took a strategic decision at the apex level to go across the "Line of Control" to strike at the multiple terrorist bases simultaneously(so-called surgical strikes), as distinct from the previous routine retaliatory raids on other sides , all tactical decisions taken at the local commanders' levels.
In other words, Modi is pursuing, to borrow American scholar Sumit Ganguly's phrase, a 'strategy of deterrence by punishment', which implies that "Any time Pakistan provokes, be prepared to exact a cost". The idea here is that if Pakistan realises that its misadventure against India has a cost involved(which Modi's predecessors were not firm enough to extract), then it may be deterred. Of course, Ganguly, who has authored the recently released book titled "Deadly Impasse: Indo-Pakistani Relations at the Dawn of a New Century", cautions that there is always that uncertain threshold of nuclear blackmail by Pakistan in this approach, but then "the strategy of deterrence by punishment" is worth pursuing.
And finally, in my considered view the most important change that has marked India's policy towards Pakistan under Modi is questioning the very formula that was evolved by the then I K Gujral regime – the formula of pursuing the so-called "composite dialogue" that is aimed at building confidence building measures (CBMs) and "simultaneously" solving the "core disputes", which for Pakistan is the solution of the so-called Kashmir dispute and for India is ending cross-border terrorism.
This is a formula that has not been practiced by two contending powers anywhere in the diplomatic history of the world. The CBMs are first attained so as to make the atmosphere conducive for the solution of the dispute; they lead to the solution, not otherwise. If there is the solution of the dispute or there is no dispute, the CBMs are redundant. That is why India and China ( or any other rivals, say the USA and the then USSR during the Cold War) have always said that the eventual solution of the boundary dispute will follow improvement in bilateral relations pertaining to other areas. But in case of India-Pakistan impasse, one sees this ridiculous composite dialogue approach that talks of development of the CBMs and solution of the core disputes "simultaneously".
Therefore, the Modi government is right when it demands that Pakistan must stop supporting terrorism before normalcy is restored in bilateral relations. The Kashmir issue should not cloud the resolution of other irritants and that the best way to resolve the Kashmir issue is creating a conducive environment, which, so goes its logic, is possible when these "other irritants" - cultural and economic interactions, combating terrorism and transparency in nuclear weapons related matters etc. - are resolved.
This being the reality, what about the question whether or not the Modi government going to resume talks with Pakistan? Talks or no talks, Islamabad cannot satisfy New Delhi's concerns over terrorism – in fact, it will never say that "terrorists" in Kashmir are not "freedom fighters". On India's part, it cannot satisfy Pakistan's expectations in Kashmir – No government in Delhi will ever have courage to say that Kashmir is not the "inseparable " part of India. In other words, there is that problem of "trust deficit" between the two countries. And as long as this deficit is there, the two countries will continue to engage in diplomatic shadowboxing, the intensity of which may vary from time to time.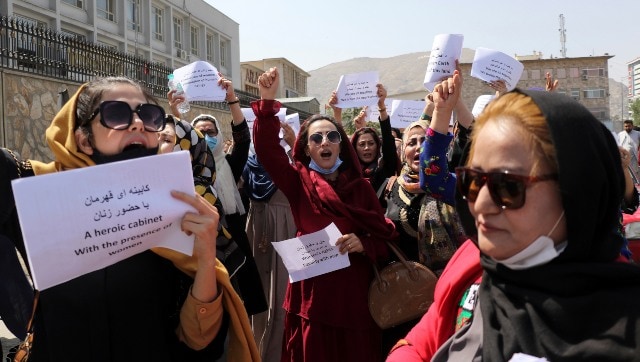 World
Recent controversial comments by Taliban leaders, like that of Hashimi, have exposed the Taliban's true nature as it ignores women, who make up half of the population of the war-torn country
World
This is a dramatic setback for Guinea, where many had hoped the country had turned the page on military power grabs.
Politics
His selection assumes significance as the dissension-riven Congress faces the Assembly polls in less than five months and the fact that Dalit voters comprise 32 percent of the state's electorate