India changes its North Korea policy as Narendra Modi govt vouches for greater strategic logic
By abandoning Pyongyang and moving closer to the US, India also stands to gain economically and diplomatically.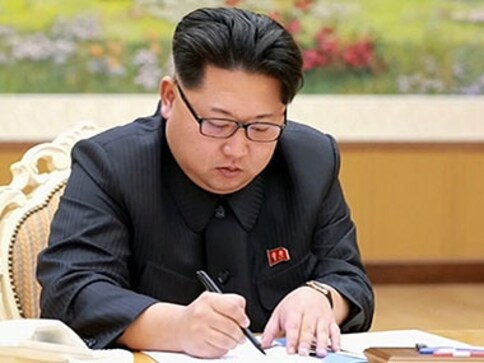 Indian public discourse on North Korea reflects a widespread belief that Kim Jong-un, the young dictator carrying the can for his despotic dynasty, is a madman. It is possible that the 33-year-old with a bad haircut and chubby cheeks wants to actively cultivate such an image. Through his seemingly incoherent actions such as a nuclear confrontation with the world's sole superpower and explosive rhetoric, the North Korean despot certainly wants to create an aura of dangerous insanity — the image of a lunatic boxed in a corner with fingers poised over the nuke button.
Lunacy could be an effective military strategy, as former US president Richard Nixon had once said. If we consider someone as 'irrational', we may be restricted to overestimating or undermining the threat perception. This prevents us from developing the right kind of strategic deterrence. Consider how for all its prowess, the US is struggling to develop a coherent response to North Korea's rapidly developing nuclear programme. And the less said about the UN, the better. Its sanctions on North Korea have had all the effect of an ant trying to bite a rhinoceros. The image of insanity is also a huge advantage for Kim during a military confrontation with far superior rivals because unlike them, he doesn't have to place his actions within a moral framework except the feral need to survive.
To suggest that Kim is an unhinged madcap, however, would be the greatest of mistakes. The North Korean dictator is an extremely rational actor. He is perfectly within his senses and sees nuke stockpile as the only way to avoid the fate that befell Iraq's Saddam Hussein or Libya's Muammar Qaddafi. Both were cajoled out of their respective nuke projects in exchange for aid and sanctions relief only to be eventually unseated and killed due to US interventionism.
Author and professor Andrei Lankov writes in Foreign Policy of the Kim dynasty: "the Kims are the ultimate political survivors, hard-edged rationalists whose actions have always had a clear purpose: keeping the family in power. Seeing them as madmen is not only wrong, but also dangerous…"
The beleaguered North Korean dictator apparently believes that it is not enough to just develop a nuclear programme but deems it critical (for his survival) to achieve an operability to target US mainland. Only then may he achieve the minimum 'credible deterrence'. This belief might have been hastened by the arrival of Donald Trump at Oval Office. Kim may have figured out that when push comes to shove, posing a threat to just US allies in Asia or even American military base in Guam won't be enough to deter Trump.
Accordingly, on Friday morning North Korea sent a ballistic missile flying over Japanese airspace into the Pacific Ocean, marking the second time it had done so since 29 August. These intermediate-range ballistic missiles (IRBMs) are capable of delivering nuclear warheads. Its nuclear programme is also showing rapid progress. On 3 September, the regime detonated a thermonuclear device that caused an earthquake in China and shockwaves through the world. This advanced thermonuclear device, that DPRK claimed was a hydrogen bomb, had a yield 100 times more powerful than what the US dropped over Hiroshima. Experts in the field suggest that the design and performance of the device are consistent with data on two-stage thermonuclear bombs and if fitted on an intercontinental ballistic missle (ICBM), it could reach North American mainland and flatten a city or two. In Hwasong-14/KN20, DPRK already possesses such means. The progress has surprised experts.
Researcher Ankit Panda and MIT professor Vipin Narang suggest North Korea has shown extraordinary evolution in its nuclear programme. "North Korea released a highly specific technical statement through its state-run Korean Central News Agency meant to signal specific knowledge of thermonuclear bomb design — specifically, what is known as a two-stage Teller-Ulam bomb. The accomplishment, if verified, would be no small feat. Many new nuclear powers struggle to achieve this design capability quickly if at all, including India and Pakistan more than 20 years after their first tests in 1998. France took over 8 years, achieving this destructive capability in 1968. North Korea may have gotten there in a little over 10 years — which is quite impressive given the noose around the country and its program," they write in War on the Rocks magazine.
Both writers predict that in short to medium term, North Korea will keep on firing missiles and conducting more and more tests to achieve greater consolidation and accuracy.
That conjecture was borne by the rhetoric flowing out of Pyongyang where Kim was quoted by the KCNA, the North Korean news agency, to have said "our final goal is to establish the equilibrium of real force with the US and make the US rulers dare not talk about military option… The combat efficiency and reliability of Hwasong-12 were thoroughly verified."
It should be clear by now that Kim is no fool, and his actions are not irrational by any stretch of imagination. Which brings us to the question whether India's current North Korea policy, faced with increased volatility in Korean Peninsula, is sound enough or needs further calibration. Though New Delhi might not be in direct line of fire, any nuclear war in Asia is sure to have a deleterious effect in the entire region and being a major player, India cannot avoid getting sucked into it. Its economy will also take a severe beating.
In recent months, India has shown a marked shift in policy. From being North Korea's third largest trading partner (after China and Saudi Arabia), India has banned all trade with the rogue nation except food and medicines as part of its strict implementation of UN sanctions. This policy shift came at a cost. As data shows, North Korea is one of the very few nations with whom India enjoy a trade surplus (exports worth $111 million in 2015-16 as against an import bill of $88 million).
Changes are also visible on other fronts. New Delhi has traditionally abstained from voting at the UN on motions against Kim regime's human rights violations. It maintained cordial diplomatic relations and imparted technology training to North Korean students. DPRK's foreign minister visited New Delhi in 2015. The technology training programme at India's Dehradun-based Center for Space Science and Technology in Asia and the Pacific (CSSTEAP) was of particular worry to the US and the UN.
As Samuel Ramani of Oxford University writes in The Diplomat, "before the UN discovered the CSSTEAP's sanctions violations in 2016, the institute provided at least 30 North Korean scientists with training courses that could greatly assist the development of Pyongyang's nuclear and ballistic missile programs. UN officials were especially alarmed by courses offering satellite communications training and instructions for launch vehicle testing to North Koreans".
All these have now stopped. The new UN sanctions, which India have vowed to implement in letter and spirit, have forced an end to any military, technical, scientific or economic exchanges. We noticed renewed commitment from India towards this new policy when Japanese prime minister Shinzo Abe came calling this month. The joint statement following the 13th India-Japan Summit had vastly stronger language on North Korea than it had last year.
Last year's statement read: "The two Prime Ministers condemned in the strongest terms North Korea's continued development of its nuclear weapons and ballistic missile programmes, including its uranium enrichment activities and strongly urged North Korea to refrain from any further provocation, to fully comply with its international obligations and commitments, including under relevant UNSC resolutions and to take actions towards the denuclearisation of the Korean Peninsula. The two Prime Ministers reaffirmed their determination to cooperate against proliferation activities posing a threat to the region. They also urged North Korea to address at the earliest the abductions issue."
This year's statement (as quoted in para 53) is wider, stronger, and more comprehensive. It mentions "the launch of a ballistic missile flying over Japanese territory on 29 August 2017" and says that it poses "grave and real threat to international peace and stability and the international non-proliferation efforts." There is also an urge to international community (read China) to "rigorously and fully implement relevant UNSC resolutions to maximise pressure on North Korea."
India wants to appear as a responsible nuclear power, and hence its stance on "denuclearization" is well understood. But what may have additionally pushed it to take a more pro-US stand on North Korea is the subterranean fear that under the patronage of China, the rogue regimes of North Korea and Pakistan may inch closer, and Islamabad (whose links with Pyongyang's nuclear development programme is well-documented) might achieve more help from North Korea in developing its own ballistic missile arsenal.
Former Pakistan president General Pervez Musharraf had mentioned in his memoir how North Korea's 'Nodong' became Pakistan's 'Ghauri' in exchange of "hard cash". With Pakistan leaning further away from the US and more into the China-Russia-DPRK axis, not even the most complacent of policymakers would rule out North Korean ICBM technology being transferred to Pakistan.
By abandoning Pyongyang and moving closer to the US, India also stands to gain economically and diplomatically. If there is a greater strategic synergy with Washington, a transactional Trump may be more willing to back India against Pakistan. Economically, South Korea has already ratcheted up investments in India. Kia Motors, for instance, has announced that it will set up billion-dollar car plant in Andhra Pradesh.
The changes in India's North Korea's policy make for greater strategic logic. A more pronounced shift towards US-Japan-South Korea axis will be beneficial for India in the long run. It's also immoral to back one rogue regime (DPRK) and hope for the world to condemn the other (Pakistan). Modi government should stay the course.
Find latest and upcoming tech gadgets online on Tech2 Gadgets. Get technology news, gadgets reviews & ratings. Popular gadgets including laptop, tablet and mobile specifications, features, prices, comparison.
World
Traditionally, presidents have tried to avoid making statements that might prove embarrassing later on. They choose their words carefully and proceed 'out of an abundance of caution', per the tagline of the moment in Washington
World
At last count, Donald Trump trailed Joe Biden 43 percent to 51 percent in national polls and was behind in every single battleground state apart from Ohio and Texas
India
The Delhi government has announced emergency measures from 15 October and set up a war room to monitor stubble burning and the resultant deterioration in air quality