On the occasion of the 67th Indian Independence Day, Cogito Consulting, the brand and marketing consulting division of Draftfcb Ulka has launched a book 'India 2061 – A Look at the Future of India'. The book is a sincere attempt to predict how various sectors in India would look like around 50 years from today.
You can download the book free, here.
The process involved intense rigour in terms of accessing data from hundreds of sources available in public domain/syndicated databases and then using various statistical techniques and tools to project the data.
The projections covered areas like Population, Life Expectancy, Economy, Education, Infrastructure, Automobiles, Electricity, Internet, Media etc. The quantitative compilation of India's future – 'The India 2061 Report' was released in 2012 as a white paper.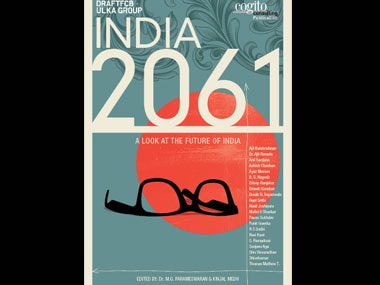 The book India 2061 – A Look at the Future of India has over 20 thought leaders from various industries sharing what they see are the challenges India will face as it gets ready to join the league of developed nations.
The first section of the book includes articles from these renowned thought leaders covering infrastructure areas like Power, Water, School Education, Management Education, Healthcare; new age industries like Retail, Telecom, Television, Automotive, Mobile and Information Technology; financial sectors like Capital Markets, Taxation and Fiscal Management and Insurance; sports categories like Cricket and Olympics; and other key areas like Economy, Ecology, Political system, Dairy and Society.
The guest writers featured in the book include Ajit Balakrishnan, Dr. Ajit Ranade, Anil Sardana, Ashish Chauhan, Ayaz Memon, B.S.Nagesh, Dileep Ranjekar, Dinesh Kanabar, Dorab Sopariwala, Geet Sethi, Hasit Joshipura, Malini V Shankar, Pavan Sukhdev, Punit Goenka, Ravi Kant, R S Sodhi, S. Ramadorai, Sanjeev Aga, Shiv Visvanathan, Shivakumar and Thomas Mathew T.
The second section of the book encompasses the quantitative data projection of various sectors in India in the year 2061.
Updated Date: Aug 15, 2013 11:31 AM