Women at Shani Shingnapur will increase rape cases: Twitter mocks Shankaracharya Swaroopanand
'By that logic there should have been no rape in the 400 yrs of this ban,' one user said as Twitterati lashed out against Shankaracharya Swaroopanand
If you thought the debate over drought or women's right to enter temples cannot get any worse, well, think again. Shankaracharya Swami Swaroopanand Saraswati of Dwaraka-Sharda Peeth has taken the debate to a new low with his statements on the cause and effect of these "calamities".
According to him, the reason Maharashtra is experiencing drought is because Sai Baba is revered in the state, reported ANI. "Sai Baba is revered in Maharashtra especially Shirdi, that's why it (drought) is happening," he was quoted as saying.
"Calamity strikes and such places suffer drought, flood, death or fear, where those unworthy of worship are worshipped. Maharashtra is currently facing all of these," he said, according to The Times Of India report.
If that wasn't weird enough, Shankaracharya is also against allowing women to enter the Shani Shingneshwar temple, according to ANI. And now that they have breached its inner sanctum, "incidents of rapes will increase further". Really? What about the fact that men have always entered the inner sanctum? Did that increase the rate of crimes against them?
Then again, why expect any kind of logic from the Shankaracharya. Wasn't he one of the few people who spoke out against the RSS' decision to change their uniform from shorts to full pants? "Today they are changing their dress. Tomorrow they may change their core ideology," Saraswati was quoted by the Hindustan Times as saying.
Of course, the Shankaracharya's statements had the Twitterati blowing up, making him a trending topic for quite some time on the microblogging site. While many were against him, a few also tweeted in support of the seer.
A Shankaracharya says temple entry for women will lead to more rapes. Sigh. The old old threat, 'cross the... https://t.co/fyL3uJ7Ca9

— Kavita Krishnan (@kavita_krishnan) April 11, 2016
If people like Shankaracharya Swaroopanand will lead religious practices, only God can save the religion.

— Rahul Raj (@bhak_sala) April 11, 2016
#ShankaracharyaSwaroopanand time to show total disobedience to these agents of God,they lost their mind,they dont even afraid of d Almighty

— Whats in a Name? (@an_apolitical) April 11, 2016
Shankaracharya Swaroopanand Which God is this who punishes his worshippers.?

— neetu (@neetumabc) April 11, 2016
"IF" shani exists. I bet he is laughing his ass off for what Shankaracharya Swaroopanand said.

— Sarcastic Singh (@sarcastic_singh) April 11, 2016
Women in Shingnapur can lead to rapes! By that logic there should have been no rape in the 400 yrs of this ban #ShankaracharyaSwaroopanand

— Rashmi Singh (@RashmiSC) April 11, 2016
The Red Dot on Shankaracharya Swaroopanand's forehead indicate that his brain functions are temporarily disabled.

— Free Wheeler (@RoadHound) April 11, 2016
So now we know why "bhagwaan ke liye mujhe chhod do" never really helped.https://t.co/lRTl8y0ABS

— Long Live INDIA!! (@BoscoUnchained) April 11, 2016
There is nothing seriously wrong in what Shankaracharya Swaroopanand says - tradition holds that Shani's effect on women is bad so women+

— Saint Lucifer (@AgentSaffron) April 11, 2016
+ alcohol and alcoholism first instead of fighting entry into Shani temple, which has been traditionally taboo according to belief

— Saint Lucifer (@AgentSaffron) April 11, 2016
Find latest and upcoming tech gadgets online on Tech2 Gadgets. Get technology news, gadgets reviews & ratings. Popular gadgets including laptop, tablet and mobile specifications, features, prices, comparison.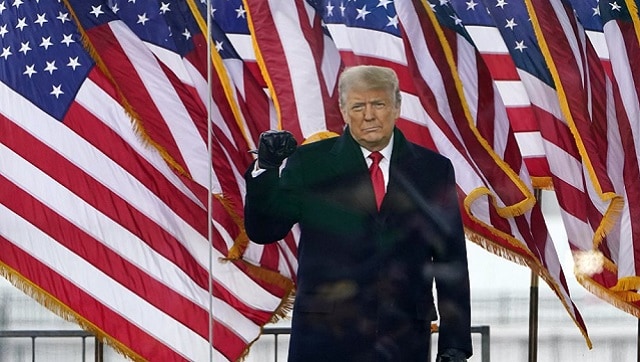 World
Twitter banned the US President's personal account, citing 'risk of further incitement of violence' following the insurrection at the US Capitol on Wednesday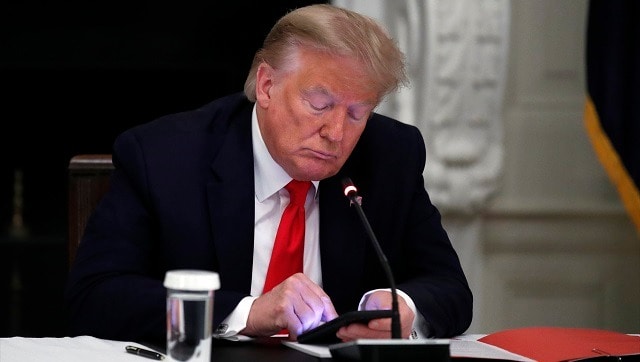 World
Under the Presidential Records Act, all of Trump's social media communications are considered public property, including non-public messages sent via direct chat features.
World
For now, Dorsey says Twitter's goal 'is to disarm' as much as possible and move towards 'a more peaceful existence'.