In Varanasi, Narendra Modi inaugurates first multi-modal waterways terminal, pays tribute to River Ganga
The inland waterway terminal inaugurated by Narendra Modi is the first of the four multi-modal terminals being constructed on River Ganga.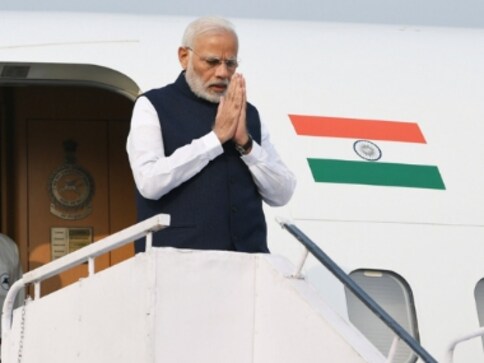 Prime Minister Narendra Modi, in his parliamentary constituency Varanasi, inaugurated the first multi-modal terminal on River Ganga on Monday.
Modi was welcomed by Uttar Pradesh chief minister Yogi Adityanath and other dignitaries upon his arrival. Union minister Nitin Gadkari joined them during the inauguration ceremony of the terminal project.
After the ceremony, Modi was briefed about the project by officials. The inland waterway terminal is the first of the four multi-modal terminals being constructed on River Ganga as part of the World Bank-aided Jal Marg Vikas project, which aims to develop the stretch of the river between Varanasi and Haldia for navigation of large vessels weighing up to 1,500 to 2,000 tonnes. The other three terminals are under construction at Sahibganj, Haldia and Gazipur. The project would enable commercial navigation of vessels with capacity of 1,500-2,000 deadweight tonnes (DWT) on the river.
Modi also visited the banks of Ganga to pay tribute to the sacred river.
The objective of the project is to promote inland waterways as a cheap and environment-friendly means of transportation, especially for cargo movement. The Inland Waterways Authority of India (IWAI) is the project implementing agency.
The total estimated cost of the project is Rs 5,369.18 crore, which will be shared between the Government of India and the World Bank on a 50:50 ratio.
Operation, management and further development of the terminal is proposed to be entrusted to an operator on public-private partnership model and selection of the operator through an international competitive bidding is at an advanced stage and is expected to be completed by December, an official statement said.
The multi-modal terminal project and proposed freight village in Varanasi are expected to generate 500 direct employment and more than 2,000 indirect employment opportunities.
With inputs from agencies
also read
Explainers
The Sarus crane, taken away from an Amethi farmer, is slowly adapting to the ways of the wild in Kanpur Zoo. The zoo officials have so far attained 80 per cent success in helping the bird adapt to a suitable diet that includes raw grains, insects, crustaceans, spinach, water hyacinth
India
There was no concept of two Kashi Vishwanath temples (old and new) in Varanasi, Gyanvapi Mosque Committee told the Varanasi court
India
On May 12, the Allahabad High Court had ordered the authorities to determine the age of the structure claimed to be a Shivling in the Gyanvapi complex in Varanasi using modern technology