In rural Maharashtra, a teacher who overcame physical disability, now helps her students realise their dreams
38-year-old Asha has inspired thousands of students across several villages of Pune district in Maharashtra.
This story is part of a series on the everyday heroes of rural Maharashtra.
"Give me six months." Asha Jagtap didn't say these words in haste. She knew it was the last opportunity and she had to seize it. Remembering her childhood days, she reminded herself of what she was fighting for. This was the time in the late 1990s when she was pursuing her Diploma in Education from Pune city. The college principal looked at Asha's physical disability and asked her to join a 'special college' citing medical reasons. "I wasn't surprised. That's what many people advise me when they look at the only finger I have in both the hands each."
She had endured all the pain and fought back in equal measure to ensure that this remark was not normalised. Within the next six months, Asha would do what she has always done — 'Never give up on your dreams.' Now, it was the final month of the challenge — a practical assessment of the teaching skills the students had acquired in the six-month-long semester. "I was assigned a grade II classroom with 30 kids," she recollects. Writing with her inspiring style by bringing together the two fingers, she had conducted the class.
"After the session, the principal walked up to me and said that six months ago she was about to make the biggest mistake of her life." Without delay, she congratulated Asha for an excellent session. Asha knew that she had protected her dream and proudly says, "To date, I have never quit." This is one of the several instances where self-motivation pushed her to realise her dreams. "Every moment is a struggle," she says with a lot of hope.
She completed her Diploma and Bachelors in Education from the Pune University and her schooling from the Belsar village in Purandhar taluka of Pune district in Maharashtra. According to Census 2011, 45 percent of the disabled people are illiterates. Only five percent of disabled are graduates and above.
The relentless path of endurance
38-year-old Asha has inspired thousands of students across several villages of Pune district in Maharashtra. "If I think that I don't have all the fingers, then how will I fight the society?" she says. "I am perfectly okay for my children and students, and that's what matters to me."
She has been transferred 15 times in the past 16 years of her service as a teacher in the villages of Bhor, Purandhar and Haveli taluka in Maharashtra's Pune district. Service in the Purandhar taluka was one of the most challenging aspects of her life. "There was very less bus frequency [once a day] in several remote villages," she recalls. During those times, she stayed in her student's homes.
During her childhood days, a lot of community members and school teachers asked her to enroll herself in a 'special' school. "My father was completely against this," she recollects. "My parents always treated me like a normal child."
Her mother, Chandrabhagha, in her early 70s, is a homemaker. Her father, the late Sudam, worked as a clerk in the irrigation department at the Khadakwasla dam in Pune. "My father got several opportunities to become a teacher, but he never accepted them because he thought his disability would become an obstacle," she says. He never sought any help in writing. "He taught me how to write and never asked me to consider low of myself," she says smilingly. "During my grade X board examinations, I didn't require any help of a writer. People used to look at me in shock and surprise when I would always complete the exam within the time," she says smilingly. A lot of people ask her if she has a personal assistant to which Asha proudly denies.
Sudam always wanted her to become a teacher and complete his unaccomplished dream. "My dad passed away when I was in grade IV. Had he been alive today, he would have been proud," she says.
In 2002 she was appointed as an assistant teacher in a Zilla Parishad school of Chikhalgaon village in Pune's Bhor taluka. "That year, I taught students of grade IV, and they got excellent results in their scholarship examination," she says proudly. In 2003 she was nominated for the Adarsh Shikshak [Model teacher] award. A lot of teachers objected to this decision because she wasn't a permanent teacher. However, the school authorities retained their decision and this was first of the several prizes she won. She has been teaching the 35 grade IV students in Zilla Parishad School at Narhe village in Pune's Haveli taluka from June 2018. Her students named Alok Rajwanshi and Chandra Sahu from grade IV say, "We like how our ma'am writes and teaches us."
Battling domestic violence and abuse
Asha narrates, "For the past six years, my husband has been abusing me physically and mentally. An alcoholic, he would hit me with cricket bat and umbrella almost every day until I bled. For two years, I never spoke to anyone about these instances of exploitation. At home, he has tried burning me to death by pouring kerosene on me. There was a lot of time when my kids saved me from his wrath.
In September [2018], he came to the school drunk at around 2.30 pm. He saw me and said that this would be my last lunch. I got up immediately and asked him what happened. After a brief conversation, he poured petrol on me and started lighting the matchstick. A few kids saw this and without any delay ran to inform other teachers and the principal ma'am. He lit at least 5 matchsticks and even threw it to me. I managed to save my life by running around the class. Within some time, the police reached, but he managed to escape by that time. Later, he came again at 5.30 pm [on the same day]. That's when the police caught him. Immediately an FIR was filed. Today, he is in Pune's Yerwada jail. I would always think that he will improve, but it got worse every day. For the past 11 months, we haven't been staying together. I will be under the threat of an attack again the moment he comes out of jail."
Resisting Patriarchy and other societal issues
The Narhe Zilla Parishad school principal, Sukeshini Kole, says, "The system doesn't want women teachers to take senior positions. During the incident, we women teachers collectively managed to save the life of Asha. A lot of people later asked us if there wasn't any male teacher in the school."
"There is a lot of conservative thinking regarding education also. Many people always ask if there are male teachers in the school. My question to them is can't women be teachers?" adds Asha.
A big chunk of parents whose kids face a similar societal plight as her discuss their concerns at length. "It's disheartening to listen to their tragic stories, but they find a sense of relief after talking to me," she explains. Most of the people in rural areas aren't aware of the Government schemes for the disabled. "It's important to disseminate the information," she adds. One of the acts which have inspired everyone according to Asha is how she braved the art of holding the chalk and writing.
During her school days, she was never behind in any sports either. The school teachers would always call her extraordinary. An ardent lover of sports, Asha played Kho Kho and Kabaddi. Earlier, she would be shunned away for the disability, but her humane approach towards things helped her build a bond with everyone.
When I ask about her dreams, she smiles and says, "I now see my dreams in my students. I want them to move ahead in their lives and overcome their difficulties."
India
The Akhil Bharatiya Vidyarthi Parishad, the student wing of the Rashtriya Swayamsevak Sangh, has alleged the book being taught to law students has highly objectionable contents against the Hindu community and the RSS.
India
On Tuesday, Mumbai recorded five fresh measles cases and one suspected death, the city's civic body had said in a bulletin earlier in the day. In Mumbai alone, ten deaths due to measles have been reported as of November 28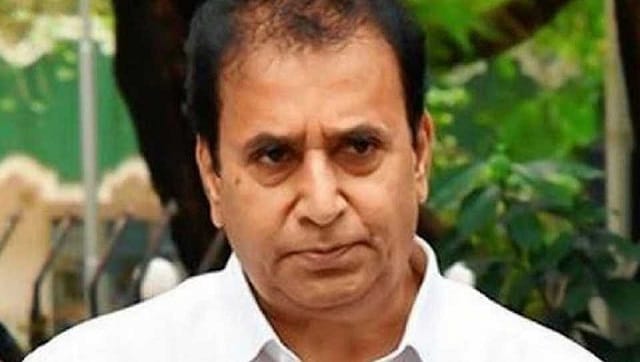 India
A special court designated to hear cases related to the Prevention of Money Laundering Act (PMLA) recorded his appearance and then granted him bail