By Neelabh Banerjee
Sudhir Tailang has been always one step ahead of me. When I joined The Times of India he had already left for The Hindustan Times... all I could meet was the easel Sudhir bhai used to work on. Those were the days of cartoons produced with India Ink, brush, nibs or Rotrings. The pen and ink days; Photoshop had not arrived.
Over the years, I had several opportunities to meet the man in the black shirt. I think wearing a black shirt to all his social outings was part of the black and white attitude he had towards politicians and politics. No grey areas.
Politicians who followed his cartoons closely were both his harshest critics and his greatest fans. In fact, the complainants were those who were not featured in his cartoons. A particular neta of national level once called him just to ask why he is not featured in his cartoons... was he not popular enough?
Sudhir bhai's creative genius was not only in drawing cartoons. I was surprised to see his artwork painted on the wall of a restaurant in Noida, which belonged to our common friend Gunjan Bansal. Strictly for close friends only, I guess.
In 2012, at the launch of one of his books in Delhi, two leaders from the rival parties of UPA and NDA shared the stage with him. In fact, they actually flanked him. Both the leaders had no problems with each other since they had one thing in common: both were victims of Tailang's cartoons. His cartooons were incisive and spared no one.
My wow moment with Sudhir Tailang was in 2013 when The Times Of India launched the book of cartoons called Jest in Time. To make the launch unique, we wanted some of the top Indian cartoonists to come together and create a cartoon on stage. Ninan, Keshav, Jayanto, Manjul, Prasad, Tailang and I were part of this event but the extempore on stage cartoon on India could not have been possible without Sudhir Tailang's participation. Drawn on a large board, the original still lies with The Times of India.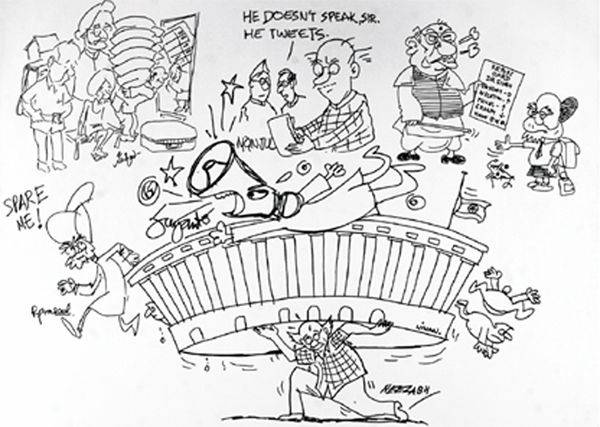 RIP Sudhir bhai, your passion, humour and cartoons with 'claws' will continue to inspire us.
Updated Date: Feb 06, 2016 20:07 PM