In Maharashtra's Malgaon village, a retired school peon battles casteism with his poetry
The 63-year-old retired peon from Malgaon village in Satara district of Maharashtra completed his 47th poem in the first half of this year.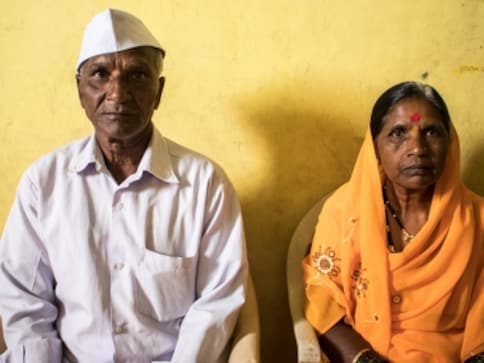 This story is part of a series on the everyday heroes of rural Maharashtra.
Goraknath Awale is proud of two achievements. In his late 30s, he had dreamt of becoming a poet. But poverty and casteism created hurdles in achieving it, his acquaintances recall. There came a time where he had to choose between writing his poems and working as an agricultural labourer to survive. In the circumstances, he chose both. The 63-year-old retired peon from Malgaon village in Satara district of Maharashtra completed his 47th poem in the first half of this year, which he calls his first achievement.
"I don't have an option other than toiling as a labourer to make ends meet," he says. Goraknath decided to work more than 16 hours a day, a decision which landed him with complete bed rest for a while. After 12 hours of work, he would resume reading Marathi novels every day. 'Honest and hardworking' is how people describe him in the nearby villages. He belongs to the Matang caste which is classified as a Schedule Caste. Casteism would shape much of his life and using his passion for storytelling, Goraknath, in a subtle way, would fight against it. He has a bank of experiences which helped him document the everyday life of everyday people across the countryside. Varying from inspirational to heart-wrenching, he decided to compile his journey of decades in his next achievement — a handwritten autobiography.
Battling Poverty
Born in a Dalit household and a conservative casteist society, Goraknath had bitter childhood experiences. His mother, the late Jai, and father, the late Ramchandra would work as agricultural labourers and do odd jobs to make ends meet. Earlier his mother used to wash utensils in the upper caste marriages from Malgaon and nearby villages. "We were given the left-over and stale food," he recalls.
For five years, he performed the traditional caste-based occupation of making brooms. He also worked as a majdoor in the villages of Pune and Satara districts after dropping out of grade XI. At the age of 26, he walked 20 km from Dehu in Pune to Dapodi for employment but luck was not on his side. Later he covered a distance of 120 km to reach his village. "I had no money then and hence had to walk all the way," he recollects.
While working as a labourer at a canal, his hands caught an infection. Immediately, his wife asked him to discontinue. After seeing him work as a labourer, his school teacher Chitnis felt sorry for his condition and decided to offer him the job of a peon in the school. Without hesitating for a moment, he accepted the job which would eventually give him a space to explore his passion for poetry. "When I joined at the age of 27, I was paid Rs 70 monthly," he says smilingly. He worked in the same organisation for the next 34 years and retired as a lab assistant in 2015. His daughter, Chaya, in her late 20s, is a homemaker. His sons, Santosh, 40 and Ganesh, 31 work as agricultural labourers in the nearby villages
The difficult road to education
He completed his primary education in Malgaon village. For secondary education, he had to walk all the way to Wai taluka in Satara on weekends where he enrolled in a residential school. "I didn't have any chappals then and I had to walk for three hours in the scorching heat," he remembers.
"My mother always used to say [these] days of poverty should end and for that, you should learn," he recollects.
"One day when I had no food in school, my teacher Chitnis asked seven classmates to bring one quarter chapati extra". This carried on for four years till grade XI where he dropped out eventually.
During his younger days, he travelled with his family to villages for making brooms. "One day, a school teacher from the village asked my parents to enroll me in school," he remembers. Goraknath would proudly recite the things he learned at school to his parents. "Although they weren't educated, they always listened to my recitation," he says smilingly expressing his gratitude for them.
The literary journey
"I always loved poetry," he says smilingly. When he was in his late 30s, he had gone to a poet's conference in Bhuinj village of Satara where a few of his friends asked him to read his poem. Scared and anxious, he somehow managed to read it and immediately everyone broke into applause. "That moment was my starting point in poetry," he now says proudly.
While working as a peon, he couldn't find much time to pursue his passion and managed to write only a handful of poems. He derives his poetry from the people and society. "I carefully observe what people are doing, note down a few words from their conversation and start writing my poem," he says. Three decades ago he saw an alcoholic man arguing with his family in the village. He heard the entire conversation and then wrote a poem called Sansar [life] on the plight of alcoholism. This poem won him praise across several villages of Maharashtra and inspired him to write more societal poems. Poet Narayan Surve read the poem in a poet's conference in Pune and asked him to keep writing. Humbled by the kind gesture, he wrote a handful of poems more and had to stop because of lack of time. He proudly shows me his poetry journal signed by Surve.
A master storyteller
While working as a peon in the school, he made sure he discussed the stories and poems with children. Several reading sessions of his poems have been arranged in the Kisanrao Sable Patil school in the nearby Shivthar village where he spent more than 15 years of his service. Later he retired from the same school's branch in Wai taluka of Satara district.
Vidya Shedge, 34, who was once a student in the same school would listen to his stories every day. She now teaches Mathematics there and says, "Awale kaka [uncle] was always busy in his work, but would never forget to narrate new stories and poems." For his honesty and dedication to poetry, he was awarded the Adarsh Sevak Puruskar by the school.
He felt a strong urge to document his entire journey of honesty and integrity in the form of an autobiography. The biggest challenge was to juggle between writing and working as an agricultural labourer to make ends meet. "I started writing late in the night post 11 pm every day." He considers his wife, Parvati as an inspiration who always stayed awake while he was working on his autobiography. She says, "It's always a pleasure to read his poems." His daughter-in-law, Vaishali, 28 reviews his poems and gives feedback on it. She says, "I like his poems and want to learn poetry from him."
It took him three months to complete his autobiography which will now be reviewed by his literary friends. The strenuous working hours coupled with writing the autobiography in the night meant minimal resting hours for the Awale couple. "I was suffering from heavy fever when I completed my autobiography," he says.
The writings of Annabhau Sathe and Surve had an impact on him. He credits Nandkumar Shedge, a poet and Marathi Professor from the nearby Shivthar village for pushing him to write a book and also for providing him 13 books on rural poetry. In his 47 poems, Goraknath writes about the agrarian crisis, societal issues like alcoholism, patriarchy and everyday life across the countryside.
The bigger challenge for him is getting the book published with minimal finances at his disposal. Shedge has been helping Goraknath find a publisher in the Satara city. "I could never earn any money, but I earned humanity," he says proudly. Everyone in the village now calls him master. "We make a lot of mistakes while writing, but how will you understand if you don't write at all," he says.
also read
Opinion
Indian democracy is in danger. Not from the so-called 'fascist' Modi government or the BJP and RSS, but from those who most vociferously say that India's democracy is in danger
Explainers
The Maharashtra government will hold large-scale celebrations to mark the 350th coronation anniversary of Chhatrapati Shivaji Maharaj on 2 and 6 June. The inaugural event will be held at Raigad Fort from where the Maratha warrior was enthroned in 1674
India
Maharashtra CM Eknath Shinde has announced that the city of Ahmednagar will now be renamed Ahilyanagar after the Maratha warrior Ahilyabai Holkar. The Malwa queen was known to be a great ruler and a learned politician. Her contributions to women's empowerment and education are unforgettable