In LS, Narendra Modi taunts Opposition, refers to Rahul Gandhi as 'tubelight', quotes Nehru to attack Congress on CAA, Kashmir
Speaking in the Lower House, Modi acknowledged the criticism offered by MPs like Shashi Tharoor and Danish Ali, Modi said that he understands that the norm was to tread the traditional path
Speaking in the Lower House, the prime minister acknowledged the criticism offered by MPs like Shashi Tharoor and Danish Ali, Modi said that he understands that the norm was to tread the traditional path

However, he added that the people voted for a change at the helm because not only did they want a new government but also a new ethos

Continuing the allegory, Modi said that if the BJP government had continued on the same path as Congress, neither would Section 370 go away, nor would the government have been able to outlaw the practice of triple talaq
Prime Minister Narendra Modi on Thursday replied to the Motion of Thanks in the Lok Sabha. Acknowledging the criticism offered by MPs like Shashi Tharoor and Danish Ali, the prime minister said that he understands that the norm was to tread the traditional path. However, he added that the people voted for a change at the helm because not only did they want a new government but also a new ethos. "It is the time for those people, who love to tread the untrodden path," Modi said.
Continuing the allegory, Modi said that if the BJP government had continued on the same path as Congress, neither Section 370 would have gone away, nor would the government be able to outlaw the practice of triple talaq and ensure justice for Muslim women.
"Had we continued with the same thinking as Opposition, Ram Janmabhoomi would continue to be a disputed issue; had we continued on the Congress path, we would still be waiting for next generation fighter plane and the appointment of a Chief of Defence Scheme," Modi claimed, adding that the government was trying to think and work outside the box.
Replying to a debate on Motion of Thanks to the President's Address, the prime minister said the people of the country have seen his government's work between 2014 and 2019 and gave a bigger mandate in 2019.
Modi further asserted that his government has worked with an increased momentum, because the country was tired of waiting for things to change. "People were wondering why is the government in a rush to change things around, but because we were working at a high speed, people have given more power to us in these elections, to carry on with the same momentum," the prime minister added.
He said, his government not only displayed determination, but also pressed forward with decisiveness; not only was the Central government sensitive to people's issues, but also interested in providing them with solutions. "NDA govt's aim is speed and scale; determination and decisiveness; sensitivity and solutions," Modi said.
The prime minister also referred to the discussion over the Bru agreement and the Bodo Peace Accord signed by the Centre recently. Modi said, "People are reminding us that what happened in North East is nothing new. When did I ever say that it is a novel idea. It did happen before, only the intent was missing. Half-hearted attempts were made, which is why the efforts were never result driven. Now it is for the first time that the Bodo accord categorically mentions that all demands related to the Bodo issue, have been finally resolved." "Whatever was done earlier was for meeting political ends and hence it remained confined to papers," Modi added.
"For the North East, Delhi was always a distant force, but in the past five years we have worked in a way that now Delhi is standing at the doorstep of North East," Modi said.
He said that a lot of people spoke about farmers' issue also. "But the discussion was coloured in a way... I don't know whether it was done due to ignorance, or out of spite.." Modi said taking potshots at the Opposition. He claimed that under him, the agro budget was increased five fold since 2014 when he came to power. "Agri budget, which was earlier Rs 27,000 cr, has now been
increased by five times to about Rs 1.5 lakh crore. Till now 45,000 crore have been directly credited to farmers' account under various government schemes, including Pradhan Mantri Kisan Samman Nidhi Yojna (a pension scheme for small and medium land holding farmers)."
"PM-KISAN Samman Yojana is transforming the lives of many farmers. Several farmers have benefitted due to this. In this scheme there are no middlemen and no extra file-work. And we have implemented more than 99 farmer welfare schemes," Modi said.
He also hit out at non-BJP governed states for allegedly obstructing the PM Kisan scheme. "Driven by politics, some states are not allowing farmers to benefit from PM-Kisan Scheme. I appeal to them- let there be no politics in farmer welfare. We all have to work together for the prosperity of farmers of India," Modi said.
Prime Minister's speech littered with barbs against Congress
While the first half of the prime minister's speech was aimed at recounting his government's policies and making subtle digs at his critics, in the second half, he spoke on present contentious matters and took stinging potshots at Rahul Gandhi and the Congress.
At the beginning of his speech, some Congress MPs raised slogans hailing Mahatma Gandhi with party leader Adhir Ranjan Chowdhury saying, "it is just a trailer". At this Modi shot back: "Mahatma Gandhi may be a trailer for you, but he is life for us."
These comments, ironically, come in the wake of a controversy surrounding BJP's Anantkumar Hegde, who is under Opposition fire for describing the Gandhi-led freedom struggle as "drama" and claiming that it was "staged with the consent and support of the British."
"The country's politics of the last 70 years has been such that no Congress leader can be self-sufficient," Modi said while taking dig at Adhir Ranjan Chowdhury, who was rising repeatedly to disrupt the prime minister's speech.
He also reserved some barbs for Rahul. Referring to his '6 mahine me Modi ko dande marenge' comment, the prime minister said, "I am thankful for the warning issued in advance — because it is a tough job, it takes time. But now, I will also increase the number of Surya Namaskars in my daily workout to strengthen my back to bear the burden of further such insults. In any
case, I have been abused so much for the last two decades that their negativity hardly matters."
Rahul, at this point, rose to intervene, but the prime minister sent another retort his way and said, "I was speaking for the last 30-40 minutes but it took this long for the current to reach there. Many tube lights are like this."
He also referred to the Congress' 'Save Democracy, Save Constitution' protests.
"Congress is chanting save Constitution, save Constitution these days. I am happy, because they should be chanting that mantra because it was Congress party that abused the Constitution the most. If they have forgotten, they I must remind them... what were your thoughts about Constitution in 1975?" Modi asked, referring to the imposition of Emergency by Indira Gandhi government. "Save Constitution mantra is a must for those who dismissed several state governments," he added.
Attacking the Congress, Modi said a person who was associated with the 1984 anti-Sikh riots was made as chief minister. "Does a party that keeps talking about secularism not remember 1984 and the anti-Sikh violence? It was shameful. In addition, they did not make efforts to punish the guilty," he said.
Modi also kept up with his tradition of attacking Jawaharlal Nehru, although he did not name the late former prime minister unless he was quoting him.
"Some people wanted to become prime minister, and it is good to have such lofty aspirations. However, for one person's ambition to become the prime minister of India, a line was drawn on the map and India was divided into two. After the Partition, the way how Hindus, Sikhs and other minorities were persecuted is unimaginable," Modi said implying that Nehru's wish to head the Independent India was what caused the Partition of India and Pakistan.
The claim, unsurprisingly, evoked huge uproar and chants of 'shame shame' from the Opposition, while thunderous applause from the Treasury Benches.
Coming on to more contentious topics like Citizenship Amendment Bill which dominated the bulk of discussion on Motion of Thanks, the prime minister questioned the Congress party's ideological position by quoting Nehru and Hindu freedom fighters who chose to remain in Pakistan.
In a sarcasm laden comment, Modi also 'thanked' the Congress party for revealing its true colours on CAA. "I'm thankful to the Congress and their ecosystem for creating a fuss around CAA. If they did not oppose it, the country would not have seen through their real face. Now the country has seen who stands for Dal (party) and who stands for Desh (country)"
Modi on CAA
Modi taunted Opposition members who said the government hurried up a sensitive matter like CAA and rushed a legislation for political gains, without fully understanding its implications.
"Some people asked what was the hurry with CAA? They accused us of communally dividing the country. They have deployed all resources to prove this. This is being said by people who stand along with people who want to divide the country. For decades Pakistan has been speaking this language. Pakistan has been trying to provoke Muslims and now the same is being done by the opposition. For them, Muslims are Muslims. For us they are Indians," he said.
He also claimed that even Nehru had acknowledged need to protect religious minorities in Pakistan, but Congress was now doing politics on the issue and provoking people against the government.
"In 1950, the Nehru-Liaquat Agreement was signed for the protection of minorities living in India and Pakistan. Religious minorities were mentioned in this agreement. Nehru was such a big thinker, then why did he not include all the citizens there in the agreement instead of the minorities there? What we are saying today, was the same thing with Nehru ji," Modi said.
"Pandit Nehru himself was in favour of protecting minorities in Pakistan, I want to ask Congress, was Pandit Nehru communal? Did he want a Hindu Rashtra?" he asked.
I want to tell the 130 crore people of India with full responsibility that CAA will not affect any citizen of India in any way, he said.
Modi makes nationalistic pitch on Kashmir issue
Modi's response to concerns raised over Jammu and Kashmir, abrogation of Article 370 and detention of Kashmiri politicians was equally fiery. While he mentioned the subject of detention of mainstream politicians since past 185 days, Modi evaded a clear response on questions raised on the treatment meted out to three former chief ministers of the state, one of whom is also a serving Parliamentarian in the same house. He instead, quoted their remarks in the wake of abrogation of the state's special power, to question Congress that how can it stand with people who speak in 'Pakistan's language'
Slamming former Jammu and Kashmir chief ministers Mehbooba Mufti and Omar Abdullah for their remarks, Modi said Kashmir's identity was buried on 19 January, 1990, when Kashmiri Pandits started leaving the Valley due to militancy.
"Who made Kashmir only about land grabbing? Who made Kashmir's identity only about bombs and guns? Can anyone forget that dark night of January? In reality, Kashmiri identity is closely linked with harmony," he said.
He also quoted excerpts from Omar, Farooq, and Mehbooba's reaction on the abrogation of Article 370 and said, "I would like to recount these speeches for the 'protectors of Constitutions'. Their souls would realise some day that they were wrong in supporting these people, that is if they have one."
On the economy, the prime minister said the government has kept the fiscal deficit in check, price rise is also under check and there is macro-economic stability. He said the PM-KISAN Samman Yojana is transforming the lives of many farmers. Several farmers have benefited due to this. In this scheme there are no middlemen and no extra file work. Modi said the FDI in April-Sept 2018 stood at $22 billion, while in April-Sept 2019 it increased to $26 billion. This reflects confidence of foreign investors in India, he said.
Find latest and upcoming tech gadgets online on Tech2 Gadgets. Get technology news, gadgets reviews & ratings. Popular gadgets including laptop, tablet and mobile specifications, features, prices, comparison.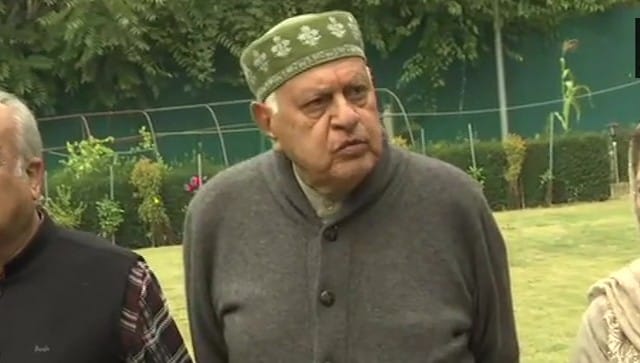 India
Reacting to the list, Omar Abdullah said "Dr Farooq Abdullah has not availed of the Roshni scheme for either his residence in Srinagar or in Jammu and anyone who says otherwise is lying."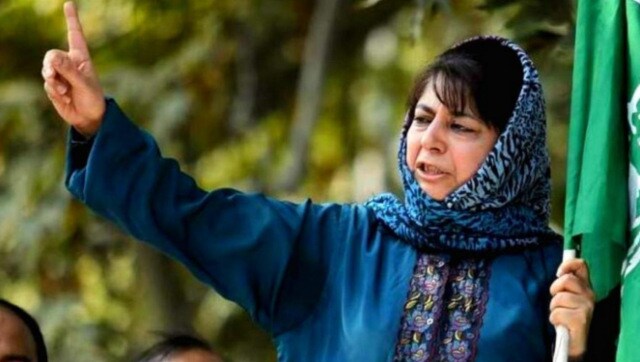 India
Omar Abdullah hit out at the government for 'treating personal liberty as a favour', which is being given and withdrawn at will, with no interference from the judiciary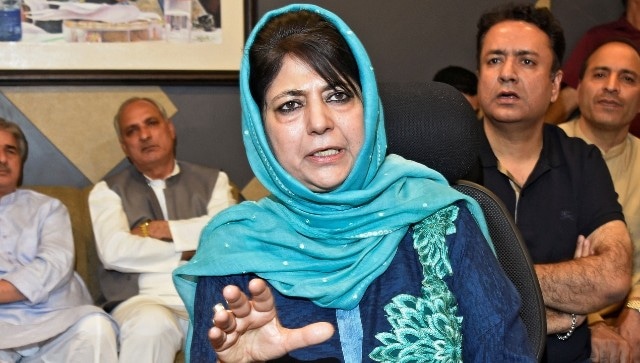 India
Mufti had announced that she will hold a press conference after claiming she was not allowed to visit the Pulwama residence of PDP leader Waheed Parra who was arrested by the NIA earlier this week