In life and death: KEM Hospital bids loving farewell to Aruna Shanbaug
Aruna Shanbaug, the former nurse, died on Monday after lying in coma for 42 years following a brutal sexual assault.
After decades of being cared for by hospital nurses and doctors of the KEM Hospital in central Mumbai, it was finally the staff of the hospital along with a few of her relatives who conducted the last rites for Aruna Shanbaug after she passed away on Monday.
Soon after her death on Monday a controversy erupted over the funeral, with two relatives of Shanbaug staking claim to perform the last rites.
They claimed before mediapersons that all attempts to meet Shanbaug were stone-walled by the hospital authorities.
"We were made to run around for permissions... they would ask us to approach the dean, the matron, doctors... After a point of time, it really got hectic as some of us shifted to Virar, Panvel and other far-off places," Aruna's niece Mangala Nayak told Mumbai Mirror.
However, nurses at the KEM Hospital demanded that since they had tended to Shanbaug for over four decades, they should be allowed to perform the last rites.
"It is an end of era for us. Her death has left a sudden emptiness that is difficult to explain," a nurse, standing metres away from Aruna Shanbaug's funeral pyre at the Bhoiwada crematorium to Times of India.
Finally, there was a compromise reached between the nurses, other hospital staff and Aruna's family where they agreed that they would jointly perform the last rites at the Bhoiwada crematorium. Her funeral pyre was lit jointly by the KEM hospital dean and Aruna's nephew together.
On 27 November, 1973, Shanbaug, working at the government-run KEM hospital in Mumbai, was attacked by Sohanlal Bhartha Walmiki a ward boy, in the changing room. Walmiki gagged her with a dog chain before raping her, which led to her spinal injury and permanent brain damage. She was bedridden for the last 42 years and the subject of a landmark verdict by the Supreme Court on euthanasia.
However after her attack in 1973, KEM Hospital took her in as their own after she was shunned by her relatives and cared for her for four decades. The hospital staff even opposed the euthanasia plea started by journalist Pinki Virani in the Supreme Court, saying her brain stem was alive and that she was breathing on her own without a respirator and digesting food.
The Supreme Court in 2011 rejected Virani's plea, saying what KEM hospital had done for Shanbaug was "marvellous" by feeding, washing and caring for her, day and night, year after year.
"We are happy she died a natural death. Mercy killing was not right for her, she was as alive as anyone else and used to respond to us," said Anuradha Padhare, one of the nurses who looked after Shanbaug. "We were her guardians as her family refused to take her home. We were her only family," she claimed.
India
Every year on 12 May, the world celebrates International Nurses Day. The day also marks the birth anniversary of the English social reformer and the founder of modern nursing, Florence Nightingale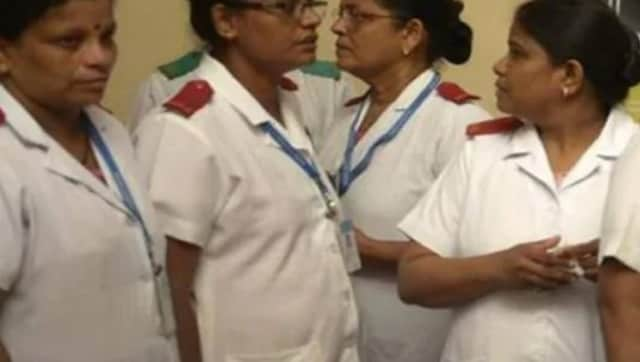 World
Since the pandemic hit the world, the immense contribution of these healthcare workers has proved invaluable to the medical community. This special day is marked on the birth anniversary of Florence Nightingale, the founder of modern nursing