Around 3 am on Saturday, around 10,000 people gathered at the Idgah in Tral district on hearing of Hizbul Mujhahideen commander Burhan Muzaffar Wani's death.
Tral, locally known as Kandahar, is a small, sleepy town in south Kashmir. It has a population of around 1.25 lakh, a majority of them are Muslims and there are a few Sikhs and Hindus. Local Kashmiris who marched to the Idgah were wary that security agencies could shut down Tral before Wani's funeral. To outwit the agencies, they ran a hectic campaign on social media, mobiles, through announcements at Mosques to ensure a huge gathering before the clamp down. Within hours the ground was full and there were many more making their way to the venue. "Youth who infused life into Kashmir resistance no more," screamed the headline of local daily Kashmir Reader. In an adjoining story, the paper called him a 'youth icon', a narrative echoed by most of the local press.
"Mosques in our locality are playing songs of freedom on loudspeakers..appeals are being made to people to come out of their homes to pay a tribute and join the masses...people from villages are thronging the Lal Chowk.. and I saw many women('s) groups joining them too...," a Kashmiri friend posted on social media, suggesting that the Valley is in the throes of an uprising after Wani's death.
Wani, the 21-year-old regional commander of Hizbul Mujahideen, was killed in an encounter with security agencies near Kokernag — a town in Kashmir that gets its name from a famous spring that resembles the claw of a koker (cock) — on Friday. Since then, the Valley has been completely shut down with sporadic protests erupting in south and north Kashmir.
The legend of Wani
Wani ran his terror network like a corporate agency. He would hold recruitment drives, issue adverts — mainly on social media — and present himself as its most visible face and mascot.
Wani, son of a mathematics teacher from Tral, had become a militant at the age of 15 and he made militancy look like child's play.
Apart from his ideology, his hard selling of terror as a fun job that brought you money, luxury and fame was a huge threat to security agencies.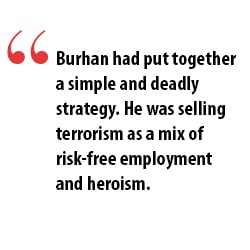 In 2015, social media was abuzz with rumours that Wani had launched an ambitious recruitment drive in the month of August. He was reportedly offering Rs 35,000 to recruits along with a gadgets, guns and grenades. Only those who had cleared Class X could have applied.
A video shot by his group around the same time showed a group of youngsters in army fatigues, armed with grenades, AK-57s and automatic rifles, having a good time in the orchards of Tral. Unlike militants before their generation, none of them had bothered to cover their face. Burhan had put together a simple and deadly strategy. He was selling terrorism as a mix of risk-free employment and heroism. When he was seen in videos in the company of youth, with fancy weapons, wandering around nonchalantly, it convinced others that militancy was a glamorous profession that has social sanction and carries minimum risk. It was made to be seen as the 'in thing.'
Wani's father often lamented that he had wanted his sons to grow up and become police officers and bureaucrats in India. But two of them — Burhan and his elder brother — ended up as militants. "Burhan plunged into militancy in 2010 at the age of 15 when he was humiliated by the personnel of SOG, the police force's infamous counter-insurgency arm. He was asked to fetch cigarettes and beaten up. He picked up arms and made his base in a dense forest in Tral neighbourhood. His elder brother Khalid Muzaffar Wani was killed by government forces in the same Buchoo-Kamla forests, on 13 April, 2015 where he had gone to meet them. This was the first fake encounter during Mufti Sayeed led PDP-BJP coalition in Jammu and Kashmir. The officials insisted that Khalid had links with militants and died in a cross-fire," reports Kashmir Reader.
Bigger threat in death
The danger now is that his death could immortalise his terror legacy and act as an inspiration to other youth in Kashmir. He may prove to be a bigger enemy by being hailed as a martyr by separatists than he would have been alive.
Wani is the first local youth to have risen to the rank of 'regional commander' of the Hizb. Unlike Pakistani fidayeens and militants who get killed in an attempt to cross over into the Valley and often remain unidentified and unclaimed, Wani was a known face with friends, family and fans. In the 90s, the death of local militants had inspired an entire generation of youth to take up arms in the Valley. Wani's friends are already calling his death shahadat (sacrifice) that could inspire many more to join his cause.
Several reports have pointed out that resentment in the Valley against the Indian state is rising. The incumbent PDP-BJP government has for various reasons, both political and social, made youth in Kashmir insecure. To complicate matters, people say the current generation of Kashmiri youngsters have very little fear of gun and grenades, since they were born into unrest.
Wani's death, inevitable though it was because of the path he had chosen, couldn't have come at a worse time for security agencies. They will have to be prepared for a long war with Wani even after his death.
Updated Date: Jul 09, 2016 15:43:45 IST