In 42nd Mann ki Baat, Narendra Modi bats for 'fit, healthy India', promises MSP for crops at one-and-half of cost
Addressing the nation in his 42nd Mann ki Baat, Prime Minister Narendra Modi advocated for a 'Fit India' movement, encouraging youngsters to take part in it.
Addressing the nation in his 42nd Mann ki Baat, Prime Minister Narendra Modi advocated for a "Fit India" movement, encouraging youngsters to participate in it.
The prime minister began his radio address on Sunday saying he received a large number of letters, e-mails, phone calls from people across India. Modi talked about one of the topics people had requested he discuss in his address and said, "Yogesh Bhadresa ji has asked me to speak to the youth concerning their health... Yogesh ji, I have decided to speak on 'Fit India'. In fact, all young people can come together to launch a movement of 'Fit India'".
Modi also said that a healthy India is vital as a clean India. "In case of health, the country has moved past conventional approaches and surged ahead. Earlier, health was looked after only by the health ministry but today all government arms are working towards creating a 'Healthy India'. Along with the emphasis on preventive healthcare, affordable healthcare is also being promoted," he said.
Modi said yoga has attained worldwide recognition as a measure of preventive healthcare and urged people to start a movement right now.
"Yoga Day will be celebrated on 21 June. Can we start working from now to encourage people for Yoga?"
Emphasis on healthcare
During his radio address, the prime minister spoke at considerable length on the healthcare sector.
He said the government had opened over 3,000 'Jan Aushadhi Kendras (people's medicine centres) and was working continuously to open more of them.
More than 800 medicines are being made available at these centres at an affordable price, he said.
Citing some key steps of his government for patients, Modi said, "The cost for heart stents for the patients has been reduced to 85 percent. The cost of knee implants has also been regulated and reduced by 50-70 percent."
"Under 'Ayushman Bharat Yojana', the Indian government and insurance companies will jointly provide Rs 5 lakh for treatment to about 10 crore families or 50 crore citizens per year."
He said MBBS seats in 479 medical colleges have been increased to about 68,000 and new All India Institute of Medical Sciences (AIIMS) are being opened in various states with a view to provide better treatment to people across the country.
"One new medical college will be set up for every three districts."
The prime minister said the government is working to make the country TB-free by 2025. World Tuberculosis Day was marked on 24 March.
"This is an enormous task. Your cooperation is needed to create public awareness. All of us will need to make united efforts to become TB-free," Modi added.
Outreach to farmers
The prime minister also addressed farmers' concerns and said the latest Union Budget declared the Minimum Support Price (MSP) to one-and-a-half times the cost of production. "In this year's Budget, a big decision has been taken to ensure that farmers get a fair price for their produce. It has been decided that the MSP of notified crops will be fixed at least one-and-a-half times of their cost," Modi said.
He also recalled Mahatma Gandhi, Lal Bahadur Shashtri, Ram Manohar Lohia, Chaudhary Charan Singh and Chaudhary Devi Lal and said they too spoke about the importance of agriculture and welfare of farmers. Modi also said that the world's outlook on India has changed immensely.
"Ambedkar spoke of Team India, co-operative federalism"
Modi also mentioned Babasaheb Ambedkar and said India is grateful to him for his vision for irrigation, port development. "In the mid-40s, the world was talking about World War II, the Cold War, and divisions, but one man, Dr Babasaheb Ambedkar was talking about unity, Team India and cooperative federalism," he said during his radio address.
He also lauded Ambedkar's sense of self-reliance and said that the government takes inspiration from him. "He never wanted a person to lead a life in poverty. He also believed that their poverty isn't removed with charity. Today, Mudra Yojana, Start-Up India initiatives are producing youth innovators and entrepreneurs in the country," Modi said.
Speaking of Foreign Direct Investment, Modi said that India was a bright spot in the world's firmament.
"Today, India receives the most amount of foreign direct investment in the world. The entire world looks at India as a hub for innovation and development," he said.
With inputs from IANS
also read
India
Shortly after he arrived at the location, PM Modi attended a havan and performed a puja at the premises ahead of the inauguration
World
Modi who is on a three-day visit to Australia held bilateral meetings with Hancock Prospecting Executive Chairman Gina Rinehart, Fortescue Future Industry Executive Chairman Andrew Forrest, and Australia Super CEO Paul Schroder.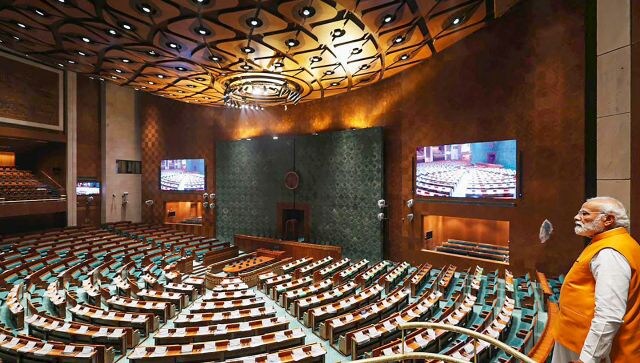 India
The new Parliament building can comfortably seat 888 members in the Lok Sabha chamber and 300 in the Rajya Sabha chamber. The current Parliament building was built in 1927. It will be converted into a museum