Imran Khan's charade of peace with India falls apart amid brutal killings, garish stamps and a childish tweet
Who are these small men in big offices to who Imran Khan refers with such disdain? Narendra Modi? Arun Jaitley? Rajnath Singh? Sushma Swaraj?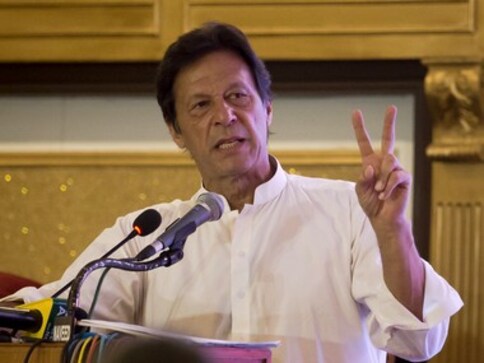 "Disappointed at the arrogant and negative response by India to my call for the resumption of the peace dialogue. However, all my life I have come across small men occupying big offices who do not have the vision to see the bigger picture."
Thus spake brave Imran Khan after New Delhi decided to call off talks. And with damn good reason. If anyone smacks of arrogance, it is this newbie to power (if being a puppet on a military string can truly be given that commendation) and his petulant tweet. This is the man whose government, in the run-up to this summit, released 20 stamps glorifying terrorism and terrorists including Burhan Wani and his two associates.
And if that wasn't exactly conducive to Imran's mature and peace-oriented overtures, the clumsy captions of these postage stamps covered provocative aspects as seen through the hostile prism of Islamabad. "Use of chemical weapons and pellet guns", "mass graves" and "braid chopping". Whereas, the subjects of the stamps include phrases like "over 100,000 Kashmiris martyred", "freedom struggle", "fake encounters" and "bleeding Kashmir, his warm and friendly statements were ostensibly designed to make the Indian contingent feel this was certainly going to be a cordial and congenial one between the two foreign ministers on the sidelines of the UN General Assembly.
As if this wasn't reason enough to drop the charade and get real — which India did  after the kidnapping and cold-blooded killing of three policemen in the Shopian region of Kashmir and the brutal murder of a border guard — clearly indicated that Imran had no intention of doing anything concrete in the matter of addressing terrorism and ending the refuge given to sundry militant groups housed in as many as 42 camps.
What part of it did the Pakistani leader not understand? Besides pushing the envelope to the edge with those gross postage stamps, he assumed for once wrongly, that the Indians would tamely trot up and External Affairs Minister Sushma Swaraj would play nice while Imran enjoyed her discomfort.
Speaking of arrogance, what could be more so than a prime minister who then decides to send out an insult on a tweet like a child whose birthday cake has been ruined. Who are these small men in big offices he refers to with such disdain? Narendra Modi? Arun Jaitley? Rajnath Singh? Swaraj? Really? For a man who has just got into an office that is so far proving too big for him, it is bit rich making such crude observations.
And let us set the record straight. The Opposition has not gone against him to protest his foolishness and immaturity in this slanging effort, but to critique him for deciding so early in his tenure to seek calmer waters with India. Ergo, even the other parties are fine with the stamps, the killings and the Imran slurs; all they are teed off about is the weakness that seeking peace displays in the Pakistani psyche. There is a delicious irony in all this.
Khan plans to score a point by 'charming' India, but his contempt comes to the fore with his indifference to the slain policemen and guard, and he thinks the Indians will swallow the stamps and be there in New York where Foreign Minister Mahmood Hussain Qureshi can have a little 'bob for an apple' fun.
Now that India has said no, the deception is exposed. It was all an exhibition game, like some T20 for charity. Nothing has changed, not with the new prime minister in situ and not with the parties he defeated. They are all on the same page united in being anti-India.
Sports
The 36th National Games was inaugurated by Prime Minister Narendra Modi at a glittering opening ceremony
World
The former Pakistan premier had used the cypher to portray his downfall in April as a conspiracy by the US and widely use this narrative in public rallies
World
The issue of audio leaks hit social media last week, when a taped conversation between Prime Minister Shehbaz Sharif and his principal secretary Tauqeer Shah sent social media into meltdown