Imran Khan addresses Pakistan: PTI chief calls Kashmir 'biggest contention', vows to end corruption, fix nation's foreign policy
Pakistan's cricket star-turned-politician Imran Khan declared victory for his party in the country's general elections, promising a 'new' Pakistan following a vote that was marred by allegations of fraud and militant violence.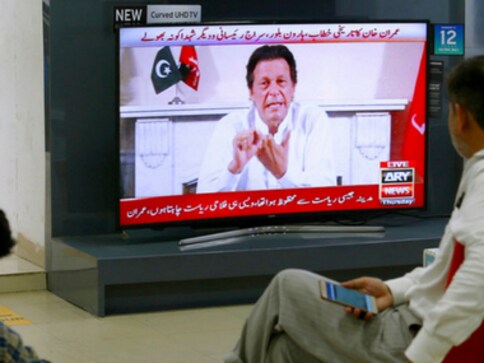 With the general election results projecting a clear win for Pakistan Tehreek-e-Insaf (PTI), party chairman Imran Khan gave a "victory speech" on Thursday and said that the new Pakistan under the leadership of his party will focus on policy, governance, transparency and foreign policies. Imran, who has emerged as a clear winner in the Pakistan general elections even though the results have not been officially announced, weighed on in India-Pakistan relations and also praised China in his address to the nation.
Slamming the Indian media for portraying him as a "villain from a Bollywood film", Imran said that the two neighbours should focus on improving ties.
"I want to thank Allah for giving me this opportunity to serve the nation. Through its ups and downs; I am grateful for being given this chance. I came into politics 22 years ago because I believe that the potential of our country was not being realised. The Pakistan that I saw growing up, deteriorated in front of my eyes. I entered politics because I wanted Pakistan to become the country that Jinnah had envisioned," he said during his "victory speech" on Thursday. Imran gave the speech even when the Election Commission is yet to release official results. It's unclear if PTI would get a simple majority or have to form a coalition government.
I promise to you my biggest effort today will be to stand with our most downtrodden. Our minorities, our domestic staff; anyone under the poverty line.

— PTI (@PTIofficial) July 26, 2018
Calling the election "historic", Imran praised the country's people for their sacrifices voters for coming out to vote in huge numbers. "This election has been historic; people have sacrificed so much. I especially want to thank the people of Balochistan who, despite terrorist attacks and violence, came out in huge numbers to vote. I saw on television the way overseas Pakistanis (term for Pakistani people living outside of Pakistan), the elderly, the young, came to vote. I want to salute them all because they have made our democracy evolve and progress," he said. "PTI's Ikram Khan Gandapur and ANP candidate Haroon Bilour were killed in suicide attacks and yet the elections went on. I want to thank our forces, our party workers. Despite the situation, we fought the elections. I am thankful to Allah that we got a mandate."
The PTI chief elaborated on his vision for Pakistan."My inspiration is our Prophet who believed in a welfare state; where we take responsibility for our weak. We became the opposite of the welfare state we were to become. The state where poverty rose, and the big dream for equality in Pakistan deteriorated.
"Our policies will be to lift the poorest of the poor, our labourers, our farmers who don't even make enough money to feed their children properly. Majority of our children suffer from stunted growth.
"We don't give our children the opportunities to excel. About 2.5 crore kids are out of school in our country, which is more than the population of some countries. Female pregnancy mortality rate is one of the highest in our country and the highest number of children die of drinking dirty water. Our whole focus is on human development."
Khan appealed to the people to share his vision for Pakistan. "A nation is not recognised by how its  elite live; rather it is recognised by how it treats and lifts its poor. The example of China lifting 70 crore people out of poverty is in front of us," he said.
Corruption
Speaking about the issue of corruption, he assured that his government will focus on justice. He said, "Our state institutions will be so strong that they will keep a check on all the authorities. The accountability will begin from Imran Khan. We want the kind of institutions that will questions to Imran Khan and his ministers.  We will set an example to show that the law is the same for everyone."
He said that Pakistan is facing the biggest ever economic challenge. "In our history we have not seen such a big fiscal deficit, the rupee at such an all time low. We need to make an investment and ease of business environment. Our biggest asset is our overseas Pakistani and we want to make an environment where they feel they will be able to invest here. Corruption has been the biggest deterrent here. Corruption has been the biggest deterrent here," he said.
Raising the issue of unemployment, the PTI chief vowed to bring to Pakistan the kind of governance it has "never seen before".
"Till date the rulers of Pakistan have only spent on themselves, on their palaces, their international trips. The way these rulers spend money on themselves; how would the public trust them with their tax. So I pledge to you I will protect the tax money of the public.
"The prime minister house, a palace... I will be embarassed to go and live there. Our government will decide what we will do with the prime minister's house. We want to turn it into an educational or public institutions. We will convert governor houses into public spaces that are able to collect revenue. All the lavish treats that previous rulers have enjoyed at the sake of people's money, this will all change," he said.
Asserting that his government will reform taxes, Imran said, " National Accountability Bureau and Federal Board of Revenue will be restructured. The entire government will work towards helping our farmers and lifting them out of poverty."
Foreign policy - Imran focusses on India and China
Imran also spoke on the PTI's plan to improve the country's foreign policy, with special focus on China, India, Afghanisation, Iran, and Saudi Arabia. "We need better relations with our neighbours so we can focus on nation building. We will strengthen and improve our relations with China. We want to work towards success of CPEC. We also want to send teams to learn poverty alleviation from China. How to lift our most poor who can't even eat two meals a day. The second thing we can learn from China is how they curbed corruption and set the example that corruption does not pay," he said.
Imran addressed the need for peace in its neighbouring country. "The people of Afghanistan need peace. If there is peace in Afghanistan, there will be peace in Pakistan. We want to work in every possible way to ensure peace in Afghanistan. I would love an open border system like the European Union with Afghanistan," he said.
He said that his government will work on a policy to have a balance with the US. "We want to work on a policy that is mutually beneficial; not a one way relationship. There needs to be balance," he said. "We want to improve our relations with Iran and Saudi Arabia both. We want to work as a reconciliation facilitator in the region. That country that works towards ending wars rather than being used for them."
On India: 'I am not a villain'
Imran criticised the Indian media when he started speaking about its eastern neighbour and said that the media portrayed him as a "Bollywood villain".
"As far as India is concerned, I was disappointed with the Indian media and the way they portrayed me in the past few weeks. It felt like I am a Bollywood film villian. I am that Pakistani who has travelled through India because of my cricket. I am saying with conviction that it is important for the subcontinent that our issues are resolved. This can only be done through dialogue," he said.
I am that Pakistani who believes that to improve economics in the sub continent trade between India and Pakistan is important. This will be beneficial for both the countries. @ImranKhanPTI #PrimeMinisterImranKhan

— PTI (@PTIofficial) July 26, 2018
Calling Kashmir the "biggest contention" between the two countries, Imran said the blame-game between India and Pakistan must stop. He said: "There have been human rights violations for over 30 years, and the people of Kashmir have suffered massively. The leadership of Pakistan and India now need to come to the table to resolve this and end the blame games. We are stuck at square one. If India comes and takes one step towards us, we will take two steps toward them. Right now it is one sided where India is constantly just blaming us."
Promises to Pakistanis
The PTI leader assured Pakistanis that he will use the taxpayers' money to their benefit. "I promise to the nation that I will be the same Imran Khan who will protect your money. Who will change this system of elite governance. I promised you I would make a cancer hospital, you gave me the money and we now have two cancer hospitals in Pakistan today. World class giving 70 percent treatment free.
"I promised you I would make a university in the most remote area of Pakistan, where poor students would get scholarships, I proved to you and I did it. "I promise to you my biggest effort today will be to stand with our most downtrodden. Our minorities, our domestic staff; anyone under the poverty line," he said.
Concluding his address, he said, "Anyone who has issues of rigging, we will help you facilitate and we will open up any constituency that you want for investigation. When we asked for investigation, we were not facilitated with it but now we will do it differently. We are ready to investigate any rigging claims with the Opposition.
"In the end, once again I want to thank whole Pakistan. Please pray that I get the strength to fulfill all the promises I made to you. Pakistan Zindabad!"
Click here for LIVE updates on Pakistan Election Results 2018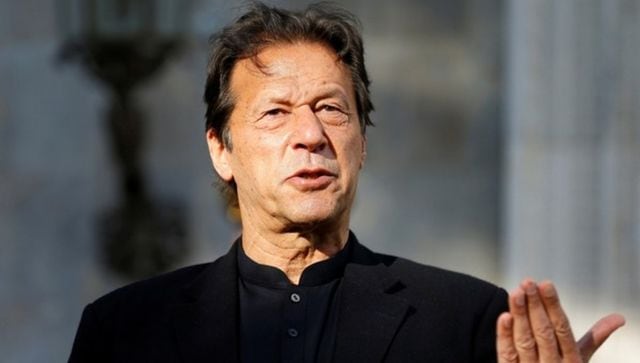 World
"Shehbaz Sharif tested us in Punjab and now it's his turn to prove whether he enjoys a majority in the National Assembly or not," Khan made these remarks in a media talk in Lahore and also in an interview on Saturday.
World
The ECP said those targeted include 136 Members of the National Assembly, 21 senators, and 114 Members of Provincial Assemblies
World
Innumerable supporters of Imran Khan and his party - Pakistan Tehreek-e-Insaf (PTI) - congregated in large number outside his residence at Zaman Park, Lahore, to resist a potential arrest of their leader