Improving Delhi's public schools an ongoing process: Future of children's education can't hinge on which govt is in power
In January 2014, when the Ahvaan Trust started working with five Delhi government Sarvodaya schools, the mission was to help pre-primary and primary school teachers become the best mentors to their students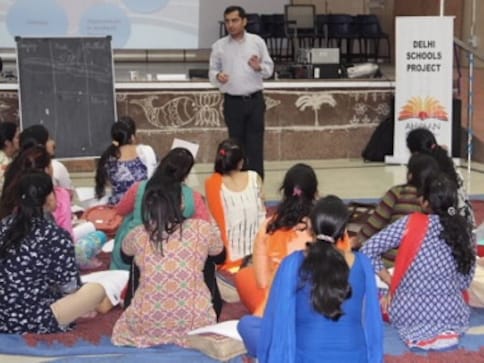 In January 2014, the Ahvaan Trust started working with five government Sarvodaya schools of north Delhi. The mission was to help pre-primary and primary school teachers become the best mentors to their students. For them to become role models and pass on the values we would all like our future generations to possess. That meant we would work with them to become better teachers first — to teach more through activities and less through rote.
The first thing we did as we entered the schools was to conduct a 'Baseline', to get a sense of the task in hand. Ahvaan and its research partner, Ambedkar University Delhi (AUD), undertook classroom observations, tested children in English, Hindi and Mathematics, and conducted library audits.
The schools were all very different from each other: Some located in narrow gullis of old Delhi, and some in more modern areas, close to middle and low income apartment blocks. Some were in old, dilapidated buildings; others were brand new. Some had close to 60 children in a class, packed like sardines; others barely managed to get enrolments of 15 children per class. The classroom decor was bland, barely any classroom had displays of children's work. The furniture in most classrooms was uninspiring; wood and iron benches, too big for the tiny children, and the iron dangerously jutting out in some cases.
As we started our work, we witnessed how bright these young children were and how much desire to learn they had. Sensitivity towards special needs children was inherent in them. But they were mostly either sitting idle or doing non-stimulating work, like repeating after the teacher and copying blindly from the board. Their minds were in shut-down mode by the time they reached Class III. The more intelligent ones became wild.
The summer of 2014 was a heady one. We did an exciting workshop with the teachers of the five government schools and they went back raring to teach using activities and giving children experiences. They understood why learning with understanding was important and how children ought to have fun while they learnt. We prepared through the summer in order to be ready to support the teachers when schools reopened in July.
But July 2014 was a shocker. Half the cohort of teachers in our government schools are 'Guest Teachers'. Delhi hadn't hired primary teachers since 2010. The 10-month contracts of these guest teachers got renewed every year; they didn't get paid for the two-month summer break. However, the guest teachers didn't join the schools till September-end that year. The student-teacher ratio in some cases was as high as 125:1 (Right To Education stipulates 30:1 for primary classes). The teachers were left policing corridors, to ensure children didn't beat each other up. For three crucial months of the education calendar, zero teaching-learning happened.
By end of September 2014, we felt like we could start our work again. The teachers were all in place. Most of them were not the same as the ones we had trained during the summer break, but at least each classroom had a teacher. Then a school had an unfathomable crisis: The safai karamcharis refused to work. The Ahvaan team — all of us products of a certain privilege, couldn't work in the stench their absence produced. The children sportingly (or perhaps left with no option) came to school and hung around, mostly without throwing up or catching infections.
When I started working at Ahvaan in 2013, I had spent 15 years in broadcast media. All I knew about government school education in Delhi or otherwise was from stuff I came across in the media.
A book my trustees gave me — Teachers In Conversation, based on a research study done in 2011-12 by Ahvaan and AUD — endorsed what I had heard: That government school teachers were demotivated persons, craving respect from the society and the system. Rote was the only method the teaching community knew. The system was designed to treat the teacher badly; she was sent off to collect census data, on election duty, senseless admin work, etc.
July 2015: On Day 1 of school reopening, teachers were all in place. Most of them were continuing with the children they had taught in April of that year. For smaller children, this continuity is of great importance.
October 2015: Teachers were meant to go for census data collection which would mean they would be absent from school for a month. But before we cancelled our workshop for that month, we heard that the census collection by teachers had been stopped. The "system" was prioritising the classroom.
Jan 2016: Ahvaan met the director of education. Seeing the experience of our team (our academic head was a senior pre-primary teacher who had taught at Sardar Patel Vidyalaya, among the leading schools of Delhi), the director immediately put us in touch with the head of an SCERT committee designing the pre-primary curriculum. We jumped at the opportunity. Government schools had so far a one-year pre-primary course, i.e. kindergarten, for 4-year-olds. But on this committee's recommendation, a two-year pre-primary programme was started in April 2017 in a phased manner.
Today, about 300 out of 450 government schools that have pre-primary courses also have a nursery course. And the curriculum for both was implemented last April. Ahvaan was encouraged to train all teachers in implementing the newly designed curriculum and support a group of schools more closely, during school hours, to see if the curriculum is working well in the classrooms.
Each school was given funds to procure material for pre-primary, including bright and colourful child-friendly furniture. Ahvaan pitched in with ideas on how to make classrooms inviting spaces for children.
Each child was given a workbook, Phulwari, that is linked to the curriculum. There are games, musical instruments, crayons, colour paper, most things small children need. Even didis (maids) are present in every school now to help children use toilets.
From what we know, only five states in India have a prescribed curriculum for pre-primary. The rest follow the integrated child development services (ICDS) framework or NCERT's suggestive guidelines. The importance of early years in building a solid foundation for learning throughout life is a no-brainer. But it takes political will to prioritise this among all other imperatives.
Among other initiatives Ahvaan witnessed first-hand:
Estate managers were placed in schools, so that teachers don't waste time on administrative work. Particularly, the needs of safai karamcharis are now addressed by these estate managers.
Mega PTMs were held in our schools. The parent-community, traditionally seen as creators of unnecessary noise and nuisance, were addressed by the teachers. Guidelines for these meetings were sent by the education department, and the schools we visited, followed these guidelines well. We saw groups of parents being addressed to share ways in which they could participate in their children's education, irrespective of their own educational backgrounds. We heard teachers share each individual child's progress and give feedback to parents. We witnessed parents getting a clear sense of where their children were headed.
Mentor teachers were deployed, one for a cluster of six schools. We organised a one-off training for them — on how to give feedback constructively to teachers. We were pleasantly surprised by their awareness levels — they asked relevant questions and were completely engrossed. They obviously had received excellent training.
Summer programmes for Class VI students took place 2016 onwards. We attended a training for guest teachers who were roped in to conduct these summer programmes. The curriculum was all about joyful learning.
Our baseline testing of children in 2014 showed that 60 percent of the children in Class IV were struggling to read and write even the most basic things — like their own names. Projects such as 'Chunauti' in 2016-17 and 'Buniyaad' in 2018 were launched to help such children. We were asked by a few of our principals to support non-readers. This meant that we would be extending our purview — our focus was on primary school children, but when required, we also worked with middle school children. We felt like we would miss out on this revolution if we didn't. The methodology we deployed was similar to what we did with smaller children, since most of these children had Class I or Class II level skills. Lots of storytelling, book reading, understanding of letter sounds, drama exercises, videos, games, etc. were done to help children read.
Library audits were also a part of our Baseline study in 2014, and we realised that storybooks were non-existent in our schools. The schools had libraries but the books were locked up in cupboards to prevent children from damaging them. Many of our schools now have libraries in individual classrooms, not just one library for the whole school. There is interesting literature for the children to read, touch and feel, even damage if they so wish!
A principal of one of our schools was among the 90 who went to Cambridge in 2016. She came back highly enthused, her mind racing with ideas. When the leader displays passion and excitement, the rest of the team follows suit. So, even though she barely has enough classrooms, she has made play corners and assigned corridor spaces for different activities.
The principals usually have no time for the primary sections of the schools. Academically, their focus is on Class X and Class XII. Last year, primary school in-charges were appointed in all government schools. 'Teacher Development Coordinators' were also introduced in every school to help address a teacher's individual professional development needs. This will help the District Institutes of Education and Training (DIETs, that hold training sessions for both pre-service and in-service teachers) conduct relevant, need-based training programmes for teachers. In the last couple of years, the number of training programmes has already doubled. This bodes well for the teaching community, as they are essentially supposed to be "lifelong learners".
Personally, I have witnessed a sense of purpose in the corridors of power. A certain boldness in engaging with like-minded people — even if they were non-governmental organisations. We were no longer NGO-wallahs, external to the system; we were a part of them.
On Wednesday, nine Aam Aadmi Party (AAP) functionaries got dismissal letters. A central government advisory said these posts had become void. Among the nine functionaries was Atishi Marlena, who advised Delhi's deputy chief minister Manish Sisodia on matters related to education. Although our work is largely through the administrative networks of the education department, we have interacted with Marlena on some occasions. Associates in the department have clearly told us she is the brain and the hard-work behind these initiatives. To us, she has always been accessible; she WhatsApps, replies to e-mails, and casually meets us at a coffee shop when we ask her for an appointment.
The news of her sacking made me wonder if things are going to change now. And if that change is worth it. Have teachers suddenly become motivated and are they now respected by the society? Not really. But there are clear changes in many classrooms. Of course, no systemic transformation happens overnight and consistency is key. Doesn't this work deserve continuity, irrespective of which political party undertakes it?
The author is the director of Ahvaan Trust for Education and a former media professional
Entertainment
While Parineeti happily posed for the media with a wide smile on her face, she didn't reveal the reason behind her visit. Reacting to the video, fans took to the comment section and shared their responses
First Cricket News
With Delhi grabbing a direct spot in the final, Mumbai Indians and UP Warriorz will now face off in the eliminator for the other final spot.
First Cricket News
Chasing a small total, the top three Delhi batters of captain Meg Lanning (32 not out off 22 balls), Shafali Verma (33 off 15 balls) and Alice Capsey (38 not out of 17 balls) competed among themselves in hitting boundaries as their side chased down the target with 66 balls remaining.