IMD predicts heavy rains over Rajasthan, UP, Andaman and Nicobar Islands; lightning likely over Jharkhand, West Bengal, Sikkim, Odisha
The India Meteorological Department (IMD) has predicted that places over Andaman and Nicobar Islands, East Uttar Pradesh and East Rajasthan are likely to receive heavy rainfall on Tuesday
The India Meteorological Department (IMD) has predicted that places over Andaman and Nicobar Islands, East Uttar Pradesh and East Rajasthan are likely to receive heavy rainfall on Tuesday

The weather forecasting agency also predicted that Madhya Pradesh, Chhattisgarh, Bihar, Sub-Himalayan, West Bengal and Sikkim may also witness heavy downpour throughout the day

Thunderstorms accompanied with squall (wind speed 50-60 kilometres per hour) are very likely to occur at isolated places over Andaman and Nicobar Islands, with lightning at isolated places over Jharkhand, West Bengal, Sikkim and Odisha
New Delhi: The India Meteorological Department (IMD) has predicted that places over Andaman and Nicobar Islands, East Uttar Pradesh and East Rajasthan are likely to receive heavy rainfall on Tuesday.
The weather forecasting agency also predicted that Madhya Pradesh, Chhattisgarh, Bihar, Sub-Himalayan, West Bengal and Sikkim may also witness heavy downpour throughout the day.
Thunderstorms accompanied with squall (wind speed 50-60 kilometres per hour) are very likely to occur at isolated places over Andaman and Nicobar Islands, with lightning at isolated places over Jharkhand, West Bengal, Sikkim and Odisha.
Squally weather conditions are likely to prevail over the Andaman Sea, Comorin-Maldives areas and adjoining equatorial Indian ocean. The organisation has also advised fishermen not to venture into these areas for the next few days.
World
The Tourism Ministry will host a side event on 'adventure tourism as a vehicle for achieving Sustainable Development Goals'. All the Northeastern states will make presentations at the event
Explainers
Gujarat, the only abode of Asiatic lions in India, is set to move some of its big cats from Gir National Park to the Barda Wildlife Sanctuary. While some call Barda a 'natural home' for the animals, others say Kuno in neighbouring Madhya Pradesh is the better choice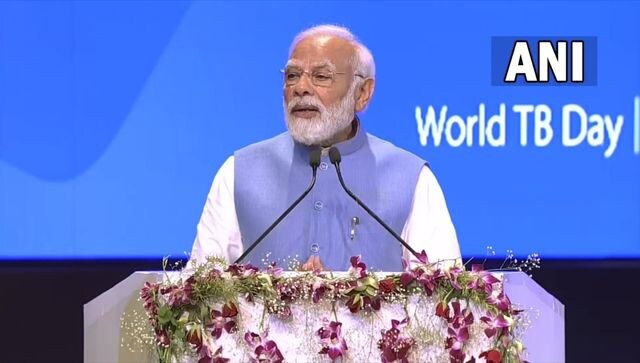 World
2030 is the global target to eradicate TB but India is now working on the target of ending TB by the year 2025: PM Narendra Modi at the 'One World TB Summit' in Varanasi, Uttar Pradesh.