Hundreds of flights grounded as typhoon Mindulle nears Japan
Strong typhoon Mindulle was expected to make landfall around noon, moving upwards from the Japanese capital to the northern Tohoku region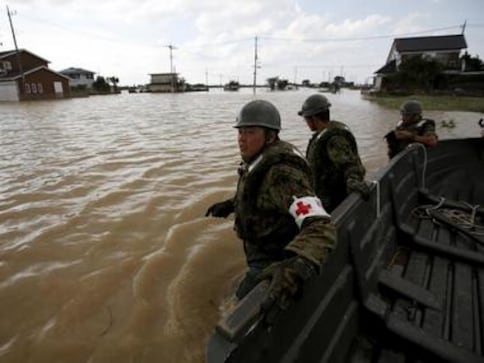 Tokyo: A powerful typhoon was on course for a direct hit on Tokyo on Monday, with nearly 400 flights grounded due to heavy rain and strong winds.
Strong typhoon Mindulle was expected to make landfall around noon, moving upwards from the Japanese capital to the northern Tohoku region, the Japan Meteorological Agency said.
Packing gusts up to 180 kilometres per hour, the storm was heading north at a speed of 25 kilometres per hour from Miyake island in early morning, the agency said.
There were no immediate reports of casualties or significant damage on Miyake, an island of around 2,600 residents which is known for fishing, tourism and farming.
"In Tokyo... please exercise caution for landslides, flooding in low lying areas, surging rivers, violent wind and high waves," the weather agency said.
The storm caused airlines across the country to cancel a total of 387 flights, mostly to and from Tokyo's Haneda airport, national broadcaster NHK said.
Japan Airlines said it cancelled 145 domestic flights through mid-afternoon, affecting 26,910 customers, while All Nippon Airways cancelled 96 domestic flights, affecting 21,300 passengers.
Major train services in Tokyo and its surrounding region operated normally during the morning commuting hours, including super fast bullet trains, according to East Japan Railway, the region's biggest railway operator.
Separately, typhoon Kompasu, which hit Japan's northern main island of Hokkaido yesterday, had been downgraded to a temperate depression by early today and moved away into the Sea of Okhotsk, according to the weather agency.
Heavy rains since Saturday caused high waves and rivers to flood in Hokkaido, but caused only three minor injuries.
World
Tokyo University researchers Kota Machida and Yuya Sakai have developed a technology to transform food waste into potentially edible 'cement' for construction use. It's the world's first process for making cement entirely from food waste
World
The development comes two years after professional wrestler and reality show star Hana Kimura took her own life after becoming the target of massive bullying on social media
World
In recent years, however, some local authorities have made efforts to recognise same-sex unions. The prefecture of Tokyo said that it would begin revising current rules from November to recognise same-sex partnerships.