How to crack IIT-JEE Main 2018 while preparing for CBSE Class 12th Boards: Handy tips for aspirants
Important tips and strategies for IIIT-JEE Main and CBSE Board aspirants on how to study, plan the day in the right way with proper focus and persistence.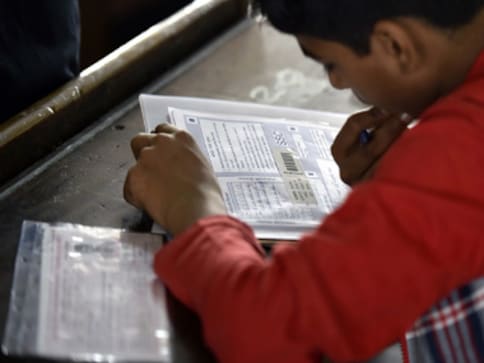 How should I prepare for Class 12th Boards and JEE Main simultaneously? Will I be able to excel in both the exams? These questions keep popping up in the mind of every aspirant who is preparing for the JEE Main along with his/her Boards.
It is not a cake walk to juggle between competitive exams such as IIT-JEE and Board exams; very few excel in it. Candidates preparing for both the examinations go through a lot of pressure and anxiety to crack the shell and come out with flying colours.
The Board exams start in the month of March, whereas, competitive exams start in the month of April. This, at times, tends to affect the preparation strategy of the students which results in lower scores and disappointment.
Therefore, it is important for every aspirant to plan their day in the right way with proper focus and persistence. If you are also one of the aspirants juggling between these examinations and are confused about the preparation strategy, then you have landed on the right page.
It is seen that while preparing for entrance exams, students tend to overlook their preparation for the Board exams. This is where students go wrong. Class 12th Board marks are important for admissions to the NITs, IITs, IIITs and CFTIs as the eligibility guidelines specify a minimum of 75 percent in Class 12th or a place in the top 20 percentile of the respective boards.
Therefore, it is imperative for engineering aspirants to perform well in Class 12 as well.
CBSE Class 12th exams start on 5 March and end on 12 April. JEE Main 2018 will be held on 8 April in offline mode, while the computer-based test will be held on 15 and 16 April. JEE Main Admit card 2018 is expected to be available tentatively from the second week of March. Here are a few tips are given below on how to prepare for JEE Main 2018 and Class 12 Board exams simultaneously:
Know your syllabus thoroughly
The first and most important thing before starting the preparation is to know the syllabus you have to cover for both the examinations. Board exams cover only 12th standard syllabus, while JEE Main syllabus includes the syllabus of both Class 11th and 12th. Therefore, make sure you are aware of the topics that you need to cover to score well.
Studying NCERT books thoroughly will help you prepare in the best way for both JEE Main and 12th Board exams. Once you are aware of the syllabus, the next step is to strategise your planning.
Come up with the right strategy
To score well in both exams, it is crucial to have the right strategy. Planning your preparation right from the beginning is the correct step as it allows you to move forward while giving you the chance to assess your progress. All you have to do is to prepare a timetable and assign yourself a daily target.
Divide your syllabus in such a way that at least a few topics of each subject are covered each day by allotting a specific time to study each. This will hone your time management skills and also break the monotony of studying the same subject while ensuring that you cover at least some sections of each subject every day.
Devote your evenings for 11th standard syllabus as it forms a part of the JEE Main syllabus. This strategy will also help to cover both the exams to a good extent.
Refer to books wisely
It is advisable for the candidates to choose books wisely for preparation. Only refer to those books that are absolutely necessary for preparation. Don't waste your time on books which you don't need or are recommended by others.
The NCERT books are the base to build your concepts while other books can be used for JEE preparation. Imbibe as much as you can from them. Ensure these books are on the lines of the JEE Main paper.
Don't mug up the topics
The golden mantra is: Don't just mug up the topics. Understand and learn the topic in depth as this will help you with your concepts. This will aid you in deriving the answer should you face difficulty in recalling the same in the exam. Don't jump to reference books without building the concepts first from NCERT.
Analyse and revise
A good strategy involves analysis and revision. You should be able to recall what you have studied. If you can't, then you should improvise. Here is where the "analyse and revise" mantra comes in. First, study, test yourself and then analyse. If you find that you haven't done as well as expected, go back and revise. Redo the whole exercise till you get it right.
Practise with sample papers and mock tests
"Practice maketh a person perfect". This adage will hold true here as well. Test yourself and your preparedness through the many JEE Main sample papers and mock tests available. What you gain from this is a sound knowledge of the exam pattern, improvisation in time management, in addition to a familiarity with the test environment.
Believe in yourself
Rome was not built in a day. Similarly, your success has to be built in small measures. Don't get de-motivated as it leads to panic and anxiety. Believe in yourself as scoring well in both JEE Main and Class 12th is a herculean task.
One thing to keep in mind is that the body and mind require an adequate amount of sleep and rest to function well. Allow this so that you stay fresh and give the exam in the right state of mind. So, buckle up, devise a strategy and get going.
Get all questions regarding JEE Main answered at Careers360 Q&A
Explainers
The National Assessment and Accreditation Council was established in 1994 as an autonomous institution of the University Grants Commission (UGC) with its headquarters in Bengaluru. It assesses and accredits all the higher education institutes and universities across the country
Explainers
According to officials at Buckingham Palace, Queen Elizabeth II had been consulted on all arrangements for her state funeral including order of service, music and readings
Explainers
Congress leader Shashi Tharoor got the nod from Sonia Gandhi to run for party president. Though the interim chief told the Thiruvananthapuram MP she was in favour of 'free and fair' elections, insiders say groundwork is being laid for Rahul Gandhi's return to the top post