How things unfolded at Amnesty India's event: To confuse protest with sedition is dangerous
It began like a lot of other events in India. I was a little late as I swiftly walked into a packed audience, a whirlwind of activity on stage and a scramble of photographers and videographers jostling for position.
It began like a lot of other events in India. I was a little late as I swiftly walked into a packed audience, a whirlwind of activity on stage and a scramble of photographers and videographers jostling for position.
The broken families stood still and sombre with lit candles and the Amnesty India team members were scattered around them. I had arranged to meet my mother there so as the stage was being vacated, I found her waving frantically to me and pointing towards the empty chair she had saved for me.
However, I had already felt that familiar itch to take some photographs, so I decided to make do with my phone camera this time. It actually turned out to be a blessing since it forced me to go closer to the action.
The event was organised to kick off a tour of Bangalore, Mumbai and Delhi with the bereaved families of victims of human rights violations in Kashmir, allowing them to share their own stories directly with an audience.
Video interviews with the families were played next and as heart wrenching tales of anguish and injustice played out on the screen, the otherwise quiet hall was punctuated with the sounds of wailing mothers sending visceral shockwaves through the audience. Tara Rao, the Programs Director for Amnesty India, held the shoulder of one the weeping mothers and offered words of consolation.
As the videos came to an end, Ali Muhammad Shah was invited on stage. He had lost his son Altaf, a house painter, to alleged torture by security forces in 2002. He spoke in eloquent Urdu-hued Hindi about his son, the events following his disappearance, the turmoil and the closure after his death was finally confirmed.
He also spoke poignantly about how he and his wife would never experience their son's shadow ever again, his voice breaking but his resolve untainted. As he finished he was joined onstage by a group of young men from Kashmir dressed in solemn black.
They performed songs and a skit detailing the trauma of loss and darkness that shrouds affected families in Kashmir, at one point hoisting one of the players, enacting a dead body on their shoulders and carrying him off stage. The event organisers, with an eye on the 8.30 pm deadline, made gentle overtures to the troupe's teacher sitting off stage, to hasten things up. The group concluded with a song and vacated the stage for the now infamous panel discussion.
The discussion featured Seema Mustafa, a senior journalist who was moderating, the mother and brother of Manzoor Ahmad Mir, who was subject to an enforced disappearance since 2003. He still hasn't been found despite tremendous efforts by his family and support from the local police.
The army personnel responsible are protected under the Armed Forces Special Powers Act (AFSPA) and the Ministry of Defense (MoD) has denied any knowledge of this disappearance, saying that "the allegation was motivated by vested interests to malign the image of security forces."
The last person on the panel was RK Mattoo, the president of the Bangalore Kashmiri Pandit's Association. When it was his turn to speak he acknowledged the pain and suffering of all Kashmiris but asked that NGOs like Amnesty also look into the Kashmir Pandits issues from the late 80's and early 90's as a human rights violations. He urged them to help just as they are helping the Kashmiri Muslims.
He also stated that the Indian army was one of the most disciplined in the world. This comment drew cheers from the seven or eight gathered Pandits and jeers from one corner of the audience, comprised mainly of young, male Kashmiri students. At this point one of the Pandit's completely lost his cool and started saying that they were driven out because of the people similar to the ones who were jeering then. He then stood up, turned around and faced them, calling them terrorists and the cause of all Kashmir's problems.
This did not go down well with them and many students went from upset to visibly agitated. A shouting match ensued with both sides (other Pandits had now joined in) trying to outscream the other in a show of male strength, with some chest beating.
Meanwhile all the employees of Amnesty India rushed into action and immediately tried to calm the two parties. Helping them were many Kashmiri students who were quietly diffusing the situation one person at a time, even cupping mouths and gently pulling them away from the melee. These guys were in operation through the event, keeping a close eye on things and pre-empting any foolhardy ideas. I heard one of them say very clearly to the agitated bunch, "We are here in peace brother, let us not do this."
Finally, two or three shoutathons in, calm was restored when Raja Begum, the mother on stage for the panel, appealed in Kashmiri to the boys. The panel discussion was hastily concluded and Mattoo made it clear that he opposed the suffering of all Kashmiris and that they should all work together. He also rattled off a list of names of Pandits who were killed before their mass exodus, parroting names the other Pandits were shouting from the first row. I heard one of the Pandits loudly whisper, Yeh toh kuch nahi bolega, politician hai.
MC Kash, a well liked Kashmiri rapper took the stage next and performed his piece, Heart of a rebel, joined by raucous singalongs from a large section of the audience. What would have been a good way to blow off some steam was instead cut short after one song.
The police had started patrolling the hall and insisted that the organisers stick to their 8:30pm deadline. It was already 8:40 by then. The MC, as musicians often do when they are cut off, stormed off stage screaming "This is Bullshit" drawing loud cheers from the Kashmiri students who then broke off into their own cries of Azadi, Azadi, Hindustan se Azadi for a couple of minutes.
Is this Patriotism 101? Probably not. But to confuse protest with sedition is a dangerous game. After all, don't we still exist in a democracy where voices are allowed to be heard, especially those that are rarely heard in the mainstream narrative? Aren't dissent and debate the hallmarks of a healthy democracy? Shouldn't they be? Again the silent hands and pacific faces of Kashmiri student monitors stopped the sloganeering at its inception.
As things died down, we discovered that the audience was being let out in small groups. A policeman told me that ABVP activists were protesting outside the United Theological Society (good on them for hosting this event) and that they were trying to disperse them and avoid any confrontations.
The scene was quite subdued and people filed out in an orderly fashion as I waited to leave with my mother. Suddenly she turned towards me with tears streaming down her face, a frog in her throat. She said she wanted to condole the mothers of the Broken Families and tell them that she was with them in spirit.
She walked across and held their hands, weeping with them, trying to communicate in her best broken Hindi. Isn't this what the evening was about? Trying to find a shred of empathy in this cynical world we occupy. Trying to reach out across perceived 'enemy' lines with the warm hand of friendship and understanding? It would be great if the story was about letting go of our labels and definitions and personal truths for a brief while and seeing our sameness as human beings. After all, don't all mothers feel the same pain when their children perish?
We walked out through the leaving crowds with no untoward incident, no ABVP in sight and no slogans screamed got into an autorickshaw and sped away.
The author is an independent photojournalist. His work deals with social injustice, performing arts and the study of  communities. Follow his work here: http://adivarekar.in, Twitter/@photohari
India
Introduction of domicile certificates, amendments to land ownership rights, and online portal for property-related grievances, specifically for Kashmiri Pandits, have engendered resentment among many sections in Kashmir.
World
The report, "Silenced and Misinformed: Freedom of Expression in Danger During COVID-19" stated that amid the pandemic, journalists and health professionals have been silenced and imprisoned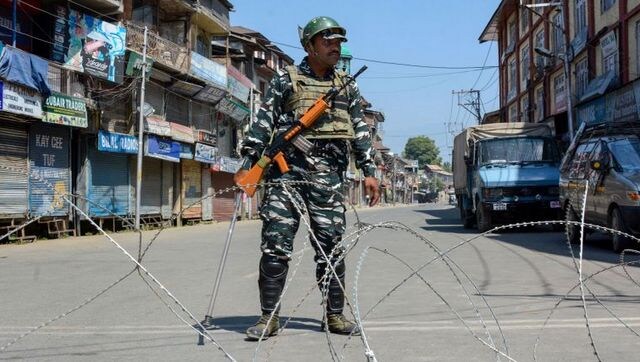 India
A police spokesperson said two of the four recent cases of target killings in Srinagar and Bandipora have been solved with the elimination of the terrorists involved in these incidents