How Kolkata is teaching young kids to be gender sensitive
Such steps are necessary because our stories and poems show women as homemakers and getting married. Women have so many roles to play other than that, said sociologist Saswati Ghosh.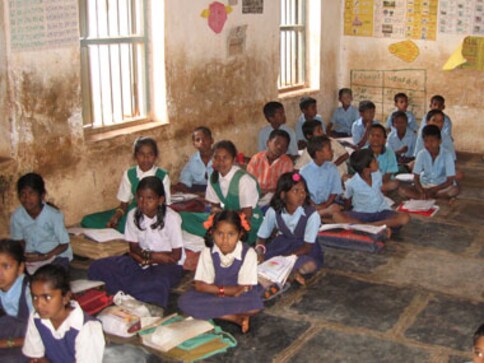 Red Riding Hood no longer needs the woodcutter to come to her rescue. Armed with training in self-defence, she is now well-equipped to protect herself. This and many more such interventions by a clutch of schools in the city are the latest weapons to bring about gender sensitisation at the grassroots.
Brought into practice following the brutal Delhi gang rape incident last December "that revealed flaws in our society, especially pertaining to the mindset of the people", teachers and students in Kolkata have taken up the initiative to bring about winds of change by including "innovative ideas" in their curriculum geared towards gender sensitisation and equality.
Both boys and girls schools have shown the way ahead through workshops, campaigns and regular discussions and talks. Most importantly, educators are adopting modified poems and stories that debunk stereotypes that relegate women to the kitchen and see them as only homemakers.
A case in point is Little Red Riding Hood, where a hungry wolf disguises itself as her grandmother and attacks the unsuspecting child. In the original a woodcutter saves the girl but she is now well-prepared to deal with such situations.
"Such steps are necessary because our stories and poems show women as homemakers and getting married. Women have so many roles to play other than that. Modifying contents will go a long way because such poems are taught to us from our childhood. So we must educate our children about gender equality from the very beginning to strengthen their foundations," sociologist Saswati Ghosh told IANS.
Anjana Saha, principal, Mahadevi Birla World Academy, said: "Apart from regular talks at assembly and sensitization during life-skills classes, our students were part of the One Billion Rising (OBR) campaign in association with Seagull Media Arts."
The school has turned to evergreen nursery rhymes like "Humpty Dumpty", "Georgie Porgie" and "Rain Rain Go Away" for aid.
In traditional children's literature when Humpty Dumpty, the egg, fell down a wall, "scores" of men were summoned to help him get back on his seat. Now, the beloved plump character calls upon both boys and girls to deliver him from his plight.
"Humpty Dumpty sat on a wall..To boys and girls he gave a call..Fetch a ladder, fetch a rope..You can save me, I do hope" goes the new version.
Similarly, 'Rain Rain Go Away", tweaks 'Little Arthur' (a male) to be gender inclusive.
It now reads, "Rain, Rain go away, Come again on a Saturday, Boys and girls are ready now, To go to school right away."
According to Megha Malhotra of Seagull Foundation for the Arts, storytelling, literature, film and photography are channelled to communicate such sensitive matters.
"We are currently conducting workshops with teachers to get an in-depth idea of the issues they face in the classroom and to understand the areas where they think work needs to be done," Malhotra told IANS.
Boys' schools like the prestigious La Martiniere for Boys (LMB) have formed committees to formulate plans for the entire academic year.
"Our boys, encouraged by our principal S.Chakraverti, have participated in the One Billion Rising campaign. They had come out with a dance programme and designed posters on the occasion. We view them as agents of social change to spread the message," school counsellor Ruvena Sanyal told IANS.
Moreover, the teachers themselves are being oriented in workshops so that they can effectively disseminate the message.
On the anvil are storytelling sessions where stories based on gender equality will be the focus.
While interacting with children is important to ingrain the significance of equality of sexes, Devi Kar, director of Modern High School for Girls, underscored the importance of talking about changes in sync with time.
"We don't look upon gender sensitisation as a separate programme. It comes very naturally to us, being an all-girls school. We discuss them in our general awareness and value education classes. Recently we talked about the Slutwalk as well. We try to focus on the current issues, what's been going around," Kar told IANS.
Kar believes in an all-round approach - highlighting genders other than male or female, when it comes to gender equality.
The director stressed on the need to strike a balance and not be "over-aggressive" while discussing the topic.
"At the end of the day, we want them to be self-sufficient but not anti-men," Kar added.
IANS
Politics
According to the Election Commission's data, there are a total of 1,621 candidates the Gujarat elections. Of them, 139 are women candidates. The BJP has fielded 18 female candidates, up from 12 in 2017, while the Congress has fielded 14 women, up from 10 in the previous polls
Entertainment
Not just Bollywood, the gender pay gap world over just stinks. Sharon Stone said, "The difference between her Basic Instinct salary and that of co-star Michael Douglas meant she was not able to feel secure after the film made her famous. "I made $500,000, and Michael Douglas made $14m."
India
India has provided financial assistance of USD 100 million to the Maldives government amid the economic challenges faced by the country