How India can tackle China's myriad mischief and increasingly assertive hegemony
China plays the aggressor and the victim at the same time. It provokes, needles and bullies New Delhi, yet does not hesitate to play the victim card when India reacts
It is not often that we get to hear voices from China on Sino-Indian relationship and various pulls and pressure that the intriguing pirouette between two neighbouring powers entails. It was therefore informative to go through Kai Xue's column on The Times of India's edit page on Tuesday.
Most interestingly, the Beijing corporate lawyer starts by complaining about India's 'aggressive posture' near its north-eastern border.
"India has recently deployed 120 tanks in Ladakh, cleared deployment of around 100 supersonic BrahMos missiles in Arunachal Pradesh, and within this year has reactivated and upgraded five advanced landing bases in Arunachal Pradesh. These actions are the culmination of a large scale multi-year arms buildup near the border with China that has included drilling of new bunkers and additional troops and artillery at the edge of the disputed line. China has during this time not moved new weapons to the border" and has merely "engaged in upgrading non-military transportation infrastructure in border provinces." 
In an act of supreme victimhood, the author suggests that all of India's actions were "unilateral".
I have quoted the paragraph in full because it reflects somewhat the way China approaches the Sino-Indian relationship. Unlike Pakistan, whose enmity towards India is one-dimensional and replete with rhetorical flourishes (and hence, open to reception), Beijing's moves are deceptive. It plays the aggressor and the victim at the same time. It provokes, needles and bullies New Delhi, yet does not hesitate to play the victim card when India reacts.
The author, for instance, magnificently ignores the weight of history, China's frequent, unprovoked incursions into India's territory and the way Beijing has traditionally treated Arunachal Pradesh, calling it 'south Tibet' and claiming it in full.
To jog the memory, in 2006, just a week ahead of former President Hu Jintao's India visit, China announced that Arunachal Pradesh was "our territory". It criticised Japan last year for calling the region a part of India and reportedly even went to the extent of lodging an official protest against Prime Minister Narendra Modi's visit, adding that the move was "not conducive" to developing bilateral relations.
This deft interspersing of dandabaazi and diplomatic sleight of hand was again on full display during the just-concluded Brics Summit. While Chinese obstinacy on not letting the names of Pakistan-based terror outfits Jaish-e-Mohammad and Lashkar-e-Taiba be mentioned in the Goa Declaration was on expected lines, more surprising has been Russia's ambivalence on terrorism emanating out of Pakistan.
Nobody was surprised by China's umbrage at Modi's 'mothership of terrorism' jibe against Pakistan but India's discomfort was evident at Vladimir Putin's silence on terrorism at the Brics Plenary. Firstpost had argued on Monday why the Brics Summit was actually a huge success for India despite Chinese machinations, but it did rankle Indian negotiators that Russia failed to do its bit in pushing more for Indian concerns while ensuring that the terror outfit with which it engages with finds mention in Goa Declaration.
It would be erroneous to attach too much important to Russia's joint military exercise with Pakistan beyond an obvious attempt to provoke India into splurging on defence deals. More instructive would be to look at the Sino-Russian relationship in the wake of Moscow's plummeting ties with Washington.
As Indrani Bagchi writes in The Times of India, "As the West has shunned Russia, slapped sanctions on it, Russia has moved East. To China. Chinese students go to Russia, as do Chinese tourists. Russia is now almost completely subservient to China… Indians have been alarmed at the depth and quality of the Russia-China relationship. Moscow is sharing military technologies with Beijing that would have been unimaginable earlier."
It is not difficult in this context to interpret why Russia was forced to dump its "old friend" from the Cold War era and settle for a more pro-Chinese stance.
The lesson for India, therefore, is manifold. A nation's geopolitical influence and its ability to bend the regional curve in line with its strategic interests depends almost entirely on its economic heft. Three decades of robust growth have given China unprecedented hard power and in President Xi Jinping, it has a president willing to wield that power to assert its hegemony, have a say in international relations and in the long run, even challenge the supremacy of the US.
India's problem is that it shares China's economic ambition but lags behind woefully on developmental scale, a point Kai Xue also makes in his aforementioned column where he says that "India… has withered under mediocre governance and slow-growth socialist economics."
India wishes to have peaceful and friendly relationship with its neighbours but must somehow tackle China's burning global ambition and its usage of various of levers (which includes using Pakistan's nuisance value or heavy infrastructural spending aimed at throwing a military-strategic ring around India) to check New Delhi's rise.
The extent of China's belligerence under Xi can be gauged by taking a look at the most recent defence white paper, Chinese Military Strategy, published in May 2015. According to Richard A Bitzinger in Policy Forum, "the PLA will continue to de-emphasise land operations, all but abandoning People's War (except in name and in terms of political propaganda), particularly in favour of giving new stress and importance to sea- and airpower."
What must India do to if not tackle, at least maintain a reasonable equilibrium against such an aggressive power with whom it runs a trade deficit of $52.7 billion?
For starters, it must invest in new ties as the prime minister has tried to do with the Bimstec (Bay of Bengal Initiative for Multi-Sectoral Technical and Economic Cooperation) initiative. The new conglomerate of Bangladesh, Sri Lanka, Bhutan, Nepal, Thailand and Myanmar may not be a Saarc substitute but provide a vital hedge against Chinese manipulation since many of these nations are themselves victims of China's naked aggression. The investment gave a handy early return to India when it said in the outcome document that terrorists cannot be called "martyrs" which was a direct jab at Pakistani prime minister Nawaz Sharif's attempt to glorify Hizbul Mujahideen commander Burhan Wani at the UN.
Two, India must develop its ties with Japan on a war footing. As The Financial Times noted (subscription required) during Modi's 2014 visit to Japan when he famously gave Japanese prime minister Shinzo Abe a bear hug, Modi's decision to make Japan his first "foreign port of call" was "informed by hard-nosed calculations of how India and Japan can work together on undertakings of mutual interest and concern — reviving their respective economies, and grappling with Chinese expansionism".
Much needs to be done on this front beyond a symbolic hug or a bullet train project. Commerce and industry minister N Sitharaman's urge to Indian industry to make more use of the Comprehensive Economic Partnership Agreement (CEPA) is important.
What must India do to if not tackle, at least maintain a reasonable equilibrium against such an aggressive power with whom it runs a trade deficit of $52.7 billion?
India must also get over its distrust of US and understand that for Washington, courtship of India isn't an act of benevolence but a necessity to gain an Asia pivot against China. Towards that end, India must shed its coyness over the crucial Logistics Exchange Memorandum of Agreement (LEMOA) with US that allows both militaries to work closely and improve logistical cooperation. If that paves the way for future pacts, India must not be defensive. Non-alignment as a foreign policy has expended its usefulness.
Of particular importance is Brazil's acquiescence on India's NSG membership. An outcome of a bilateral between Modi and Brazilian president Michel Temer on the sidelines of the Brics Summit, the development has far-reaching consequences. Brazil, as The Times of India points out, was one of the very few countries along with China to refuse a waiver for non-NTP signatory India in the NSG. However, as MEA secretary Preeti Saran noted: "Prime Minister (Modi) conveyed to Brazil India's aspiration for joining the Nuclear Suppliers Group membership and Brazil president conveyed its understanding of India's aspirations and conveyed that he would work with other countries of the NSG in helping India to move towards its membership".
This portends well for India. New Delhi cannot match Beijing's economic heft and consequent influence in the medium to short term. But India's action plan must include avoidance of direct confrontation and rhetoric, developing relations with powers not tied to China's apron strings and initiating reforms and growth measures domestically.
India
Modi has been deemed to be one of the biggest supporters and proponents of Yoga.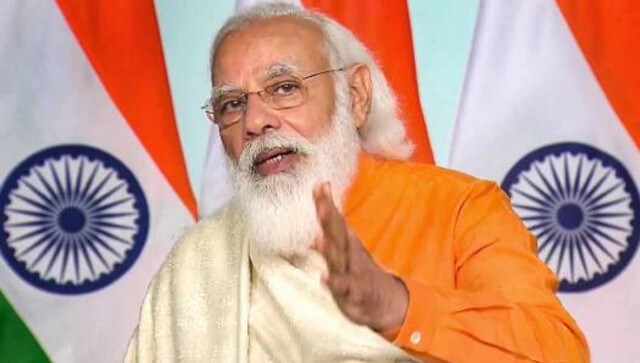 India
Huge celebrations have been planned for the occasion, with over 71,000 diyas to be lit at Varanasi's Bharat Mata temple
World
Addressing the General Debate of the UNGA's final day, Nepal's new Foreign Minister Narayan Khadka said that the country's worldview is shaped by its adherence to the principle of 'amity with all and enmity with none'.