Hooch tragedy: Death toll rises, Bihar CM Nitish Kumar vows action against perpetrators
The toll in the hooch tragedy in Bihar's Gopalganj district has risen to 16, even as Chief Minister Nitish Kumar announced tough action against those responsible for it, including manufacturers of liquor banned in the state
The toll in the hooch tragedy in Bihar's Gopalganj district has risen to 16, even as Chief Minister Nitish Kumar announced tough action against those responsible for it, including manufacturers of liquor banned in the state.
"Two more people died on Thursday at Patna Medical College and Hospital during treatment, and one died late Wednesday night, while three more are still critical," a district official said.
Nitish Kumar told media that if it was found that deaths in Gopalganj were due to spurious liquor consumption, the culprits will not be spared.
The Chief Minister said, "I have directed the state police chief, concerned department principal secretary and chief of the excise to examine all reports, including medical and viscera besides talking to the families of the victims and studying the reports in the media to reach a conclusion."
Opposition Bharatiya Janata Party (BJP) leaders have continued to target the Nitish Kumar-led Janata Dal-United government for the tragedy and holds the much-hyped liquor ban in the state responsible for the deaths.
The administration on Wednesday morning had ordered probe after families had claimed it to be a hooch tragedy.
All victims were residents of Nonia Tola locality in Gopalganj. Families had reported that they had complained of uneasiness and breathlessness, followed by stomach pain and vomiting, after consuming "desi" alcohol on Tuesday evening.
Their condition had deteriorated on Tuesday night and they were rushed to hospital.
Rahul Kumar, Gopalganj District Magistrate, had constituted a three-member team on Wednesday and launched a probe. Gopalganj Superintendent of Police Ravi Ranjan had refuted the rumours of spurious liquor.
The incident exposed that despite total prohibition on liquor consumption in Bihar since 5 April this year, alcohol is available in the black market.
Additional Director General of Police Sunil Kumar had said at least 4,707 people were arrested during the last four months and 3,719 FIRs were lodged in connection with flouting of the liquor ban.
Sports
It is shameful that these 'liberals' wantonly celebrate a defeat, are more cruel to the Indian team than the 'illiterate' fans they scoff at daily, and make it out to be a defeat for India as a nation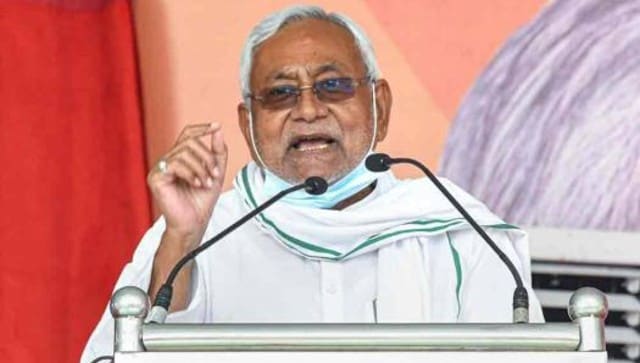 Politics
After the Assembly elections last year, Kumar retained the Chief Minister's post, though his party suffered a major slump and its tally dipped to under 45 seats in the 243-strong Assembly.
Sports
The meaning of 'Kuffar to toot gaya', the phrase used by Pakistan captain Babur Azam during the post-game official ICC ceremony, has been a special focus of debate