Home minister Rajnath Singh: Youth should take care not to fall prey to terror outfits
Kurukshetra: Home minister Rajnath Singh cautioned the youth not to fall prey to terror designs of global fundamentalist forces.
Kurukshetra: Home minister Rajnath Singh cautioned the youth not to fall prey to terror designs of global fundamentalist forces.
He exhorted the youth to imbibe and abide by such values that would make them emerge winners in any situation, and enable them to achieve anything they aim for in life.
Delivering his address at the 30th convocation of Kurukshetra University, Singh said the ancient Indian ethos is based on universalism and brotherhood, and it must be retained for the development of modern society.
Drawing a contrast between the youth working in IT major Infosys and terror outfit Al-Qaeda, he said while one section was working in the interest of society, the other was working for its destruction. Rajnath quoted Thomas L Friedman, who in his book 'The World is Flat', has written an essay comparing Infosys with Al-Qaeda.
"Infosys has a global network, and so does Al-Qaeda. The youth are in Infosys as well as Al-Qaeda. He (Friedman) also said that highly-talented youth are in Infosys and Al-Qaeda. The difference lies only in their thinking. One believes in creative thinking while the other believes in destructive thinking," Rajnath said quoting the essay.
The home minister told the students that the ultimate aim of education should not be to just get a job and make a living, but maintaining values. A convocation connotes completion of study for a degree, but not the completion of education, which is a lifelong process, he said.
In the Indian context, the convocation purports qualification of an individual to serve the society through knowledge and skills imbibed through education. The world
remembers people for their values and their service to the society, and not because of their wealth, might or even knowledge, he added.
He said that India aspires to be a "Vishwa Guru", and not a superpower, because a nation becomes a superpower by might, dominance and even coercion, and other nations follow it because of fear.
"As a 'Vishwa Guru', people would look up to India in search of their wellbeing," he said adding "the youth have a great role to play in making India a 'Vishwa Guru'".
He acknowledged the contribution of the youth towards making India a 'Vishwa Guru' and called on them to draw inspiration from its rich heritage and feel proud of belonging to a great nation.
He said India's contribution had been acknowledged worldwide in yoga, ayurveda, organic farming and other fields of science.
Rajnath, who was honoured with Doctorate of Science honoris causa, said he deserved it as a student of science and "not as a politician".
Find latest and upcoming tech gadgets online on Tech2 Gadgets. Get technology news, gadgets reviews & ratings. Popular gadgets including laptop, tablet and mobile specifications, features, prices, comparison.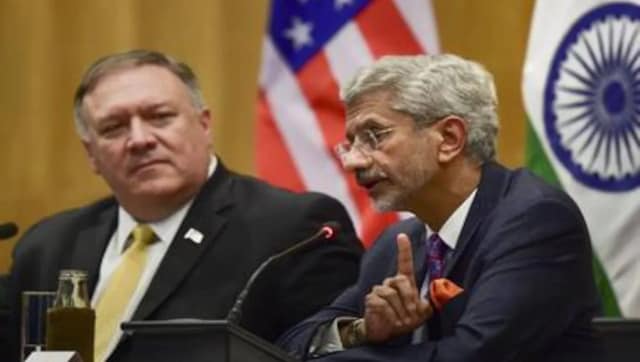 India
The last of four military communication foundational agreements, BECA will be signed with the US to further tighten the strategic clinch between the two countries during the 2+2 dialogue held on 26 and 27 October
Politics
Singh also slammed the Opposition RJD, saying that people can see the difference between the good governance of the Nitish Kumar-led alliance government and the "misrule" during the RJD's 15-year tenure
India
In an interview to Rahul Joshi, the Union home minister also said that India "will not bow down to anyone" and that it has the support of most countries