'Hindutva outfits stayed away from freedom struggle,' says historian Mridula Mukherjee
Aligarh: Historian Mridula Mukherjee has said that the idea of nationalism in India, as in all third world countries, is essentially rooted in 'anti-imperialism and anti-colonialism' and asserted that proponents of Hindutva had nothing to do with it.
"It is ironical that the proponents of Hindutva brand of nationalism, who are presently trying to appropriate the mantle of Indian nationalism had nothing whatsoever to do with the ideas of anti-colonialism and anti-imperialism.
"The other three essential elements of any sort of nationalism – Equity, Civil Liberties and Democracy - also have no space whatsoever in the Hindutva brand nationalism," Mukherjee, a former director of Nehru Memorial Museum and Library, alleged while delivering a lecture at the Aligarh Muslim University on 'India and the Road to Nationalism and Freedom' Sunday evening.
She claimed that even as late as 1942, organisations like Hindu Mahasabha and RSS had deliberately stayed away from the movement of freedom struggle.
She said that there was no role whatsoever of these forces in the Quit India Movement.
Mukherjee said that the past two months following the upheaval in Jawaharlal Nehru University have been a very edifying and educating phase in the growth of democratic movement in contemporary India.
She said that a vital fall out of the JNU episode was that "after quite some time the youth of India have once again started examining the roots and the future of democratic functioning of institutions, freedom of speech and civil liberties in India".
"This is like a new awakening and it is only a matter of time before these ideas begin to find space in the minds of youth all over the country," she said.
Mukherjee has been critical of the Modi government on the issue of intolerance and the JNU row.
India
Hindu social and spiritual leaders need to come together to convince people against the caste system
India
Hinduism has long been under the assault by western academia since the dawn of the colonial era of European supremacism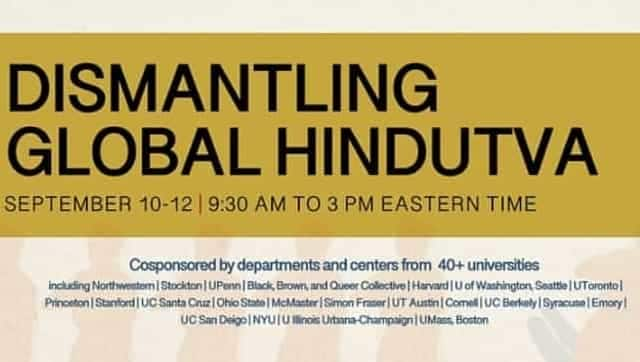 India
The ground was being laid for a while, as Hindus in the US have campaigned against representation of their faith in school textbooks in California a little more than a decade ago, and against various scurrilous academic references