Hindutva's latest shame: Celebrating Ananthamurthy's death
Last week's incidents have ironically justified Ananthamurthy's fears about a 'shift in our civilisation' if Narendra Modi came to power. 'I have a feeling that we may slowly lose our democratic or civil rights when there's a bully,' he had said.
The sight of members of a certain Hindutva group celebrating the news of the death of Jnanapitha award winning writer UR Ananthamurthy with firecrackers in certain parts of Karnataka was disgusting. Seen in the backdrop the flood of sickening comments and actions from the Hindutva groups on almost every issue, it is one more indication that low culture is going mainstream quite fast in India. That the trend coincides with the BJP government's coming to power at the Centre is no surprise.
Last week's incidents have ironically justified Ananthamurthy's fears about a "shift in our civilisation" if Narendra Modi came to power. "I have a feeling that we may slowly lose our democratic or civil rights when there's a bully," he had said. He had, however, regretted the remark against Modi, saying he was overcome by emotion. Shamefully the celebrations were taking place even while Modi showed the sagacity to promptly offer condolences after the iconic writer's death. Karnataka BJP president Prahlad Joshi and Bajrang Dal state president Sharan Pampawell were quick to disown the activists but no one from the Sangh Parivar has yet condemned the act.
This is part of a larger trend the country is getting familiar with now. Blame it on the right wing resurgence in India, hate-mongers and nuisance makers of all hues have suddenly found the freedom and the power to express themselves like never before. From making silly remarks on women to openly airing regressive, medieval worldviews to asserting the primacy of Hindutva in a diverse country to booing chief ministers at government functions to issuing poorly veiled threats to ideological opponents to mounting savage attacks on people with independent views on the Internet — these people have come to be an overwhelming presence in the everyday discourse.
While the BJP may not be responsible for all the activities of the Hindutva fringe groups, it certainly has not set a good example so far. Communal politics has dogged India since long before freedom and political parties, led by the Congress, have preyed on minorities' fears to stay in power. But that hardly justifies the levels of hate-mongering the friends of the new ruling party are plumbing. We saw it in Amit Shah's 'Gujarat model' being replicated in Muzaffarnagar and in his Bihar colleague Giriraj Singh's command that Modi critics should find a place for themselves in Pakistan.
Another slogan after the Muzaffarnagar riots that further destroyed the communal fibre was: "Musalmanon ke do hi sthan, Pakistan ya qabristan" (There are only two places for Muslims: Pakistan or graveyard). If the miscreants could get away with such provocations it reflected the Samajwadi government's ineptness as much as the savagery of hardliners.
The political resolution passed by the BJP at the end of its two-day state executive meet at Vrindavan on Sunday, skipped mention of love jihad which virtually became part of its official agenda to communally polarise the people. It remembered, however, to express concern over rising attacks against 'one section of women'.
"There is a 50% rise in rapes and those guilty are showing their strength but the Akhilesh government is discriminating on parameters of religion and caste. It is a matter of concern that those accused of rape are from a specific section and are targeting women from another section," the resolution said.
Hate-mongering and rabid misuse of social media has persisted ever since BJP projected Modi as the prime ministerial candidate. The social media made its job easier. The free flow of toxic material through social media has begun to erode the country's secular, liberal edifice. The anonymity offered by the social media is being misused by the anti-social elements. The government's refusal to rein them in might prove to be disastrous.
There are lessons to learn from Islamic countries singed by hate waves. Even the US, the country Modi proposes to visit in near future, is turning cooler to the Hindus after the recent social churning. A poll by the Pew research centre shows Hindu-Americans are not regarded as warmly as Jewish people, Catholics, Evangelical Christians and Buddhists. Hindus here were given an average rating of 50 on a scale of 100.
The poll on 'How Americans feel about religious groups' conducted between 30 May and 30 June, rated Hindus above Muslims (40). But the Jewish, Catholics and Evangelical Christians respectively received ratings of 63, 62, and 61. Predictably, there was a backlash with Hindu American Foundation expressing concern over Americans' negative views of Hindus.
Social and political trends in India can stereotype the Hindus as an intolerant community and feed anti-Hindu hate crimes elsewhere. It's time for the country to fight back.
Find latest and upcoming tech gadgets online on Tech2 Gadgets. Get technology news, gadgets reviews & ratings. Popular gadgets including laptop, tablet and mobile specifications, features, prices, comparison.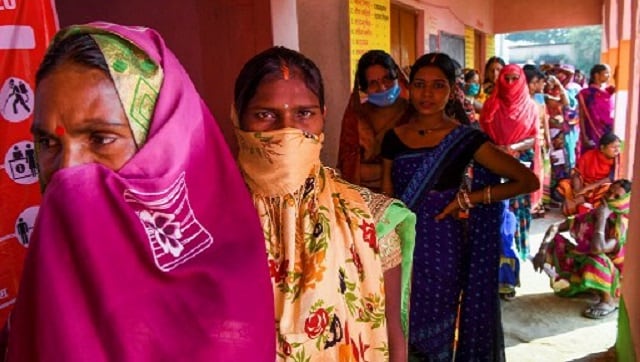 Politics
The difference between the average vote share of first-time candidates and candidates who have contested in Bihar elections before , is highest for the Congress, potentially indicating that the party's performance varies highly based on the candidate
India
The Rajasthan chief minister's remarks followed announcements by BJP-led governments in Uttar Pradesh, Haryana, and Madhya Pradesh that they are considering to enact a law against inter-faith marriages
Entertainment
While there's no doubt that online shows entertained and even comforted us during these trying past few months, there's also no doubt that they'll never match up to the experience of watching a concert in person. And sadly, they don't seem to be matching up in terms of income for artists either.