'Hindutva different from Hinduism': In day 3 speech, Mohan Bhagwat speaks on cow vigilantism, Kashmir
Rashtriya Swayamsevak Sangh (RSS) chief Mohan Bhagwat answered questions on a variety of issues on the third and final leg of his three-day lecture series in Delhi.
Rashtriya Swayamsevak Sangh (RSS) chief Mohan Bhagwat on Wednesday answered questions on a variety of issues on the third and final leg of his three-day lecture series at Delhi's Vigyan Bhavan, where the organisation held a conclave titled "Future of Bharat: An RSS Perspective".
On Wednesday, Bhagwat reiterated his remark about all Indians being Hindus by identity and said that Hindutva was all about unity and inclusion.
"The RSS is trying to unite all Hindus...All Indians are Hindus by identity. Hindutva is the balance between all religions. A Hindu's true belief is unity," he said. "No one is an outsider in India. Hindutva is different from Hinduism. Hindutva is about unity."
"In the world, there is no violence over Hindutva. The world is accepting Hindutva more and more these days. In India, there is aggression towards Hindutva," Bhagwat said, adding that the aggression was because of a lack of understanding of Hindutva and the politics over it.
When asked about the rise in cow vigilantism in India, he said: "Taking law into one's own hands is a crime, and such criminals should be punished. But there should be gau raksha (protection of cows). Gau raksha cannot just be left to laws... Gau rakshaks shouldn't be compared to trouble makers."
The RSS chief also spoke on casteism and the state of education in India.
"Our nation needs to rise above caste barriers. The RSS does not believe in casteism. Inter-caste marriages are the most common among RSS volunteers," he said.
On education, Bhagwat said, "Every student has a unique potential. There is a lack of research work in the country... Degrees are being given out by institutes, but research work is decreasing."
The RSS head also mentioned the importance of language in his speech and spoke of the different languages in India.
"People from Hindi-speaking regions in India should learn a language from another region in the country. This is a way to encourage unity and diversity. There should be one common language that unites all regions in India. We should respect all languages."
On the issue of safety and security of women in India, Bhagwat said, "In earlier times, when women were forced to stay inside their homes, the responsibility of their security lay with their families. But now that women are stepping out and have equal rights, it will be necessary to make them strong and independent enough for their security."
Bhagwat also said that people in India should follow the thought process of looking at every women apart from one's wife as a mother. He also said that strict laws should be brought into force to punish those guilty of crimes against women.
Speaking on the subject of LGBTQ rights in India, the RSS chief said that the community should not be isolated, emphasising that they are as much a part of the society as others. However, he also said that gay rights is not the only pressing issue that should be debated right now in the country. "Times are changing, and society has to take a call on such issues," he said.
The RSS chief also spoke on religious conversion. "God is not sold in the market. If all religions are the same, what is the need for conversion? Conversion by unfair means is wrong."
To a question about changing demographic balance in parts of India and the 'declining' Hindu population, the RSS chief said the matter of demographic balance is considered significant world over and it should be maintained here also.
"Keeping this in mind, a policy on population should be prepared," he said, adding that it should keep in mind the country's projected population in the next 50 years and its resources to deal with the number.
Once a policy is decided, it should be applied on everyone, not sparing anyone, he said, drawing a bid round of applause from the packed auditorium.
He added that such a policy should be applied first where the problem (of population) exists, "where there are more babies but means to bring them up are limited...If their upbringing is not good, then they will not become good citizens."
Such a policy can be introduced later among those where such a problem is not there, he said, adding only law is a not a solution to the issue.
Many BJP leaders and Hindu outfits have often claimed that the Hindu population was dwindling whereas Muslim numbers were on a upswing.
On the issue of reservation, Bhagwat said: "Reservation should continue until those who reap the benefits of reservation feel that they no longer need it. Reservation itself is not the problem; the politics over it is the problem. The SC/ST Act should not be misused."
When asked about the Kashmir dispute, Bhagwat said that "the RSS does not accept Article 370 and 35A of the Constitution related to Jammu and Kashmir". "The people in all regions of Kashmir deserve good governance," he added.
Bhagwat also spoke on the Ram temple issue. "A Ram temple should be constructed at the Ram Janmabhoomi (site in Ayodhya). If this happens, discrimination against Muslims over this issue will be reduced," he said.
He also supported a dialogue on the matter, but said that the final decision rests with the Ram Mandir Samiti, which is spearheading the campaign for the construction of Ram temple in Ayodhya. Bhagwat also said that he did not know whether an ordinance on the Ram temple could be promulgated because he is not part of the government.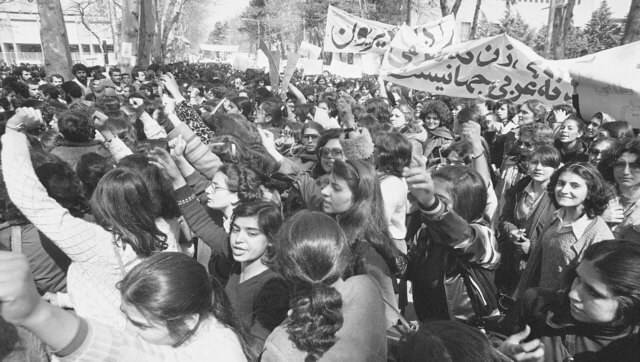 World
Iranian women who grew up before the overthrow of the monarchy in 1979 remember a country where women were largely free to choose how they dressed. But it changed when Ayatollah Ruhollah Khomeini and his followers seized power and created a Shiite cleric-led Islamic state
World
In this province, female police officers are in charge of conducting house-to-house inspections and searching women. "As criminal department officers, we go when there is a criminal act and enter the house," a police officer said
India
Cow vigilante groups in Asansol have alleged that the police and the ruling Trinamool Congress (TMC) are active participants in the cattle smuggling racket in West Bengal.